What is Clickfunnels? Read BEFORE You Join!
If you have wondered why so many people are talking about Clickfunnels for landing pages and sales funnels, you have come to the right place. I've done a lot of research to give you a solid answer.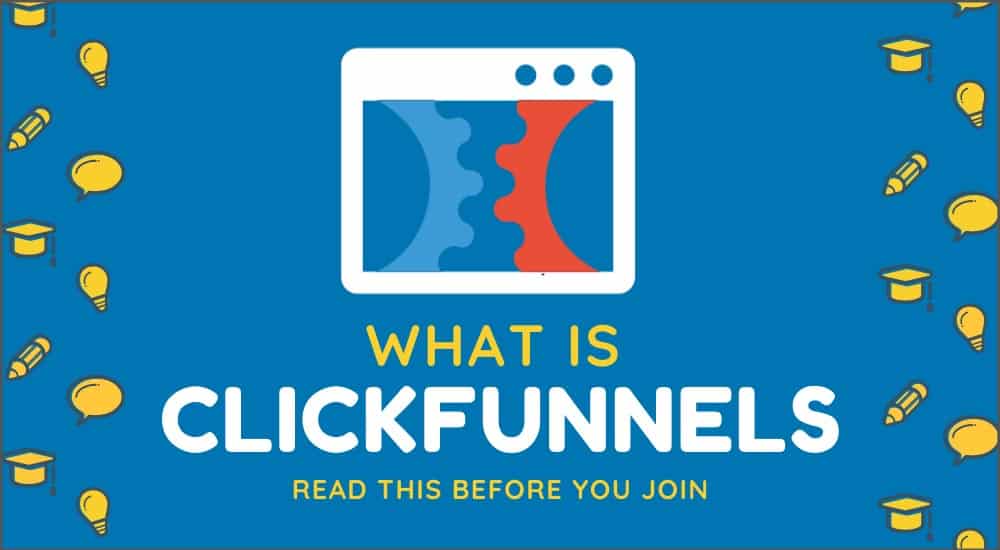 What is Clickfunnels? Clickfunnels is a Sales Funnel and Website Builder for Entrepreneurs. It is designed so entrepreneurs who aren't programmers or coders, can quickly and easily build high converting landing pages and sales pages and automate their sales process.
But How does Clickfunnels work? Is Clickfunnels worth it? Inside this article, I will guide you through the Clickfunnels platform and show you what you can expect. I will also showcase to you some of the top Clickfunnels features and some of the Clickfunnels benefits you can get. If you are looking to start selling products online, market to popular social media and search engines, or grow your leads, Clickfunnels is one of the best platforms you can use.
Want to give it a try? Sign up for a Clickfunnels 14-day FREE TRIAL.
Clickfunnels is a software designed to be a sales funnel builder, that will quickly and easily help businesses automate the process. This basically means you are able to create an automated sales process from start to finish, without the need for a web designer.
Some of the components of the sales process you can build include; landing pages, checkout carts, webinars, membership sites and squeeze pages as well as a lot more.
There is a library of templates and pre-designed funnels which allows the ability to create entire sales funnels in a matter of hours, rather than days, weeks or months.
Clickfunnels has become wildly popular with entrepreneurs and businesses both online and offline to promote and sell services and products online. Other users use it for lead generation for their marketing campaigns.
What made Clickfunnels really take off and grow its user base like crazy though, was because it was an all-in-one marketing platform. This meant you no longer had to get individual subscriptions for software and connect them together.
Software like the following would normally have to be purchased in order to create a fully working sales funnel:
Webpage builders
Website hosting
Ecommerce Carts
Visitor Analytics
Email Marketing
Pop-ups
Order Forms
However, Clickfunnels came along and enabled it's users to be able to do all these things inside of the software plus more. Even better, they made it easy!
Clickfunnels was originally co-founded in 2014 by entrepreneur Russell Brunson. This SaS company was self-funded for a long time before it started taking off, taking the interest of investors.
A few years ago, Forbes estimated that Clickfunnels was worth around $360 million, and word on the street has it that Russell is aiming for $1 billion.
Does Clickfunnels Work?
No doubt one of the biggest questions people ask is, Does Clickfunnels Work? For a company that is worth over $360 million and has over 100,000 users, you'd have to expect it to work.
Clickfunnels is one of the only tools on the internet that allows you to piece all the elements of the sales process, integrate them together under one structure, take money and deliver products. It's constantly being developed to allowing things like conditional logic survey forms and other code that other platforms don't provide, available for you to use.
More importantly, Clickfunnels' sales funnels help move your audience through the different stages of the sales process like 'Awareness' to 'Interest', to 'Decision' then finally to 'Action'.
What is a ClickFunnels' Sales Funnel?
The term 'sales funnel' is also sometimes called a purchase funnel, conversion funnel, customer funnel or marketing funnel. Basically a sales funnel is a series of steps that a customer is funneled through, to get them closer to the final sales process.
Each of the terms all include the same elements that construct it. Where people enter at the top of the funnel, they go through the qualifying sections in the middle, then sales happen in the bottom.
You may be wondering what makes a Clickfunnels sales funnel different from traditional funnels? Traditional funnels are usually pieced together from multiple pieces of online media, which generally results in off-brand graphics and imagery, causes glitches, and in most cases creates loss of interest for the customer. A lot of the time too, the code used on things like checkout carts and optin forms are slow and laggy, resulting in a drop off of conversions. Compare that to a clickfunnels one, everything is lightning fast, clear and on brand. It makes the customer feel like they are on a journey!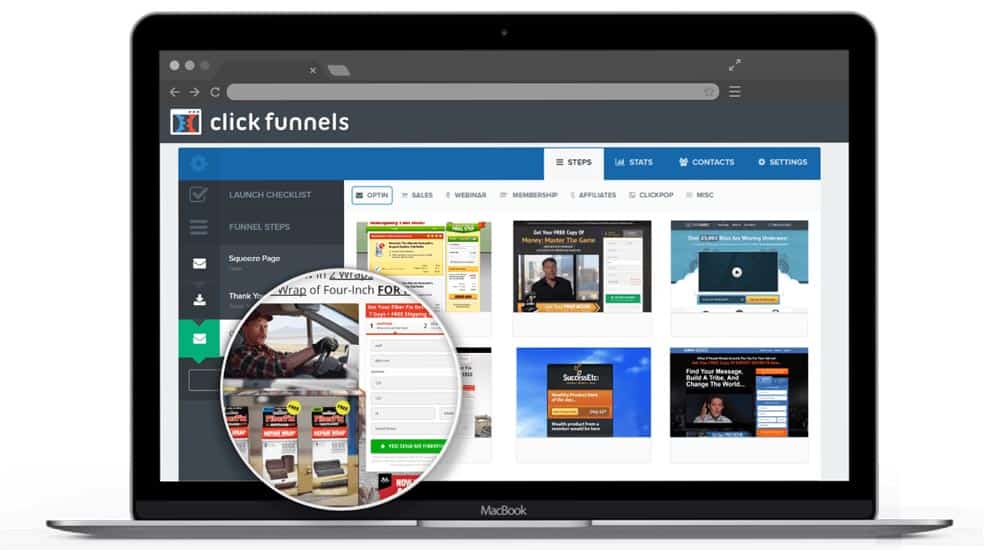 How Does ClickFunnels Work?
You may be wondering, how does ClickFunnels work? Well, it's actually a really simple process.
Let's imagine you have something to promote either a product or service which could be a book, course, coaching, software, consulting, webinar, joint venture, it could be anything.
First thing you want to do is create a web page with information about your product or service so people can come and learn about it. You also want to be gathering their email address so you can further market to them, which is usually incentivised by either a webinar registration, free ebook, more information lure or anything that would compel someone to enter their information. This is the building blocks of the landing page (squeeze page) and is the first step of the funnel.
After you have built your landing page, the next step is a sales page which sells your product or service. The sales page is a place to reaffirm why this person needs your product, often touching on the pain points they are facing, and what your product or service can do to fix those points. There is a psychology to creating good copy, luckily there is an abundance of good copywriting books and resources out there to help you out with that.
Once the sales page is finished, you can actually add upsells and downsells, thus increasing your value ladder and customer value. These are usually one time offers at a reduced rate, which creates urgency and brings in more revenue. After the customer finishes this step, they will then receive their products they have purchased that you have set up.
Having all of these steps in one platform allows you to monitor the statistics from each part of the funnel and allow you to adjust them over time to improve your conversion rate.
If you want to see for yourself what these funnels look like, feel free to check out some of the done-for-you funnel templates you can use in Clickfunnels.
ClickFunnels Features
Now it's time for the nuts and bolts that actually make the software what it is, features! Here's a quick inside of the Clickfunnels features.
1. Done for you Sales Funnel Templates
Like any good landing page builder on the market, you get pre-built landing page templates. Unlike any other landing page builder on the market though, you get entire sales funnel templates as well. This includes funnels for lead magnets, product launches, events and even entire membership sites!
All of the prebuilt funnel templates are put into categories to make it easy to find them. Categories include lead capture funnels, sales page funnels, membership funnels and event funnels. Popular examples of this mentioned in founder Russell Brunson's book, Dotcom Secrets are:
2-step tripwire funnel

Invisible funnel

Sales letter funnel

Bridge funnel

Survey funnel

Lead magnet funnel
The best part about the sale funnel and landing page templates is that they are all already populated, so you just need to go in and replace the information with your own and you're finished.
2. Share Funnels
My favourite feature of them all is definitely the Share Funnel ability. This allows users to share their funnels with other Clickfunnels members using just a link, and it will automatically upload that funnel to that members account. This feature alone has opened up even more opportunities for its members in a number of ways
Marketing agencies can now share their pre built templates with their clients allowing the client to own their digital asset
Funnel Hackers (funnel designers) are now able to build entire custom funnels and market them on the Funnel Marketplace for other members to purchase.
Clickfunnels Affiliates can now offer their custom funnels to people interested in funnels, and the share link is tagged with their affiliate ID. This creates a value driven incentive to join, and the affiliate can earn 40% lifetime recurring commissions for their work.
Not a lot of other funnel building companies have the ability to allow share funnel giving Clickfunnels a massive advantage. If you'd like to learn more about building funnels and the affiliate program, check out this article about how to make extra money using Clickfunnels.
3. Drag and Drop Visual Editor
Once you have chosen a premade template you like, or you've decided to build your own, it's time to make the pages your own. Clickfunnels has made this an easy task by using their drag and drop editor. You simply just drag things to where you want them to go, click on elements to edit them, and before you know it, you'll be finished. No coding is required, but if you are a coder and you want to add code, the ability is there too.
4. Payment Gateways
Another feature that Clickfunnels has added to the software is the ability to take payment inside your sales funnel without the need for 3rd party gate ClickFunnels allows you to accept payments at the end of your funnel without sending your buyers to a third party. It supports various payment system integrations with PayPal, Stripe, Apple Pay, Android Pay, and more, as well as affiliate programs like ClickBank and JV Zoo.
5. A/B Testing
After creating a landing page for a product or service, you want to test multiple variations of its elements.
ClickFunnels allows you to split test multiple sets of your funnel, so you would get an idea which element performs better.
Why is split testing important? The short answer is conversion optimization. Split testing prevents you from wasting your time and ad budget on poor performing elements or a landing page in general.
6. Statistics & Analytics
To help with monetisation, Clickfunnels has it's own statistics and analytics tools inbuilt. This allows you to see how many people are converting on your pages, the click throughs, which parts they are dropping off and it also shares your sales insights. It gives you a great general overview of how your campaigns are doing, and which need work. Another great feature to have in house, especially for those selling products on their platform.
7. Email Automation
For any sales funnel to work, you need to have email automation involved in your sales funnel. Clickfunnels does have it's own inbuilt email service, and it also allows 3rd party integrations like Getresponse, Active Campaign, Aweber and Mailchimp among others. To use the Clickfunnels inhouse email marketing service, you do need to be on the higher tiered pricing plan but the 3rd party integration is very reliable if you decide to stay on the lower pricing plan.
8. Domain Hosting
To make publishing sales funnels a seamless process, Clickfunnels has allowed you to be able to buy and host domains in your Clickfunnels account. This allows you to choose the domain and url you wish to publish your funnel to all inside of your funnel settings page. This opens up the possibilities for building entire websites inside your back office without ever having to mess around with domain hosting, cpanels or nameservers.
9. SSL Certification
To complement the domain hosting, you also are able to have SSL Certification for all of your pages and sites. This is the little green authentication lock that is in the URL bar at the top of websites (https), which is necessary especially when collecting payments. A number of competitors don't have this functionality, which gives Clickfunnels another tick next to it's features.
10. Backpack & Actionetics
Once you have got the hang of Clickfunnels and you're ready to take it to the next step, you can upgrade your account to the enterprise plan and activate Actionetics and Backpack. This allows you to use the marketing automation feature that monitors your statistics and what your leads do inside your sales process. It basically allows you to control how your automations work inside your entire campaign using email marketing, tracking and triggers.
Another cool feature is the Backpack functionality, which allows you to activate your own affiliate program inside of your products. This includes a back office you can customise and a multisite where affiliates can login, get their own custom tracking links and see how their own campaigns are doing. A very powerful tool for the course or product creator.
Ready to test out Clickfunnels? Get a Free 14-Day Trial of Clickfunnels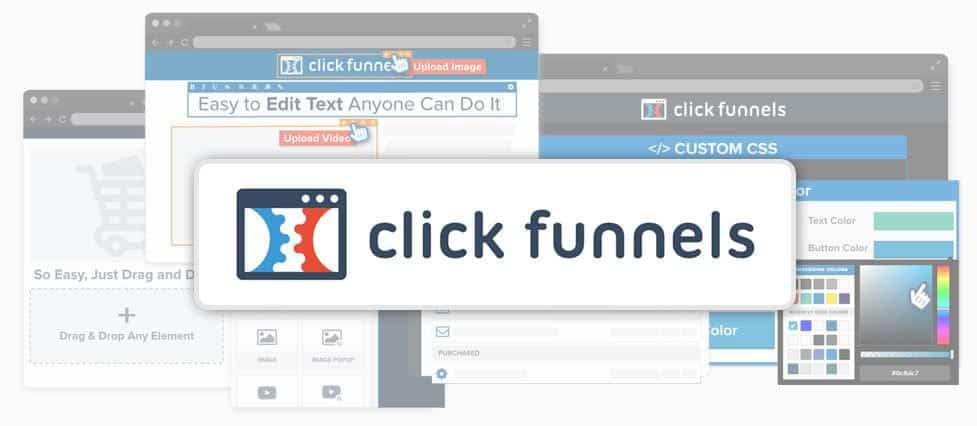 ClickFunnels Benefits
What are the benefits of Clickfunnels? Having a software like Clickfunnels in your toolkit will allow you to create landing pages, gather emails, sell products, build memberships and automate parts of your business.
Sales Funnels made Easy
Clickfunnels have made it as easy as it can be to create professional standard sales funnels. It doesn't matter if you're brand new to the industry, or a veteran. This software is the swiss-army knife of internet marketing that is newbie friendly.
Integrations
As well as being able to automate the majority of your tasks, it also has the capability to communicate with a lot of other software on the market.
Clickfunnels has the power to integrate with all your favourite Email Marketing services like Getresponse, Active Campaign, Aweber, Mailchimp as well as SMS services like Twilio and webinar softare like Ever Webinar and WebinarJam.
Save Time
As a business owner, you know the importance of focusing on the money making tasks. Having a software that allows you to quickly and effectively create sales funnels without the need for a coder or developer is priceless. With good sales funnels requires good copy also, luckily the templates given are written by experts. Simply change your details to your tone of brand, and they're ready to publish.
Using Clickfunnels will allow you to create a complete sales funnel in a matter of hours instead of days or weeks. It will be one of the most valuable tools you ever use.
All-in-one Marketing Solution
When it comes to lead generation, sales, email marketing and memberships, Clickfunnels if your all-in-one solution. There is no need to get multiple software and connect them together anymore. Simply build everything in Clickfunnels and sleep easy knowing that everything was built to communicate in house, rather than relying on integrations.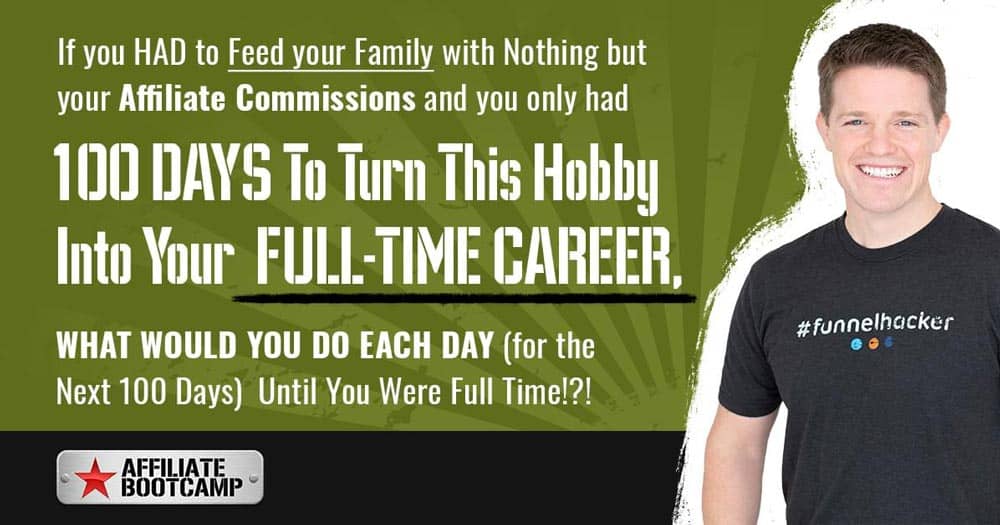 ClickFunnels Affiliate Program
What is the Clickfunnels Affiliate Program? The Clickfunnels Affiliate program is a program that rewards its affiliates for bringing in new customers to Clickfunnels. It is very lucrative as it offers up to 40% lifetime commissions on Clickfunnels products.
On top of the being one of the best affiliate programs, they also have a full Affiliate Bootcamp course which teaches affiliates at any stage to become better marketers. The best part of all, it's free! Check out the Affiliate Bootcamp if you'd like to learn more.
ClickFunnels Vs. Infusionsoft
If you're ever been to any Clickfunnels events or read Dotcom Secrets, you will know the saying "We're not Confusionsoft". This is pretty much saying we do what you do, but make it easier and better, which in my opinion it does! When comparing Clickfunnels vs Infusionsoft, the main differences are pricing where Infusionsoft pricing plans range from $199 to $999, while Clickfunnels is $97 to $297.
Infusionsoft is made for big companies and enterprises, while Clickfunnels is made for the smaller business and solopreneurs. It still has the capability to scale, just without the headaches.
ClickFunnels Pricing
At the time of writing this article, there are only 2 pricing plans for Clickfunnels. The Startup plan which is $97 per month and the Enterprise Plan which is $297 per month. If you are just starting out with Clickfunnels, I recommend checking out the Startup Plan and going from there. You can get your hands on the software on their 14-Day Free Trial here.
What is Clickfunnels: Recap
Hopefully, after reading this short article, you understand what is Clickfunnels, how Clickfunnels works and if Clickfunnels is worth it. I have personally been using the software for years and still swear by it. It has everything a small to medium-sized business needs to scale and is perfect for people with all skill levels.
Ready to test out Clickfunnels? If you have any questions, post a comment below and let me know!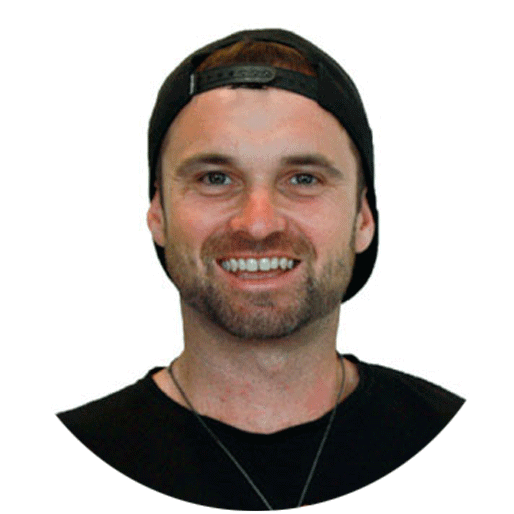 Phil Wilson is a full-time content creator and affiliate marketing expert. Before diving into the digital space, Phil was a Carpenter working a job he hated just to get by. Now he helped 1000's of people all around the world growth hack their new online businesses. Read more about Phil here.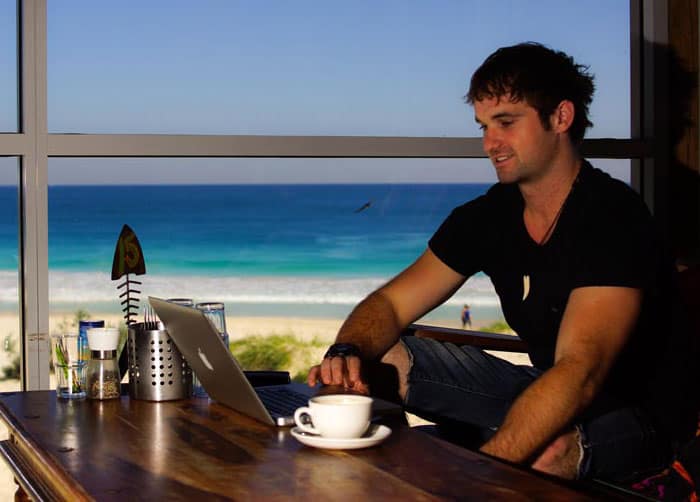 About Phil Wilson. After 10 years working a job I hated, I decided to learn about blogging and affiliate marketing. 6 years later, I've helped 1000's of entrepreneurs learn to create automated online businesses!
Disclosure: Some of the links on this website are affiliate links, meaning if you purchase anything from sites linked to from this site, I may receive compensation at no extra cost to you.
Add a header to begin generating the table of contents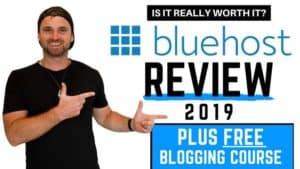 Online Business
Bluehost Review – Best Website Hosting Service [social_warfare] If you want the short version of this Bluehost Review, here it is. After testing many hosting