20 High Ticket Affiliate Programs in 2021
If you are looking to increase your income as an affiliate and looking for the right programs, you're in luck. Today I have researched the top 20 high ticket affiliate programs in 2021 and have created a solid resource for you!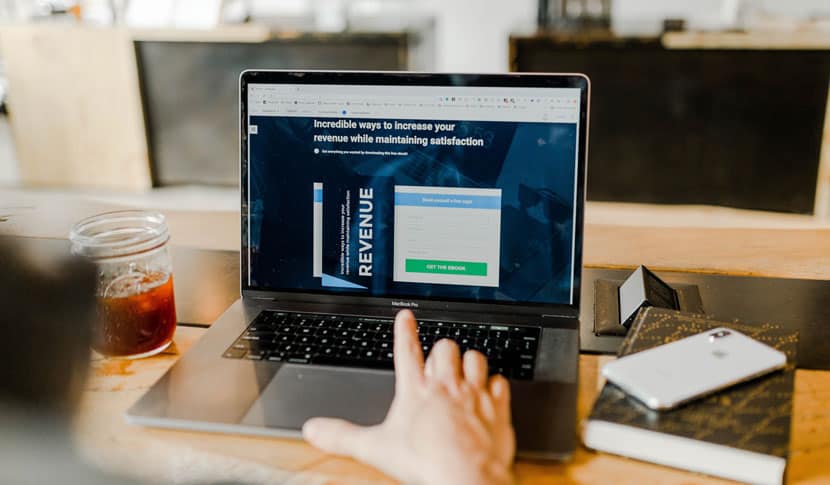 When it comes to finding the best affiliate program for your business, there are a few things to consider what is the best choice for you. A lot of people think that higher commissions instantly mean it's a better program, but unfortunately they are very wrong. In this article I will go through what you should look out for when finding an affiliate program, as well as my picks for the top 20 high ticket affiliate programs in 2020.
High Ticket Affiliate Marketing
If high ticket affiliate marketing was as easy as low ticket affiliate marketing, we would all be doing it. The truth is, there is a little more work to do in order to secure those big juicy commissions. So let's break it down.
What is high ticket affiliate marketing? High ticket affiliate marketing is when you are an active affiliate of digital products that are generally over $1000. When you are selling products at this price point, there is usually an element of personal conversation with your referrals required to build trust and certainty. It is a rare occasion in which people will instantly purchase anything digital for over $1000 without that connection.
This shouldn't put you off the idea of being an affiliate for high ticket affiliate products, instead there is just a little more research to do before you start.
High Ticket Affiliate Products
The first thing to do is research and look at the product or product suite you will be marketing to your audience. Play with the tool, use the tool and try to get some results, so you understand how it works. One of the big questions you need to ask yourself is, is the product actually worth it? There is no point marketing an overpriced product or a tool that doesn't function. That will just be doing your audience a dis-service.
Once you have had a good play around with it, then you need to brainstorm all of the benefits this particular product could do for customers who buy it. An example for a funnel builder is "this software could automate their business and allow room to scale quickly". Once you have brainstormed all of this out, you will have a good amount of ideas you could use for your marketing plan.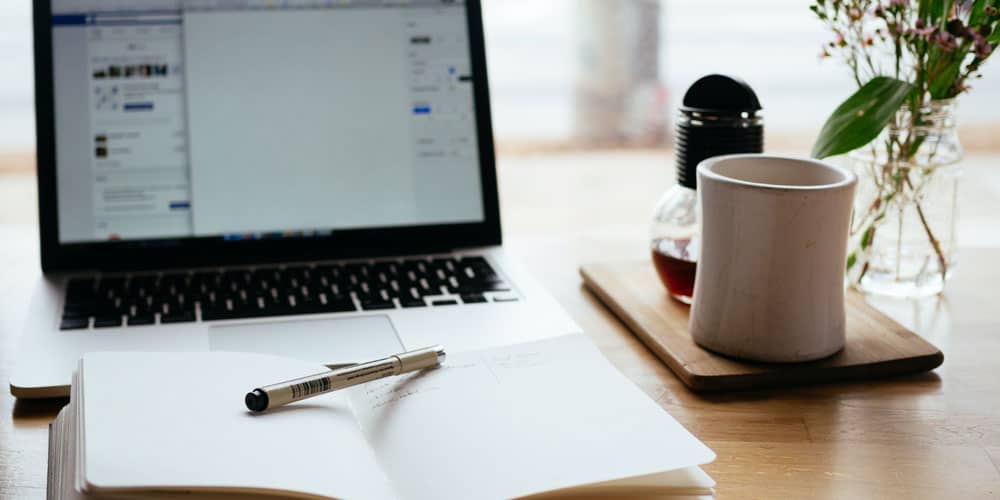 Finding High Ticket Affiliate Programs
Here is a list of things you should look out for when finding high ticket affiliate programs that will you choose the right ones.
Commission Structure
The most obvious thing to check first in any high ticket affiliate program, is the commission structure offered to you. Do you get a fixed commission, do you get a percentage of the sale or is it a variable? Is there recurring commissions available and are they finite or lifetime? Are there up-sells or down-sells?
All of these factors will be a direct impact on your income earned so make sure you study these carefully. If possible, focus on products building a recurring commission as it will require no further marketing for additional income.
Quality of the product
Next we need to learn about the product at hand. What is the product like, have people had results using this product so far? Is the product you are looking at one that can help people with their business? Doing your research is crucial because if the product is average or bad, it could result in refunds, chargebacks and also hurt your brand or reputation.
Cookie Policy
Each affiliate program has a Cookie policy for their links. This means that if someone clicks on one of your affiliate links and doesn't buy right away, they will stay connected to you on that device for a certain amount of time. Cookies for high ticket affiliate programs usually last between 7 to 30 days, but do fluctuate so it is important to check when you sign up to affiliate programs.
An example of this could be if Joe click on my link that had a 30 day expiry, and decided to buy on day 28, as he originally clicked through my link, I would still be accredited.
There is also another factor to cookies that could catch you out. This is the 'last click' rule which means the credit for sale goes to the affiliate who's link was clicked the last before purchase. A great rule especially for those who do product reviews.
Tripwires, Up-sells & Down-sells
One of the best ways to get a higher customer value, is to have tripwires, upsells & downsells. This usually means customers will come through on a lower ticket product, then hit an upsell page which is usually a heavily discounted offer. If they choose to buy they could even face another upsell, if they decline, they then go to a downsell page with another offer.
While this can seem annoying, it has proven extremely powerful for returning a higher commission and makes the customer feel as if they got a really good deal.
Two-Tier Commissions
Some high ticket affiliate platforms have implemented a 2-tier commission structure which is like Christmas, the gift that keeps on giving. This means that if you refer someone to the product you are selling, then they also join the affiliate program and sell to someone else and make a sale, you get a small kick back. This is essentially a small multi level marketing structure, but there is no person at the top making all the money. Perfect for building up income streams!
Affiliate Resources & Training
If the high ticket affiliate program is an established one, they will have sufficient affiliate resources and training for their affiliates. This could be anything from different infographics, imagery and videos for their affiliates to use, or email sequences. In some cases like Clickfunnels, you could get an entire 30-day Bootcamp that will walk you through what you need to do to get success as an affiliate marketer.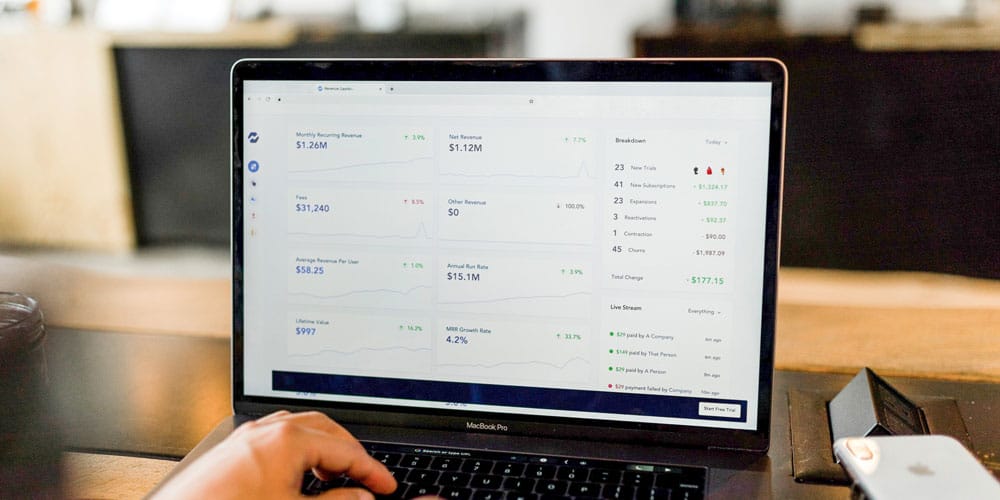 20 High Ticket Affiliate Programs
Now you know what to look out for, it's time to get into the meat and potatoes of the article! After researching around the internet, these are the 20 best high ticket affiliate programs of 2021 based on the criteria above:
1. Legendary Marketer
Commission Rates: 10%-30%, Paid Affiliate = 40%-60%
Price point: $7/month, up to $30,000 products
Cookie Duration: 30 days
Product Type: Affiliate Marketing Course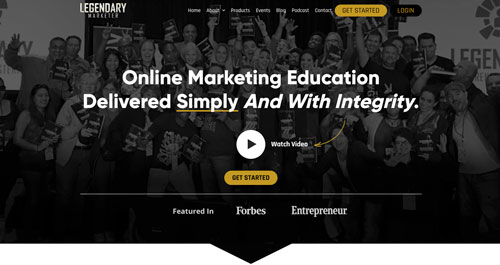 Legendary Marketer is a program created by David Sharpe who is a well-known sales expert in various companies. Legendary Marketer is a training program which teaches people from all experience levels, how to market properly in 2021 and beyond.
The training available in Legendary Marketer is extremely up to date like the recent "15-second Free Leads" TikTok training that is really high converting. Legendary Marketer also uses an ascension model which starts at the basic training, then once completed it incentivises their students to upgrade to the next skill level. This continues until the they finally reach the top product.
2. Clickfunnels
Commission Rates: 20-40% recurring
Price point: $97/month – $297/month
Cookie Duration: 30 days
Product Type: Marketing Software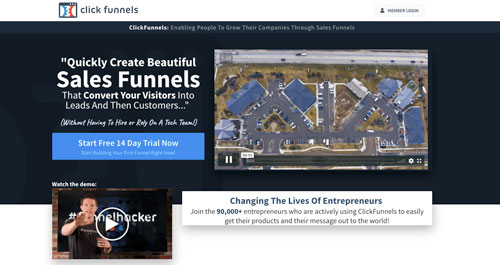 Clickfunnels is our pick as the best high ticket affiliate program of 2020. The company was established in 2014 by Russell Brunson and since has grown its user base to over 100,000 active users as well as being evaluated at over $360 million!
You can earn up to 40% recurring commissions + 5% on tier two on monthly memberships as well as commissions on their other products available. The most important thing to note about Clickfunnels is their lifetime referral policy, where if someone joins through your link, no matter what they buy, it is attached to you.
The best part of joining the Clickfunnels Affiliate Program is that each of its products also have up-sells and down-sells in the sales funnels. This means that no matter what product you promote of theirs, it could lead into big commissions.
To top off the generous commissions and amazing resources as an affiliate, they also offer a Dream Car Program. This entitles you to $500 per month to go towards your dream car if you refer 100 people to use the Clickfunnels software. If you refer 200, you get $1000 monthly.
3. Shopify
Commission Rates: 200% one time or 20% recurring
Price point: $29/month, $79/month. $299/mo
Cookie Duration: 30 days
Product Type: eCommerce Software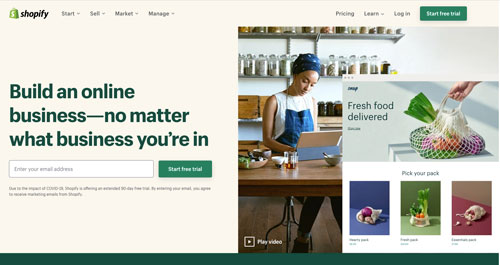 Shopify is undoubtedly the king when it comes to ecommerce. With over a million active users, the platform has one of the strongest reputations in the industry. If you are looking at becoming an affiliate for Shopify, it may be a good time considering the current global situation.
For most, the platform became familiar when DropShipping became popular when ecommerce Guru's started selling courses on how to build stores and profit quickly. I admit I've even tried it too!
4. Amazing Selling Machine
Commission Rates: 40%
Price point: $997 p/month or $4997 p/year
Cookie Duration: 90 days
Price point: $97/month or $297/month
Product Type: eCommerce Course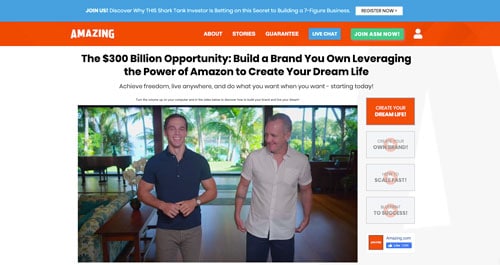 The Amazing Selling Machine by Matt Clark and Jason Katzenback is a long standing course that has a lot of street credit. The whole concept of the program is to create Amazon FBA stores and profit quickly. They also continue to update their program which is good to see and have apparently generated over $9 billion in sales.
The course sells for $4997 or 6 payments of $997 which is definitely a high ticket product, but surprisingly sells really well as they're track record is solid.
5. Six Figure mentors
Commission Rates: 5% – 60% depending on affiliate level
Price point: $30/month, up to $30,000 products
Cookie Duration: 30 days
Price point: $97/month or $297/month
Product Type: Affiliate Marketing Course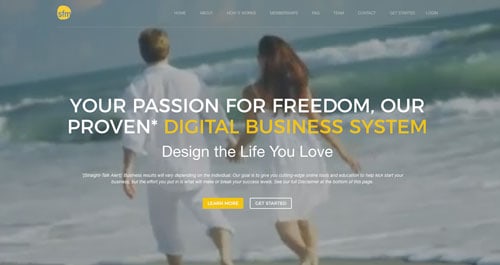 Six Figure Mentors is another long standing course that gets a lot of attraction from internet newbies. Founded by Stuart Ross and Jay Kubassek in 2010, it boasts high commissions for its ascension model structure which can be good for ongoing income. You will notice though that to earn the big commissions tiers, you have to pay monthly fees. Six Figure Mentors has sometimes been grouped in the same category as MLM companies, which means to really earn a decent income you will usually have to purchase products to be able to earn big.
On the Six Figure Mentors affiliate commissions chart below you'll see that a free affiliate vs the highest level paid affiliate has a huge difference in income potential. Keep this in mind if you are looking to promote Six Figure Mentors.
6. SEM Rush
Commission Rates: 40% recurring
Price point: $100p/m, $200p/m, $400p/m
Cookie Duration: 10 years
Product Type: SEO Tools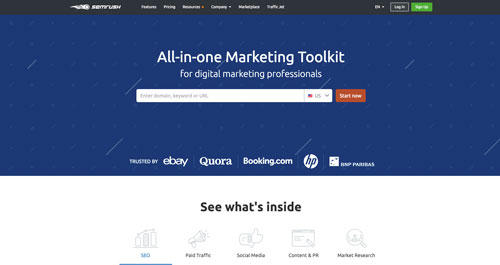 If you have ever looked into Search Engine Optimisation (SEO) then you would have most likely heard of SEM Rush before. SEM Rush is one of the industries leaders when it comes to keyword research, competitor research, linking and improving online visibility. They also happen to have a very lucrative affiliate program available which offers 40% recurring on all subscriptions. This can be a really nice way to increase your monthly residual income, and having that great brand reputation makes it that much easier to sell.
7. Commission Hero
Commission Rate: 40%
Price point: $997
Cookie Duration: 30 days
Product Type: Affiliate Marketing Course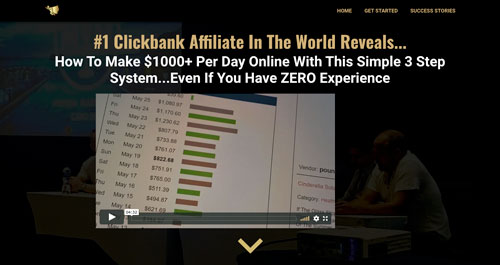 Commission Hero is a program created by Robert Blanchard who is currently the worlds #1 Clickbank affiliate. In this course Robby walks you through his entire method of marketing when it comes to Clickbank products, but can be used for anything. His strategies mainly teach using Clickfunnels mixed with custom made graphics and using Facebook Ads to get a result.
I've personally gone through this course and have really been impressed with what Robert teaches. They are methods that I have seen before, but the way he teaches it gave me much more confidence to place my own campaigns and expect a return. A great course paired with a tasty 40% commission rate makes the perfect product to market to aspiring marketers.

8. Super Affiliate System
Commission Rates: 50%
Price point: $997 + Upsells
Cookie Duration: 30 days
Product Type: Affiliate Marketing Course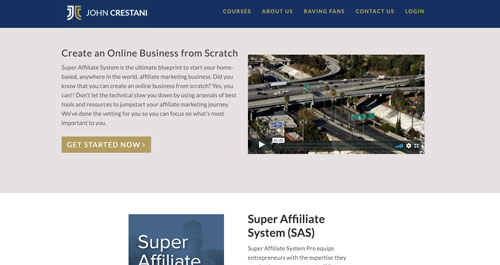 Super Affiliate System is another high ticket affiliate product that has made a massive impact in the online space over the past few years. John Crestani is the founder of the Super Affiliate System (SAS) and inside his course, he also has trainings from other online experts. SAS does have a decent 50% commission rate which is very lucrative and he also has up-sells inside his funnel.
There have been a few people upset by his training, as the products he mainly teaches to sell, is the SAS itself which feels similar to a Network Marketing offer. That being said, he does teach about other offers and provide other funnels, and the training can be used on majority of products. Still a solid high ticket affiliate offer!
9. Kartra
Commission Structure: 40% on all products
Price point: $99/mo, $199/mo, $299/mo, $499/mo
Cookie Duration: 30 days
Product Type: Marketing Software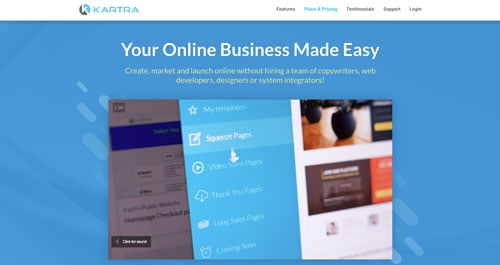 Kartra is an incredible marketing platform that is a direct competition with Clickfunnels. They allow you on the basic $99 membership to have access to not only sales funnels, membership and take payments all in one platform, but they also give you email marketing capability. As you can tell by the pricing, they are targeting more medium to larger size businesses, but that doesn't mean it's not for the solopreneurs too!
The Kartra affiliate marketplace is an amazing resource for affiliates to go in and sell other people's products. You can sign up to the Kartra affiliate program for free then have access to the marketplace. Just a word of warning, if you decide to use the Kartra tools, then decide to stop, your affiliate account will be deactivated too and you'll have to re-apply! It's a weird rule they have in place that has caught me out before.
10. Regal Assets
Commission Rates: $30-$100 per lead, plus up to $30,000
Price point: Variable
Cookie Duration: Lifetime
Product Type: Precious Metals and Crypto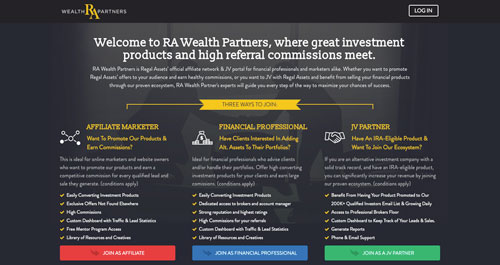 If you're looking for bit of a diversity in affiliate programs, look no further than Regal Assets. The company is involved with precious metals and cryptocurrency, which have been really hot topics throughout the past few years, and they're affiliate program is amazing! With up to $100 per lead and up to $30,000 commission on transactions (depending on the transaction), you can make a fair decent income with them.
11. WP Engine
Commission Rates: 35%
Price point: $25/m, $95/mo, $368/mo, $552/mo, $828/mo
Cookie Duration: 30 days
Product Type: Website Hosting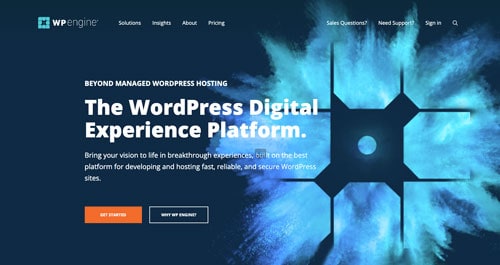 Some of the best high ticket affiliate programs available are website hosting providers. WP Engine takes the cake as the best affiliate program as it offers its affiliates a massive $200 per referral plus the potential 35% commissions on their Studiopress theme sales. Like most other hosting providers, the more referrals you generate each month, the higher your commission becomes. While WP Engine isn't a full high ticket product, it has the opportunity to be one if you can sell the higher priced packages.
12. Constant Contact
Commission Rates: $5 per lead, $105 per sale
Price point: $20/m, $45/m
Cookie Duration: 30 days
Product Type: Email Marketing Software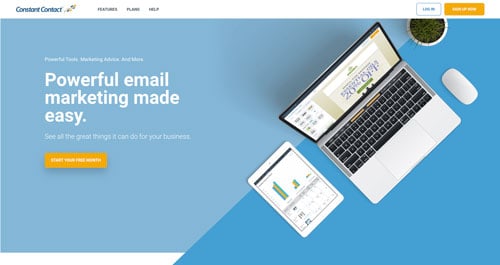 Constant Contact is an email marketing provider that has risen through the ranks very quickly over the past few years. They boast the powerful email platform full of features and high deliverability. While the commission is only $105, you can earn $5 per lead into the $60 trial in which they have to enter their credit card to start. By the time their trial is over, they will have started to build their list giving them a reason to stay. All in all, a great offer to get people through the door plus a CPA to return your marketing efforts.
13. Villiers Jets
Commission Rates: 30%
Price point: Depends on flight
Cookie Duration: 30 days
Product Type: Private Jet Search Engine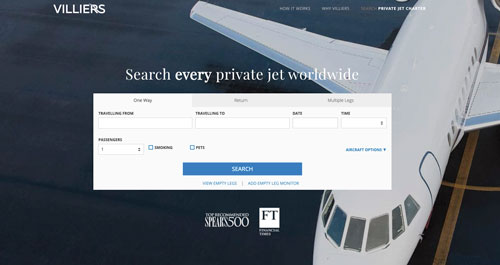 If you want to test your marketing skills, then Villiers Jets might be a good challenge. There is a market for chartering private jets out there and websites like Villiers are the place you can get some epic commissions from. With flights getting into the hundreds of thousands, you can make a really good 30% slice of the pie for referring flight charters. You also earn residual commission for the lifetime of new referrals.
While I haven't even thought about doing this before, it'll be an extremely lucrative industry to get in to if you get super niche into your marketing.
14. Bluehost
Commission Rates: $65 – $120 per referral
Price point: $3.95 per month
Cookie Duration: 30 days
Product Type: Website Hosting
One of the most talked about web hosting platforms in the world is Bluehost. Bluehost is one of the only recommended hosting providers for WordPress and is a beast when it comes to speed. A lot of major bloggers in the world use Bluehost as one of the main income streams, and like most other hosting providers out there, they increase commissions when you hit certain thresholds.
The most attractive point of Bluehost is they make it so simple to start your WordPress website. With a few clicks after purchasing your hosting account, you can have your new website installed. As the price point is broken down into months, being less than $10 is a no brainer for anyone so it has great conversions. Increase your amount of referrals per month, and get increased referral rates.
15. BigCommerce
Commission Rates: 200% per customer
Price point: $30p/m, $80p/m, $300p/m
Cookie Duration: 30 days
Product Type: Ecommerce Softrware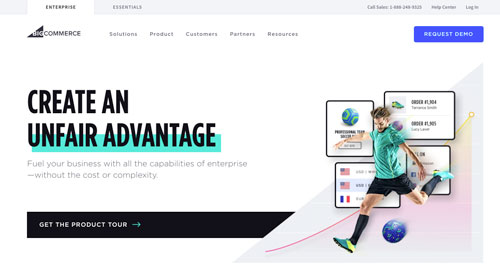 BigCommerce is another eCommerce competitor in the market, directly competing with Shopify. They provide a platform to build your online store, list and sell your products, take payments and also ship and fulfil your orders. There are a lof of apps and integrations for BigCommerce and depending on your eCommerce needs, BigCommerce could be a better option for a store opposed to Shopify.
The BigCommerce affiliate program offers its affiliates 200% commission on their first payment, or if you manage to sell an Enterprise plan, you can make up to $1500 commission.
16. Site123
Commission Rates: Up to $241.80 per sale
Price point: Starting at $10.80 per month
Cookie Duration: 30 days
Product Type: Website Hosting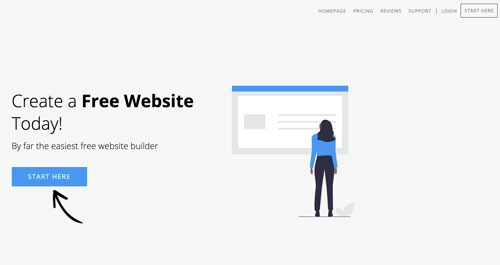 Site123 is a website hosting company that claims to have one of the highest affiliate compensation plans. Their website offers a free solution to building websites, which then takes the customer on an up-sell journey to finally purchasing their desired package. They also have a premium membership which includes ecommerce features, this also has a bunch of add-ons the customer can purchase.
17. Entre Institute
Commission Rates: 50%
Price point: $30/month – $29,997/year
Cookie Duration: 30 days
Product Type: Marketing Course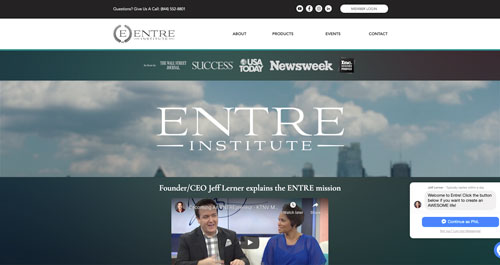 Entre Institute is an education platform that sells things like books, memberships, courses, coaching, events and masterminds in the Online Business vertical. Jeff Lerner is the founder of Entre Institute and boasts how he has created 4x businesses that have all generated over $10 million in revenue each. There are multiple products that are in an ascension model for Entre Institute, so there is room for great products. As the business still has quite low members, it can be a good option for affiliate promotion.
18. Plus500
Commission Rates: Up to $800 per referral
Price point: Minimum $100 deposit
Cookie Duration: 90 days
Product Type: Trading Platform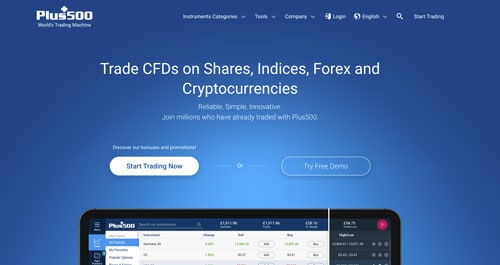 Plus 500 is a global trading platform where users can trade Forex, Stocks, Commodities, Options Indices. The referral program is for Plus500 is incredible as it will reward you up to $800 per user who deposits $100 into their trading account. The catch to this amazing incentive is the program is not available to residents of the United States. You can still become an affiliate however if you are a United States resident.
19. Hostgator
Commission Rates: $65 – $125 per referral
Price point: $2.75 p/m to $139.99 p/m
Cookie Duration: 60 days
Product Type: Website Hosting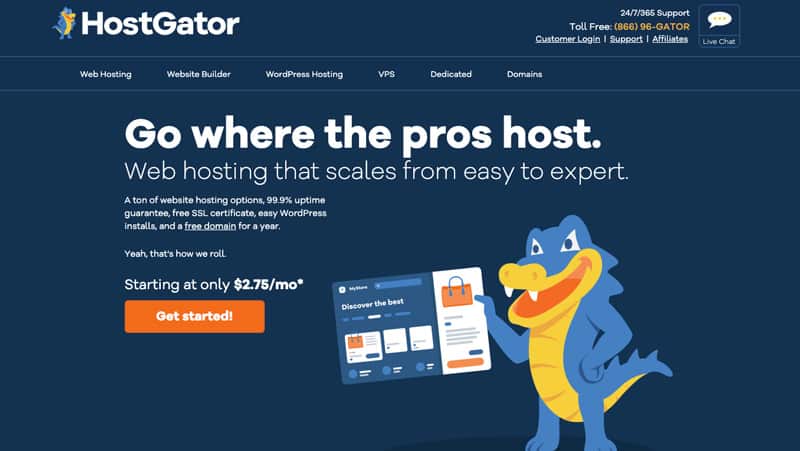 Hostgator is another web hosting company that makes the list of high ticket affiliate programs. They have been around for decades and their reputation is a strong one. One of the great things about the Hostgator Affiliate Program, is they assign affiliate managers to you, similar to that of affiliate networks.
The affiliate manager will help assist you with ideas on how you can bring in more referrals, plu they have the power to increase your commission per sale. Having a good relationship with your affiliate manager will allow you to refine your marketing efforts and generate higher commissions each month.
20. Voluum
Commission Rates: 20% base + 5% – 25% extra
Price point: $69p/m, $149p/m, $449p/m
Cookie Duration: 30 days
Product Type: Link Tracking Software
Voluum is the godfather when it comes to tracking, especially CPA marketing. While a lot of users use basic marketing tracking like bit.ly, Voluum takes tracking to a whole new level. You can track things like the city they are in, the device they are using, the browser they have opened and full campaign behaviour. This is a vital piece of software for tracking massive amounts of click and if used properly, can help you find the profitable campaigns quickly and allow room to scale.
One of the big incentives of Voluum, is that once has joined and added their campaign data, there's a good chance they'll stick with Voluum. Failure to do so would make them lose valuable campaign data, so most stay which means a nice recurring income for you!
Best Affiliate Programs: Recap
As you can see from the list above, there is an abundance of high ticket affiliate programs. Choosing the right one of course depends on the industry you're in, how you want to market it and how the product actually works. One of the best practices to follow when finding high ticket affiliate products, is to actually test drive the product itself so you understand how it works, then create use cases with it.
Hopefully this article has been beneficial to you and will help take your high ticket affiliate marketing to the next level. If you are an active affiliate for a program that's not listed on here, check out the massive list of best affiliate programs or if you have a question, let me know in the comments!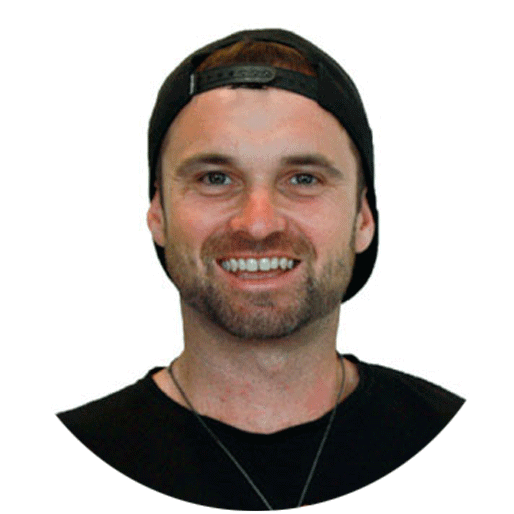 Phil Wilson is a full-time content creator and affiliate marketing expert. Before diving into the digital space, Phil was a Carpenter working a job he hated just to get by. Now he helped 1000's of people all around the world growth hack their new online businesses. Read more about Phil here.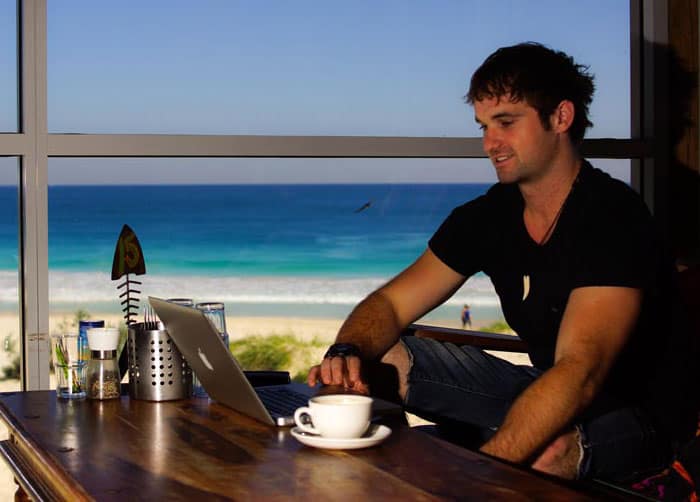 About Phil Wilson. After 10 years working a job I hated, I decided to learn about blogging and affiliate marketing. 6 years later, I've helped 1000's of entrepreneurs learn to create automated online businesses!
Disclosure: Some of the links on this website are affiliate links, meaning if you purchase anything from sites linked to from this site, I may receive compensation at no extra cost to you.
Add a header to begin generating the table of contents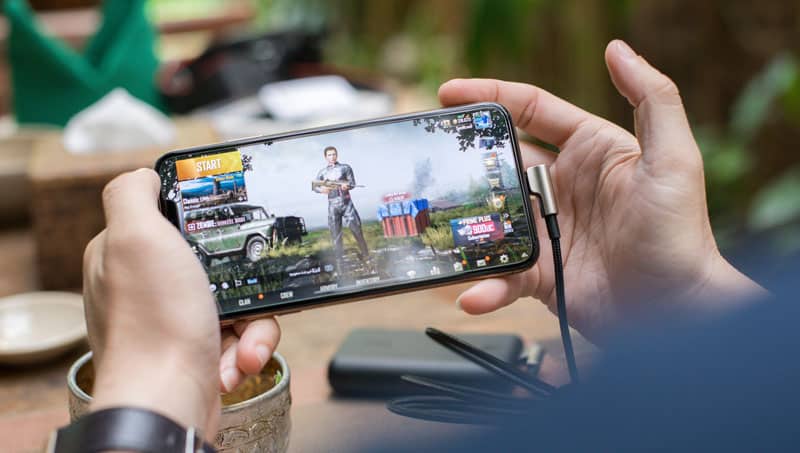 Affiliate Programs
25 Best Video Game Affiliate Programs of 2021 [social_warfare] As technology is constantly evolving, so is the gaming industry. There are now so many new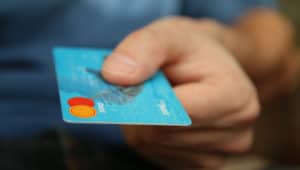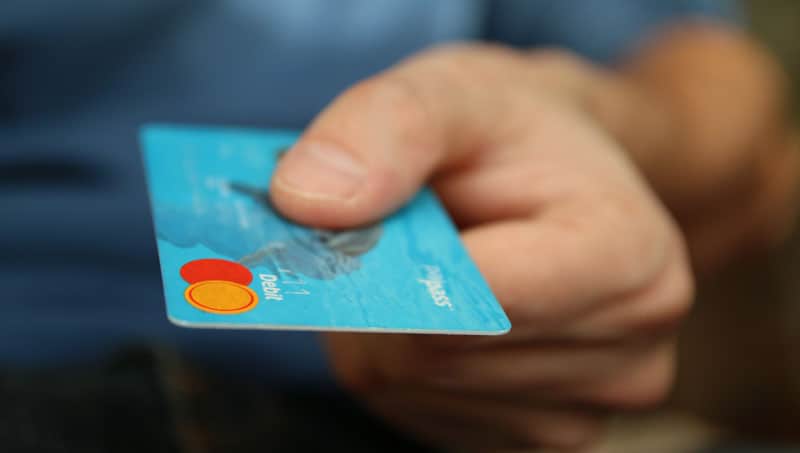 Affiliate Programs
10 Best Credit Card Affiliate Programs of 2021 [social_warfare] If you're in the financial space and looking for good financial affiliate programs to join, you're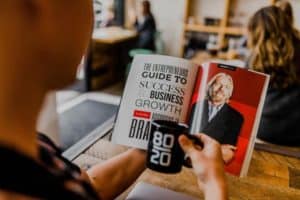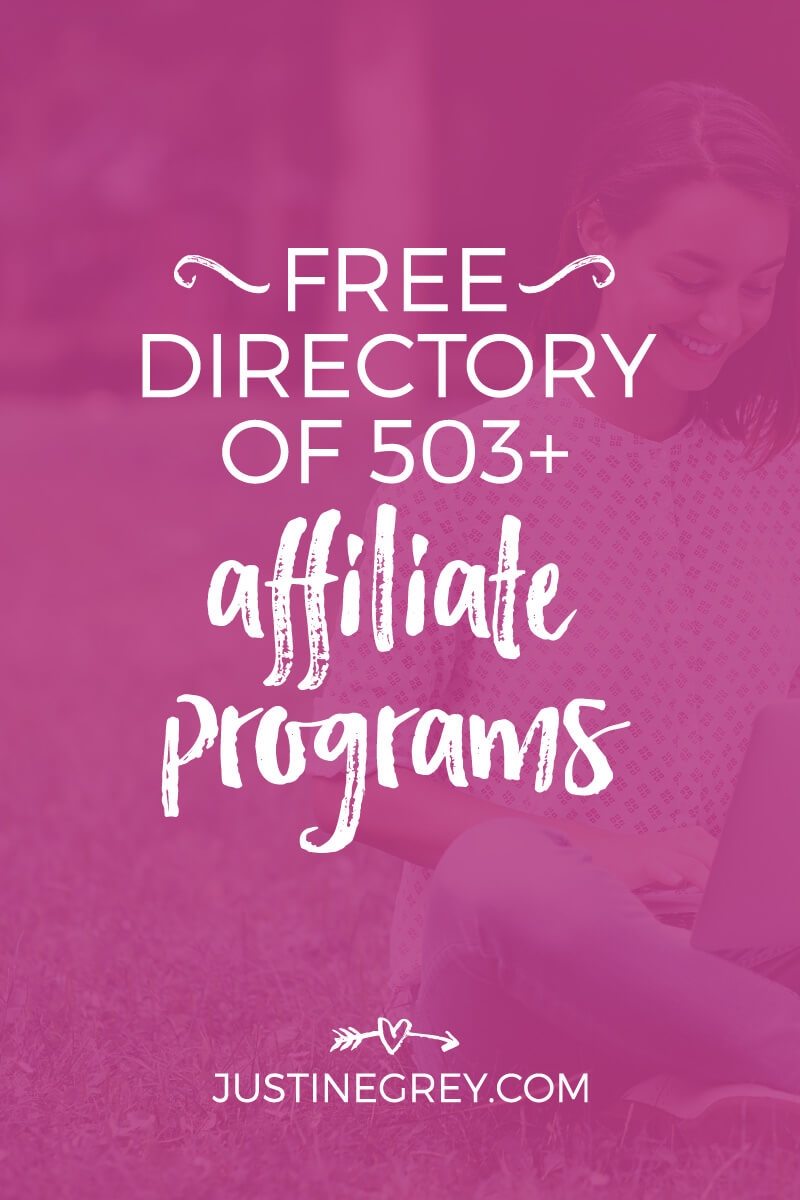 Affiliate Programs
20 Best Affiliate Programs in 2021 for Maximum Profits [social_warfare] Finding the best affiliate programs can sometimes be daunting. A lot of the times inside