Playa Del Carmen for Digital Nomads
After a very cold few weeks in New Zealand visiting family, I decided to spin the globe and find a new place to escape the heat! I've heard that Playa Del Carmen for digital nomads was becoming increasingly more popular and having the Cenotes, whale sharks and Chichen Itza (one of the seven wonders) so close, it was a no-brainer. A last-minute $1200 NZD flight and a week to see some fam in New Zealand, and I was off. The following article should help those wanting to come to Playa Del Carmen get a feel for what it is like, what to expect and how much you can expect to pay.

(Taken at Suytum Cenote)
If you've never been to Mexico before (like I hadn't) you'll be a little nervous about the stereotype the movies tell us about Mexicans. Fortunately, if you planning on sticking around the 5th Ave area (main walking street) of Playa del Carmen, you'll be very pleased with what you find. Playa del Carmen is a vibrant town right on the Caribbean coast of the Yucatan and sits right on white sand beaches and turquoise water. As it sits right on the Caribbean, it is very touristic and has novelty features often found in most touristic places like Thailand and Bali but is very clean and is spread out. The main area of Playa del Carmen is an avenue called 5th Ave which is a walking street blocked off from traffic and along here you'll find a huge selection of restaurants, shopping malls, bars, cafés and clothing stores. The streets are really easy to navigate around in PDC as the avenues start parallel to the beach and ascend in increments of 5, while the streets are perpendicular to the beach and go up in increments of 2. The point of origin is Avenue Benito Juarez which starts right at the beach outside the Ferry Terminal. As far as I'm aware, Playa del Carmen is quite a very place to be. Of course, when travelling to Playa del Carmen you should always be safety savvy whether you are a male or female. It is the golden rule of travel anywhere.
Apartments and Accommodation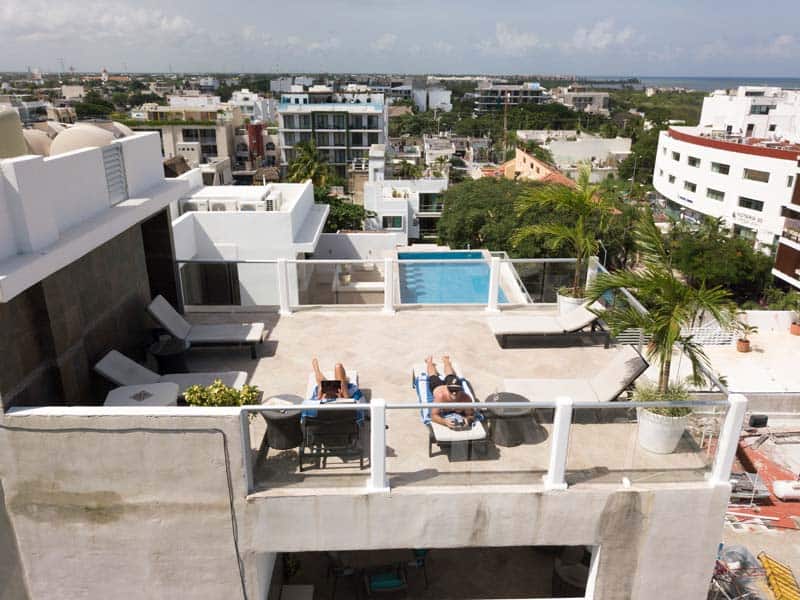 (Monthly Rental Studio Apartment Coral Suites)
Looking for an apartment is never an easy task, especially if you're wanting somewhere with good wifi, in a good area and having the bells and whistles like a full kitchen and a pool. My suggestion is to stay as close to 5th ave as possible and somewhere between 2nd and 42nd street. This is what I've found to be the sweet spot! While the majority of people recommend you use Airbnb to book your accommodation, I found joining the facebook groups Mexpats and Digital Nomads Playa Del Carmen to be the most beneficial. Airbnb does give you less hassle and you can organize in advance, but after going to the Airbnb's available and then looking on the Facebook groups, we got a MUCH nicer place for the same price. It was worth the few days in a hotel while waiting. We paid 20,000 MXN (+5,000 deposit) for 1 month at 5a Coral Suites which was a modern studio apartment with full kitchen, massive bathroom, 2x flatscreen tv's, 24/7 security and a rooftop pool right on 5th ave (centre of town). We also have 85mb upload and 85mb download wifi, literally the fastest I've ever seen not in a coworking space. For the same price on Airbnb, you'll be getting an old run-down place about 20 minute's walk from town and most likely no pool. I definitely recommend you join the groups and post your proposed plans before you commit to anything.
Main groups to join – Mexpats Club (Expats in Playa Del Carmen) and Digital Nomads Playa Del Carmen
Coworking Spaces
If you're looking for a digital nomad co-working space in Playa del Carmen, there are only a few for the picking and from what I've read, they are more for professionals, not really travellers. Here are a some of the options:
Nest Coworking Space – $15 USD per day, $75 USD per week, $250 USD per month.
Work Zone – $10 USD per day, $52 USD per week, $130 USD per month
Cowork In – $13 USD per day, $65 USD per week, $235 USD per month
The nest is by far the most popular co-working space in Playa del Carmen but if you're looking for that Dojo Bali type vibe, unfortunately, you can't find it here in PDC.
Digital Nomad Café's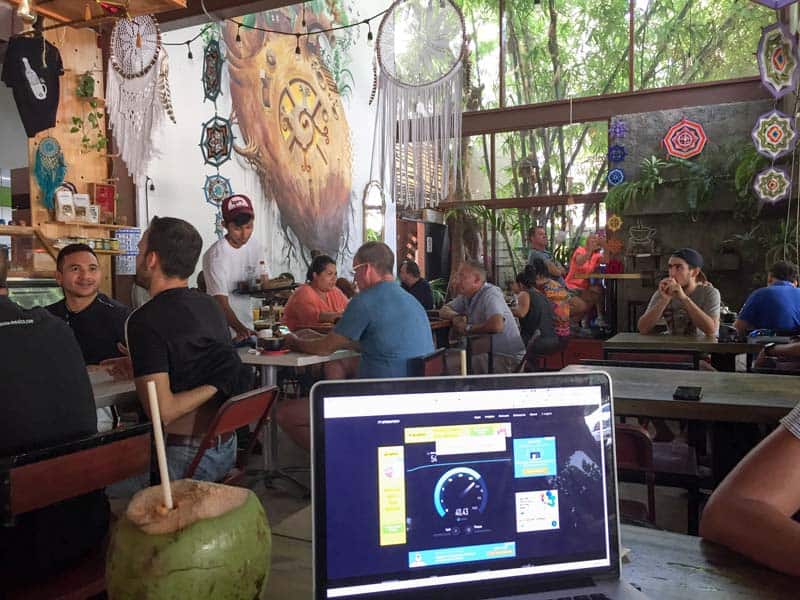 (Chou chou cafe)
There are however many cafés that provide good wifi, so instead of spending your money on a membership, treat yourself to some great food and get work done at the same time. My favourite is Choux Choux café where I found myself consistently going to to get my caffeine fix and daily coconut. It has great wifi and the staff are really great people. The Pitted Date is also a great Vegan café too with very good wifi, great food and is really close to the beach. Another favourite of mine for sure! Also, along 5th Ave has multiple restaurants who also have reasonable wifi (averaging 10mb up 5mb down) but it is western prices for food and drink, so expect to spend a little. It's the perfect place to have a few Sol's while watching the world cup though! Also, be prepared as tipping is a big thing in Playa del Carmen. Most places you go won't include the tip so you have to add that in yourself, being from New Zealand it was still very new to me. The minimum is usually 10% but if you're happy with the service, give them 15% – 20%.
Cellphone Data Plans
After much research, it seems Telsel is the best option for cell provider in Playa Del Carmen and you can pick up a sim card at your local Oxxo (corner convenience store) for around 180 MXN. You'll then need to top it up a further 300mxn for 2.5gb of data which can be purchased from Oxxo too. You don't require providing a passport or any form of identification to get a sim card, just make sure your phone is unlocked if this is your first time travelling abroad.
Cost of Transport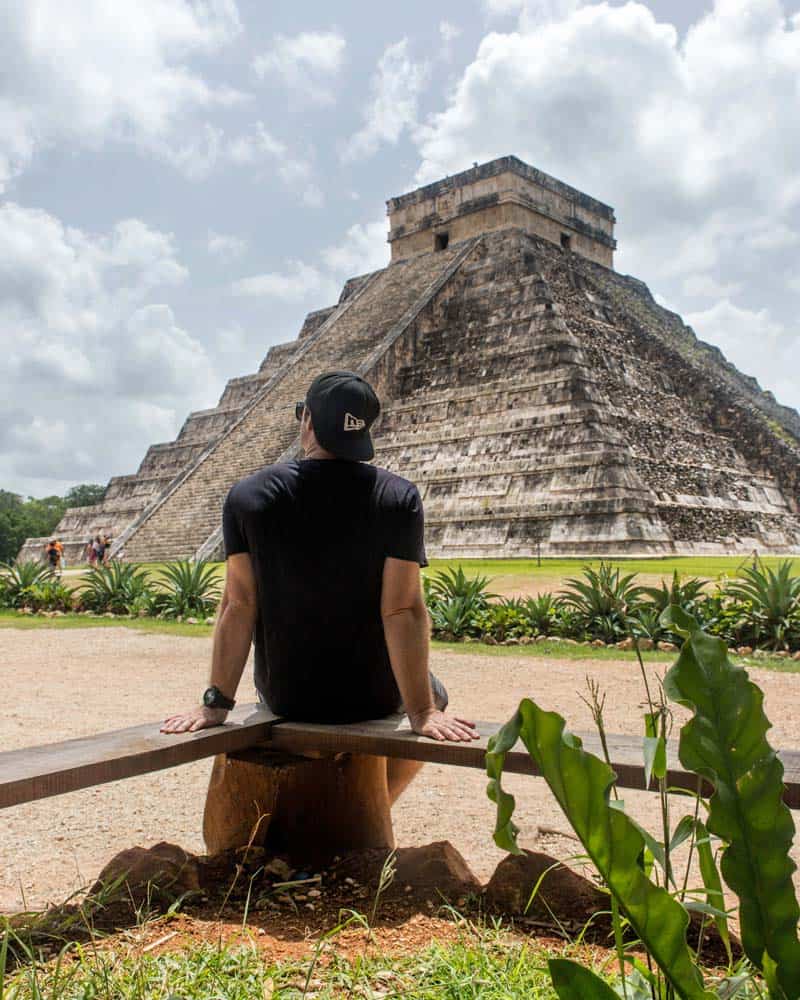 (Chichen Itza – Wonder of the World)
To get to Playa Del Carmen from Cancun airport, you'll need to get the ADO bus from the airport bus terminal which costs 190MXN p/p. It takes roughly 1.5 hours and stops at the ADO bus terminal which is right on 5th Ave in Playa del Carmen. Alternatively you could get a Taxi or Shuttle which would cost much more (not sure exact prices) or you could take an Activo which can cost up to 60 Pesos to get around Playa Del Carmen, you can walk most places or you can take a Taxi which should cost you between 30 – 50 Pesos for most trips
Best times of year to visit Playa Del Carmen
We (myself and my girlfriend) arrived in Cancun Airport in mid-June, and I guess we should have checked the seasons before booking tickets. The wet season here is between June and October so it's hot and muggy, really bearable though and I thoroughly enjoyed it during this time. The ideal monthys to come to Playa Del Carmen is between November and February and from there it gradually gets warmer until June.
Things to do in Playa Del Carmen for Digital Nomads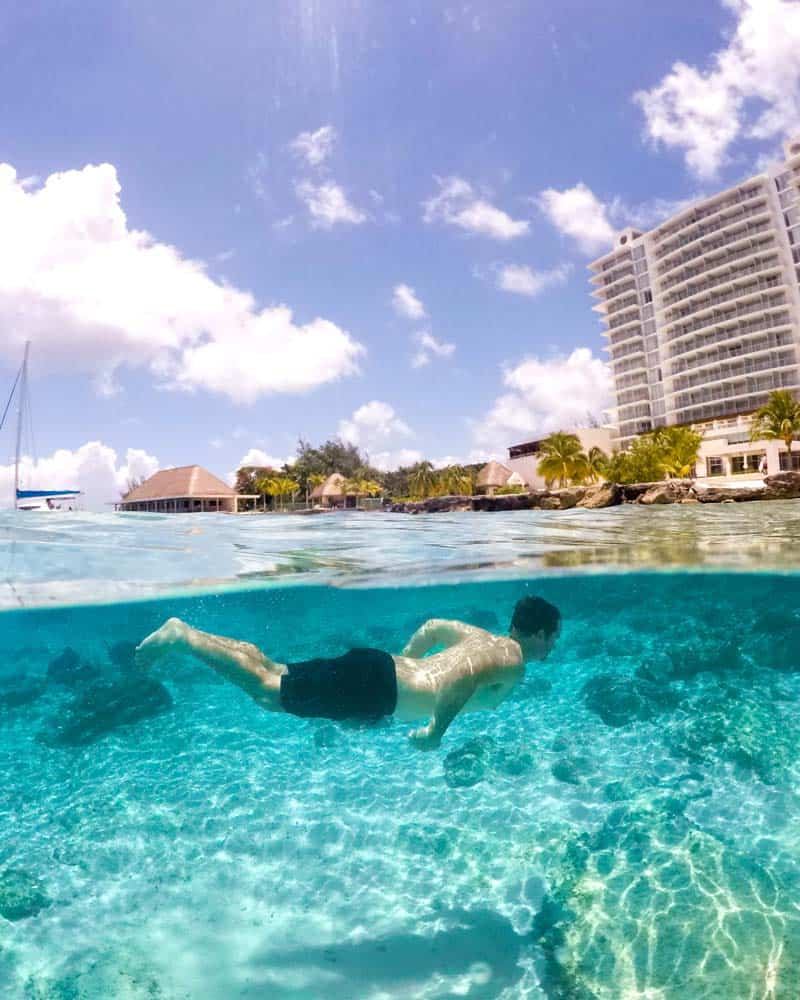 (Isla del Cozumel)
The great thing about Playa del Carmen is there are dozens of things to do within a few hours drive so you'll never get bored.
Isla del Cozumel – just a 45-minute ferry ride from Playa del Carmen is a Cozumel which is an island surrounded by snorkelling, white sand beaches, underwater statues and also has Mayan ruins, great beach bars and vantage points. You could spend the day or spend the weekend here quite easily and if you're into diving, this has the 2nd biggest reef in the world!
Explore the Cenotes – Just a 20-minute drive outside of PDC town and you'll start passing signs to Cenote's and soon you'll realise there are a lot. According to locals, there are hundreds if not thousands of Cenote's which are majority family owned! A Cenote is an underwater cave which most popularly has an open port and looks like a giant hole in the ground. The water is crystal clear and they are all connected by underwater rivers! The most popular ones are Doj Ojos, Grand Cenote, Cenote Azul and I really enjoyed Suytum Cenote!
Visit the Tulum Ruins – The Tulum Ruins are quite a remarkable Mayan World Heritage Site. Right on the edge of the sea lays a massive area of ruins filled with big lizards and epic views of the beach. The ruins are quite well preserved so you can definitely get a feel of what it would have looked like when it was constructed.
Chichen Itza – One of the 7 wonders of the world and wow this thing is massive! About a 4-hour bus ride from PDC will get you to Chicken Itza to witness the old Mayan Pyramid. A very impressive sight that's for sure.
Enjoy the local culture – If you've never been to Mexico, get ready for copious amounts of corn chips, hot sauce and tacos. What was really cool is a lot of the places have mariachi bands frequently coming to play for you, and you reward with a small donation for their entertainment.
Swim with Whale Sharks in Isla Mujeres – If you're lucky enough to visit Yacutan between the months of June and September, you definitely should get a tour out to Isla Mujeres to swim with the whale sharks. Some people have said to have been surrounded by up to 7 whale sharks at once and it's in a more natural habitat unlike the Moalboal whale shark experience in the Philippines.
Overall thoughts of living in Playa del Carmen
I personally love Playa del Carmen and have set up here quite nicely. If I had reason to come back again, I would for the sheer fact that it's clean, the wi-fi is great, the beaches are insane, there are good gyms and the people are so friendly here. It's not the cheapest place to live, but with all the benefits, the weather and things to do, overall I think this place is a great area to set up if you're thinking of coming. If you're a digital nomad and you're thinking of going to Playa del Carmen, drop a comment and I'll be happy to answer any questions below!