Day Trip to Nusa Lembongan with Dojo Bali
Nusa
Lembongan
 is one of my favourite little islands that surround Bali, Indonesia so when I heard the crew at
Dojo
Bali (co-working space) had planned on going for a day trip to
Nusa
Lembongan
, it was a no
brainer
.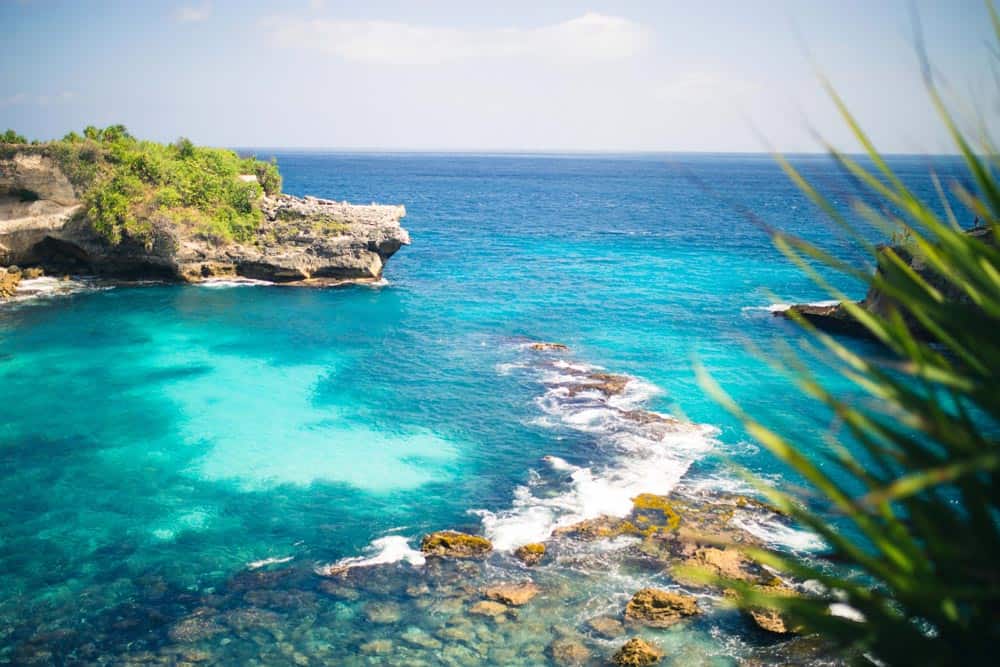 ​Paradise Getaway – Nusa

 

Lembongan

, Indonesia

​Nusa

 

Lembongan

 is a small tropical island just 35km off the Southeast coast of Bali. It is approximately 35km away from

Sanur

beach and takes around an hour to get there by fast boat. While Bali has become has become the worlds favourite destination in the world in 2017 (

named by

Tripadvisor

),

Nusa

 

Lembongan

 is still one of the hidden gems of Indonesia. Surrounded by luscious white sand beaches, crystal clear water and sheer cliff faces, this is a place you should definitely visit while travelling to Bali.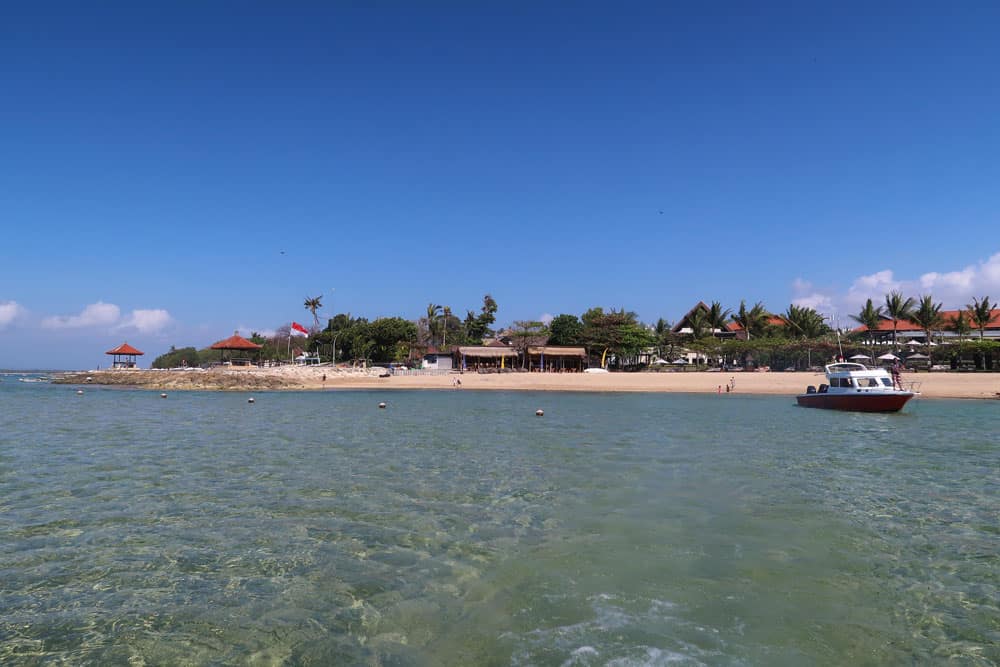 ​Snorkeling

 in the bay

Some of the best

snorkeling

 around the

Nusa

 Islands are at Manta Point and Crystal Bay (

Nusa

 

Penida

) as well as

Lembongan's

 Mangrove Point. Being a day trip though, we didn't have enough time to reach those points. We did manage to jump off the boat though just off the mainland to check out some coral and tropical fish.

Next time I go to

Lembongan

, I'll definitely be going to do the full day

snorkeling

 tour to

Nusa

 

Penida

. I absolutely LOVE that island.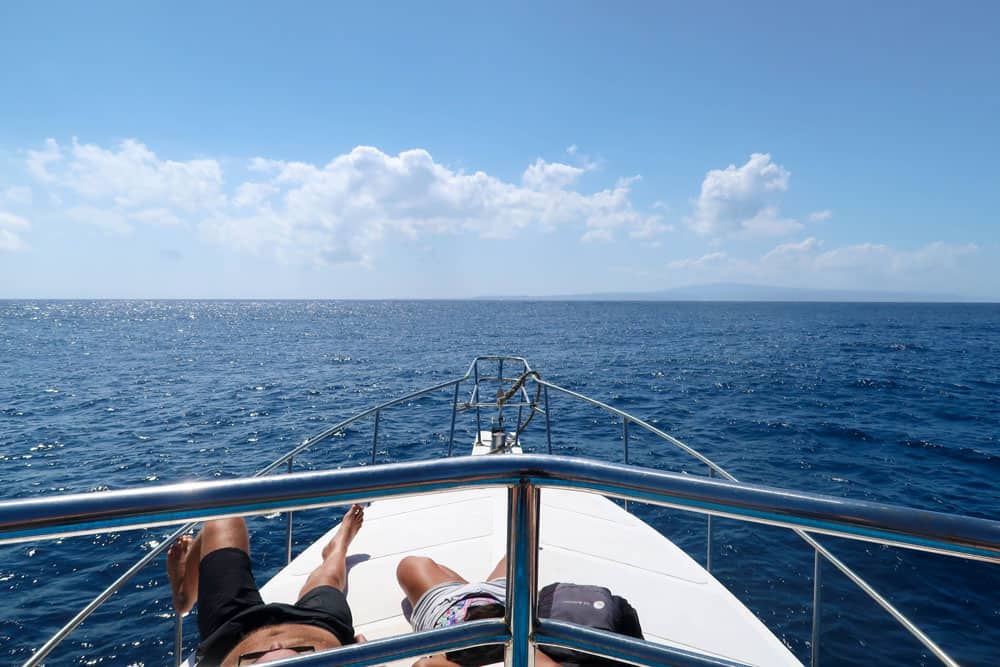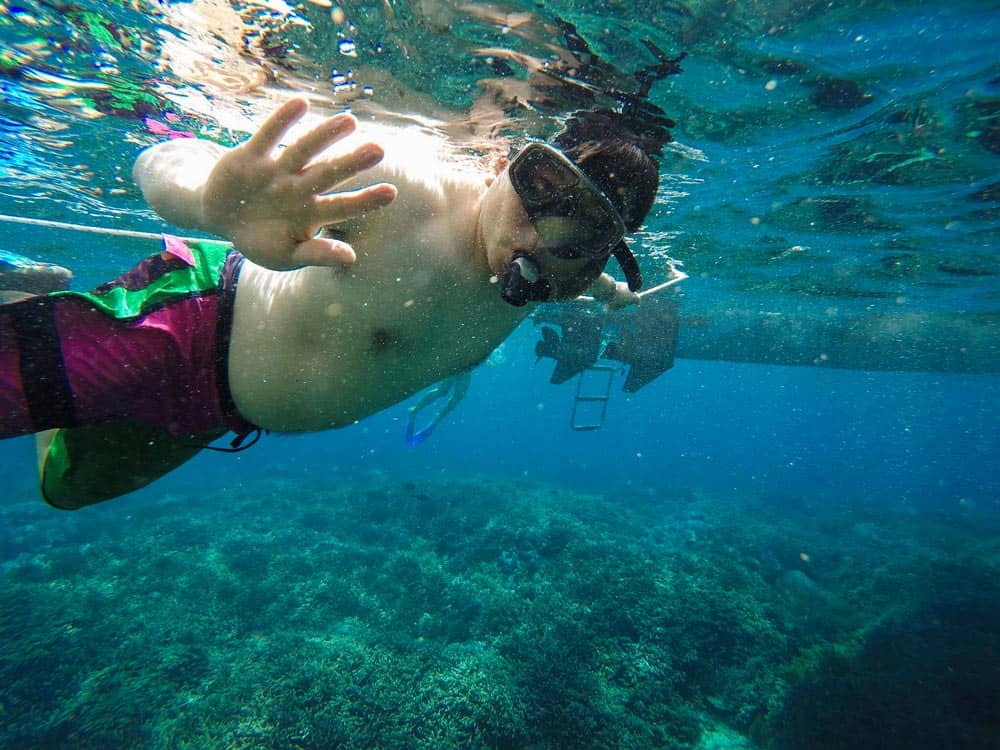 Arriving in
Nusa
Lembongan
All the boats arrive on one little stretch of coast on
Nusa
Lembongan
 while it is high tide, and leave from a little cove further down at low tide. This is where you'll find all the vendors for activities, accommodation and motorbike rental for both the islands.
​We
went up to
Wura
Wura
 Restaurant for a quick lunch and swim before grabbing some bikes and touring around the islands.
​If
 you are planning on booking accommodation, I have previously stayed at THIS PLACE but either finding a place to stay as you arrive or using https://www.airbnb.co.nz/c/pwilson134 is probably the best way to find a good place.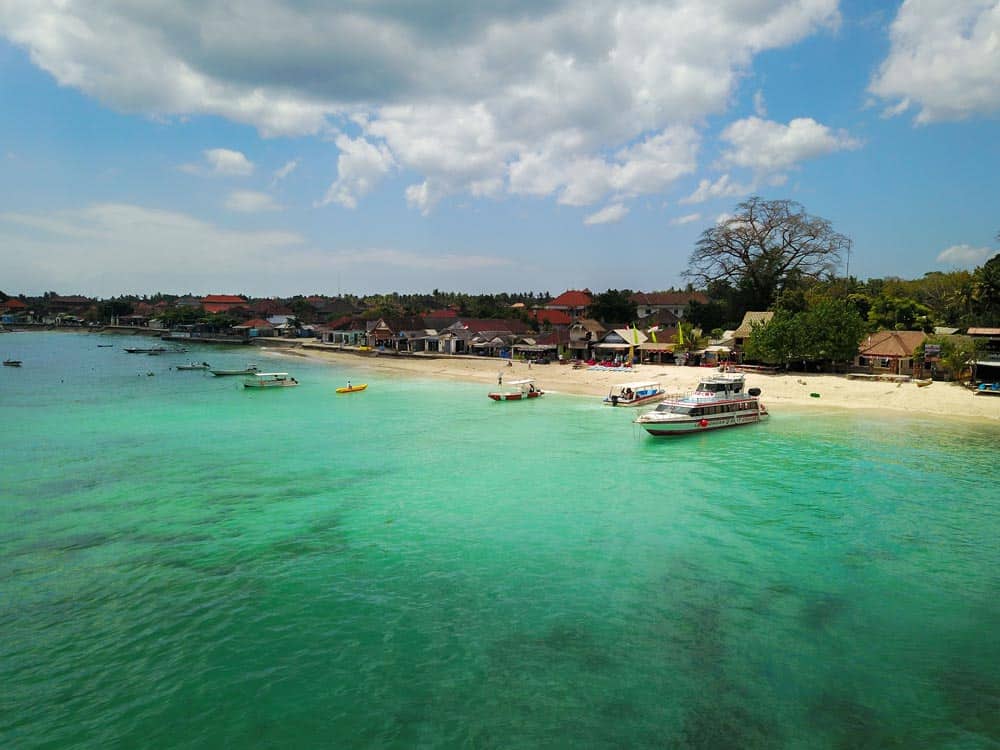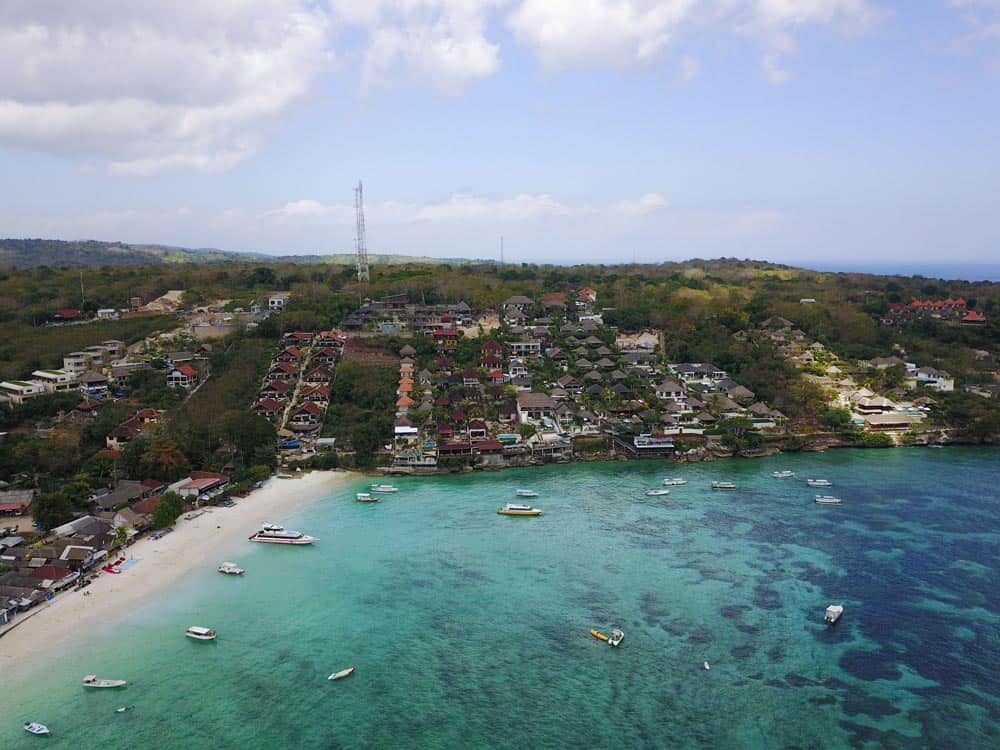 Getting between the
Nusa

 Islands

​One

of my favourite parts of the

Nusa

 Islands is the bridge that connects

Nusa

 

Lembongan

 

with

Nusa

 

Ceningan

. Heading across the now bright yellow bridge (which collapsed not too long ago, so it was rebuilt) has such incredible views either side of the tropical blue water. Considering the islands are only tiny, it only taken 15 minutes to so to get from one island to the next. ​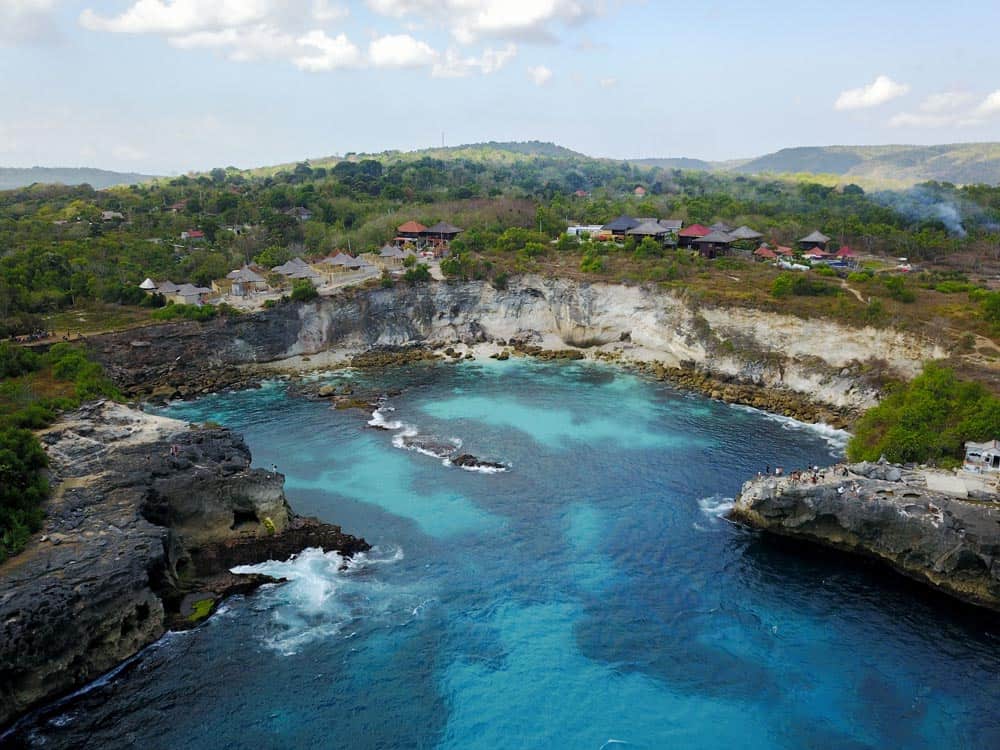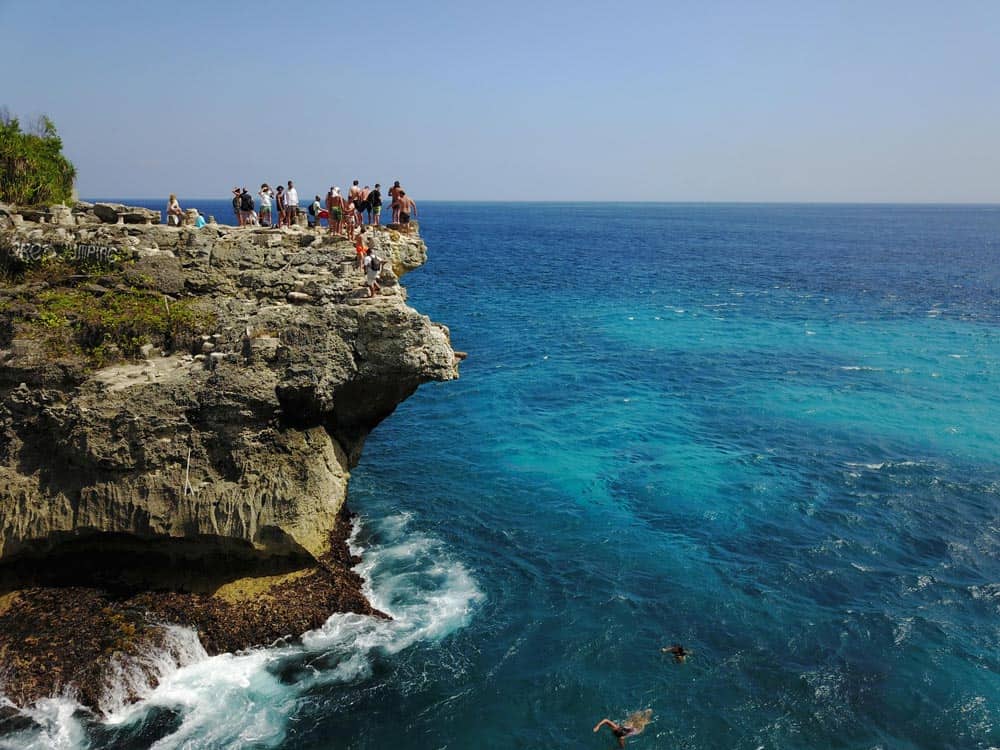 Cliff Jumping at Blue Lagoon 
Nusa

 

Ceningan

​I'm

not going to lie, I'm a HUGE chicken when it comes to heights. Especially when it's 15 metres on the side of a cliff with decent swells passing through! There were a few courageous people though that jumped into the freezing water, thankfully no one was hurt! To get to the Blue Lagoon in

Nusa

 

Ceningan

, it's a bit of a mission

i'm

 not going to lie. The roads to get there are pretty rugged and

offroad

, but we all managed to make it down on our rented scooters. You can find the location here.

​On

a side note, this is actually a dangerous spot and cliff jumping is not advised. There have been a lot of accidents here.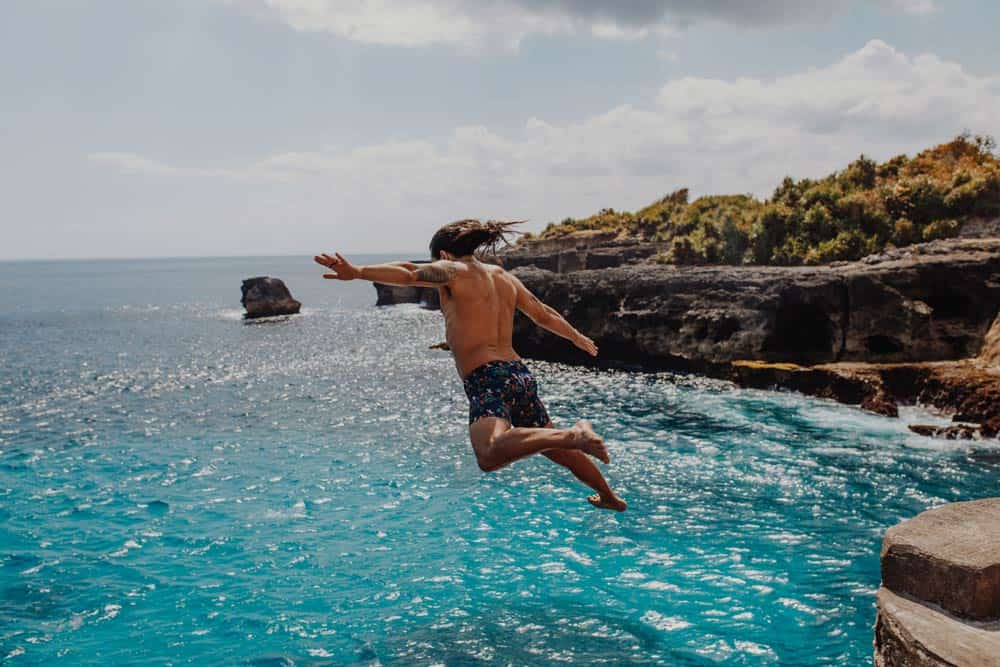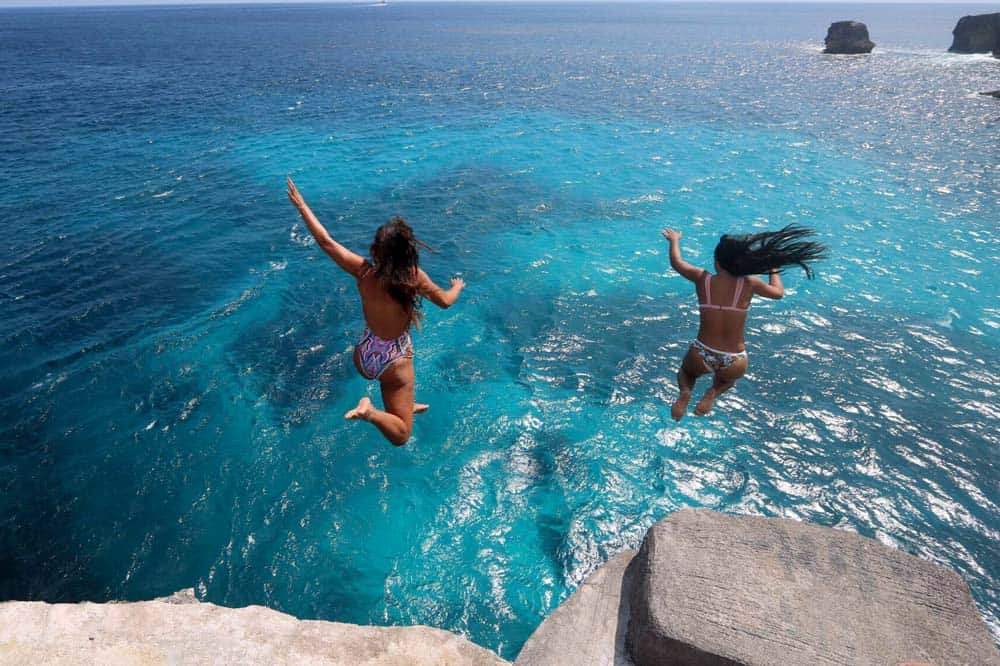 Relaxing at Driftwood Bar
After an hour or so cliff jumping, we went and relaxed at the Driftwood Bar. There was an epic infinity pool overlooking the next bay from Blue Lagoon, complete with beers and cheap prices. They even have a
zip line
that stretches over the cove and past the infinity pool. It's more of a leisurely zip though, nothing too crazy.
​Needless
to say, we relaxed in the infinity pool after an epic 6 hours on the island
snorkeling
, motor biking, exploring and cliff jumping.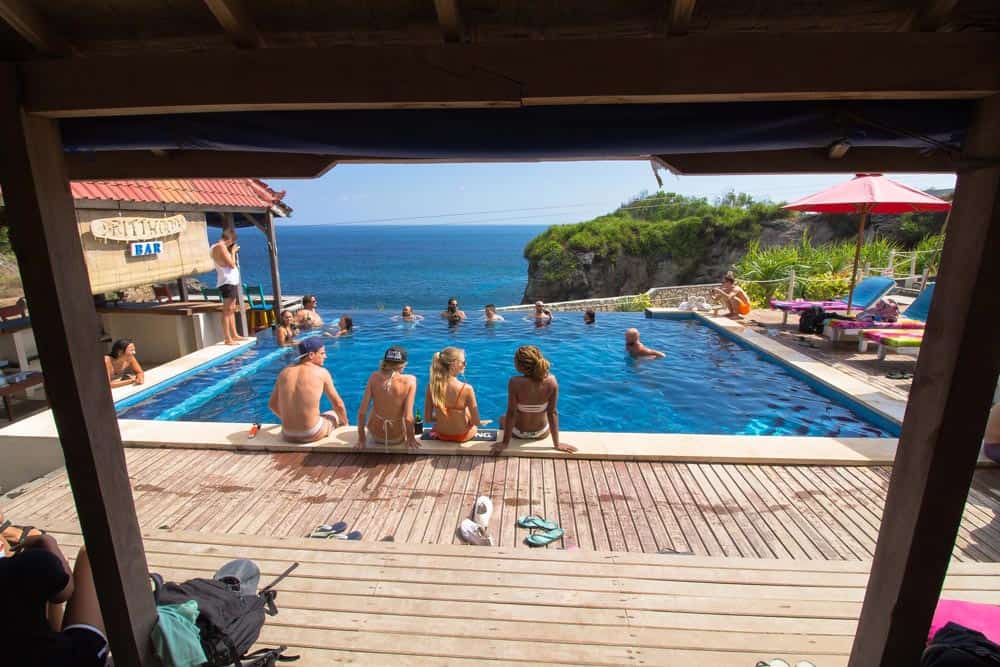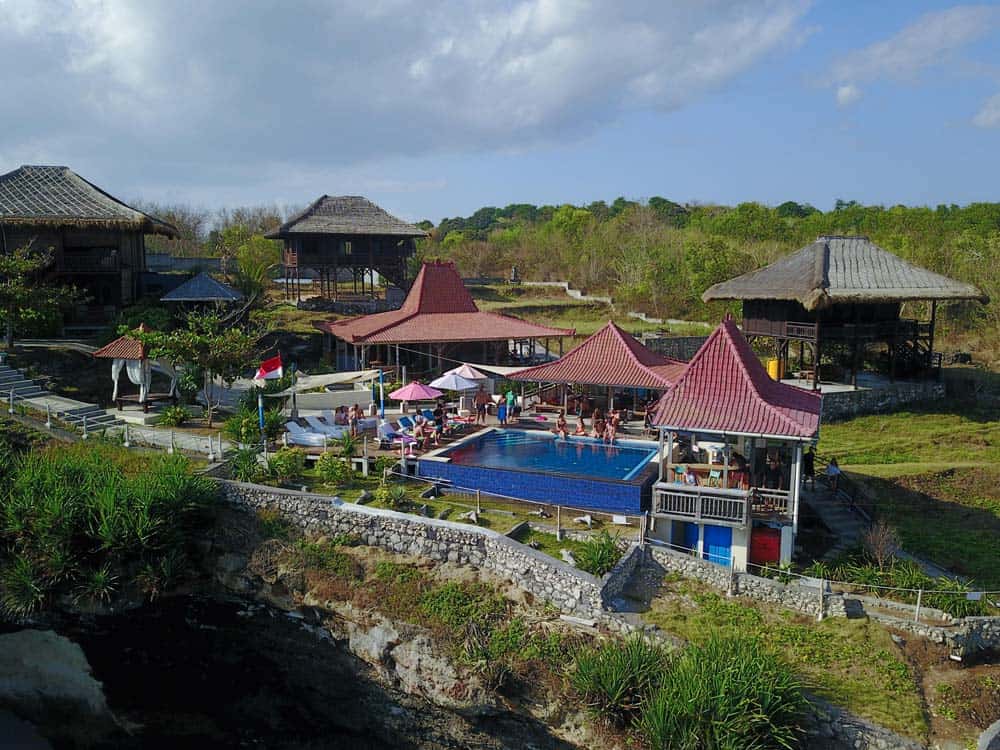 Planning tips for 
Nusa

 

Lembongan

 &

Ceningan​
​Getting

to

Nusa

 

Lembongan

 from Bali

The 

Dojo

 team had pre-organised 2 private boats for our party of 22 to get to the island. Each boat cost around 3,500,000

IDR

($280

USD

) for the day including

snorkeling

, but you can get there by public speed boat for around 300,000

IDR

return from the

Sanur

 Beach or pickup your hotel in Bali. If you book online, you can generally expect to pay more than booking in person either at

Sanur

 or from a local tour company. If they are charging more than 350,000, try and barter it down. Also make sure you discuss the time you leave, I hear lots of stories from people that had to wait for hours at

Sanur

 waiting for their boat to arrive. The actual trip takes about 1 hour each way and the last boats leave before sunset. Once it gets dark, the sea turns into some kind of horror movie. Not so fun for those with weak stomachs!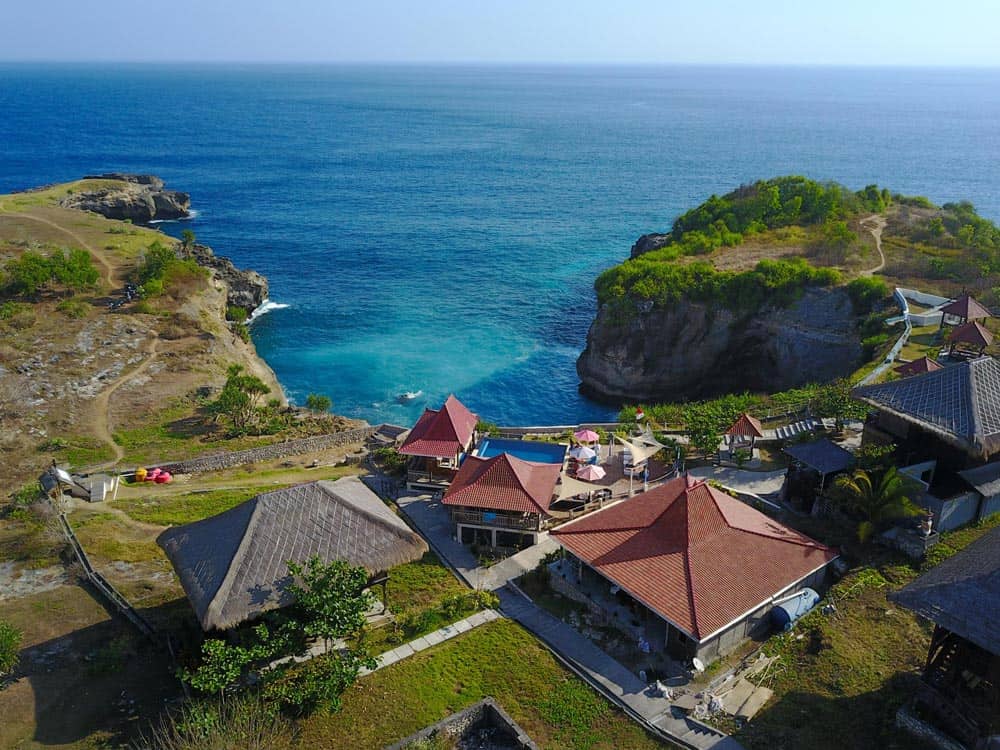 Getting around the
Nusa

 Islands

The easiest and best way to get around the

Nusa

 islands is by scooter (motorbike). Prices will vary and usually involve a little bit of bartering to get a good price. We paid 70,000 for each motorbike for the day. Majority of the roads are pretty good on both of the islands. Getting to places like Blue Lagoon though can be a bit of an off road experience, so drive carefully. Note that not all motorbike renters provide helmets either, so look for the ones that do!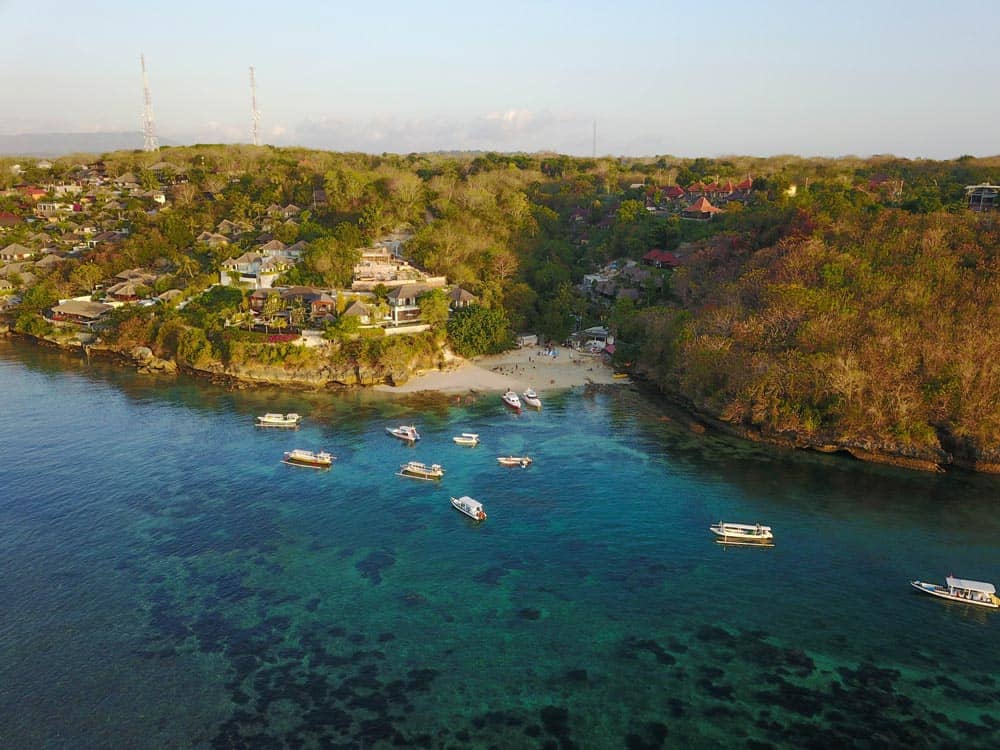 Remember to play it safe on Nusa Lembongan
As these 2
Nusa
 Islands are an hour off the main land and only 8km2 in area, they are a lot less westernised compared to Bali or Lombok. This also means that there are NO HOSPITALS on these islands either. If you get hurt on the island, apart from first aid you will have to wait until returning to Bali. Some things to avoid this are hiring locals to drive you around the island. It will of course be a little more expensive, but none the less they know the island. You will be much safer.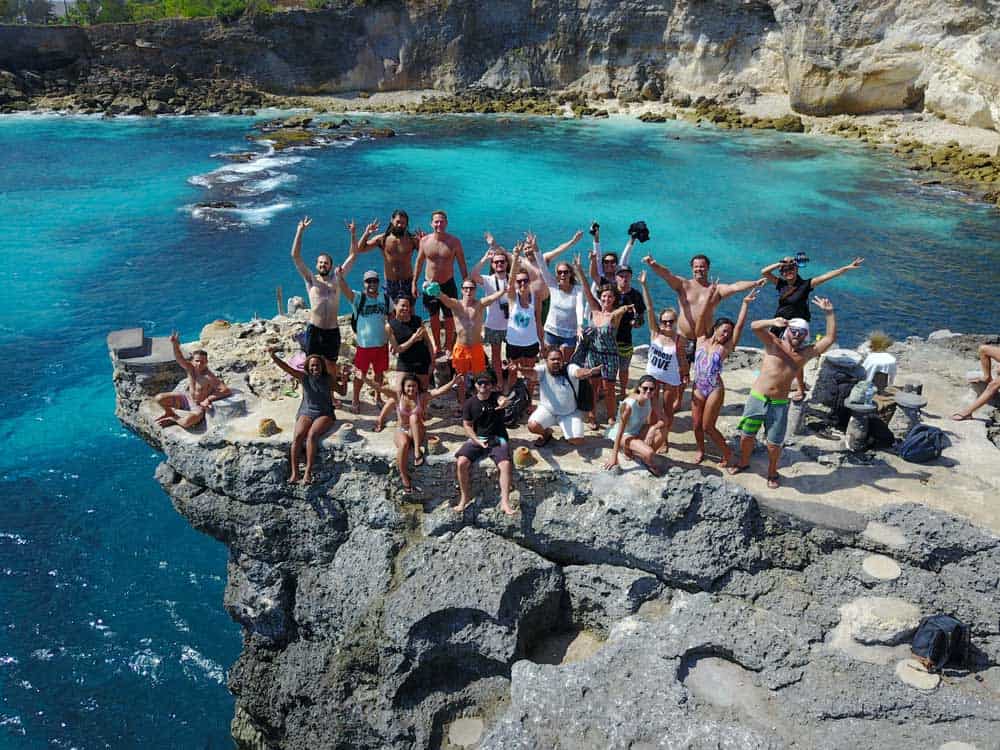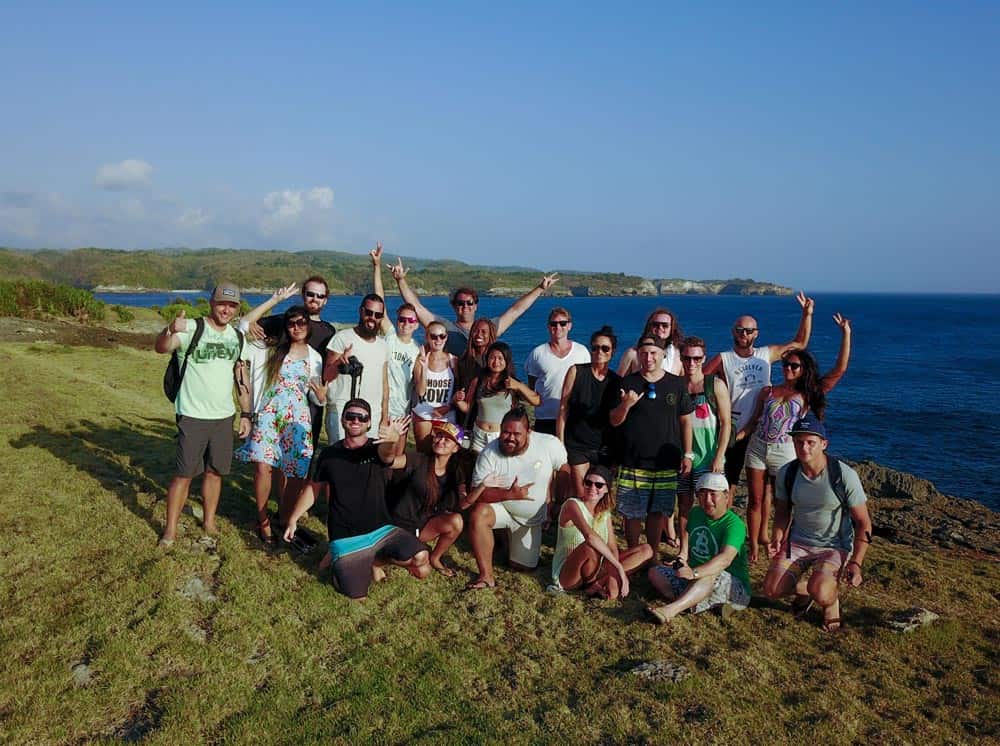 ​And
ALWAYS travel with
Travel Insurance
Cheers to the
Dojo

 Bali
team for setting this up and cheers for the photos shared amongst this trip. It was an epic little
getaway
from
Canggu
!