Trekking Mt Batur Volcano Bali, Indonesia
A few days ago, I and a bunch of friends decided we wanted to go trekking Mt Batur Volcano while here in Bali Indonesia so we asked out villa's maid to organise a driver to take us there in the following morning.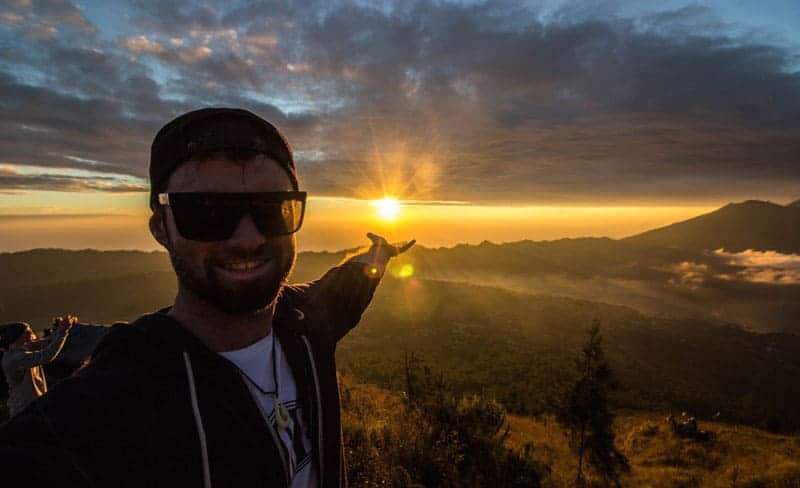 Although we found multiple websites online offering trekking tours up the Mt Batur Volcano, we thought it was a tourist trap like all other online things in Bali so we decided to wing it and hopefully, things would work out! So with that, the driver was organised for 2 am in the morning to pick us up from Canggu and take us to the summit!
Trekking Mt Batur Volcano
Waking up at 2 am is never fun but luckily the majority of cars here in Bali are Toyota Avenza's which are large minivans so it only took a few minutes to get comfortable and fall back asleep. 2 hours later, we arrived at the Mt Batur starting point and we were trying to trek it by ourselves, but we were ushered into a briefing room where we were flashed with licenses and tour prices so we agreed to purchase the Sunrise Trek Package for 350,000 IDR each. It included 2 guides and a hot drink at the top! (We were glad we used guides in the end as a few of our group struggled a little)
We were then given flashlights and began our journey up the Mt Batur Volcano!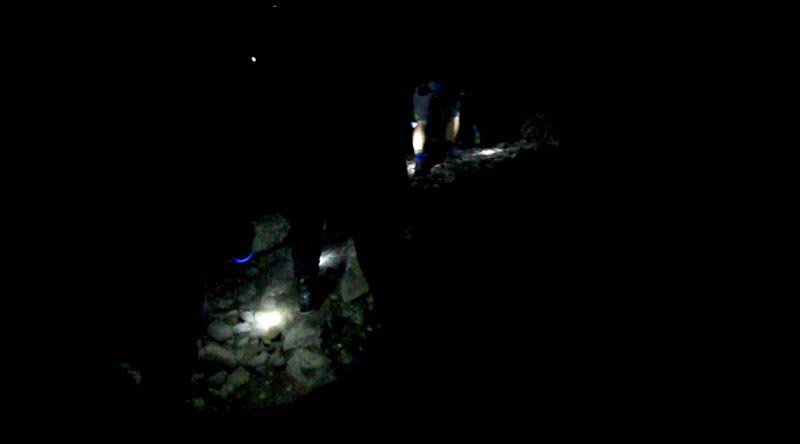 The first 30 minutes of the trek was very easy, it was mainly walking to the base of the volcano with no real incline or difficult obstacles to overcome. One thing I noticed is that there was a lot of other people on the trek also! I would estimate a few hundred other people there so you could actually see from all the flashlights where the track was. They even had a small stall right before it started getting steep with food, drink and even Bintangs (at 4:30 am)
Now began the fun part, trekking the steeper path up the side of the volcano. I personally really enjoyed this part, when I see obstacles ahead it's like attending events like Tough Mudder. I and a guide started powering ahead but I did notice a lot of people struggling so early on in the hike. Luckily the guides were there to help keep them going. There were a few slippery patches and a few big steps along the way, but I wouldn't consider it a hard trek.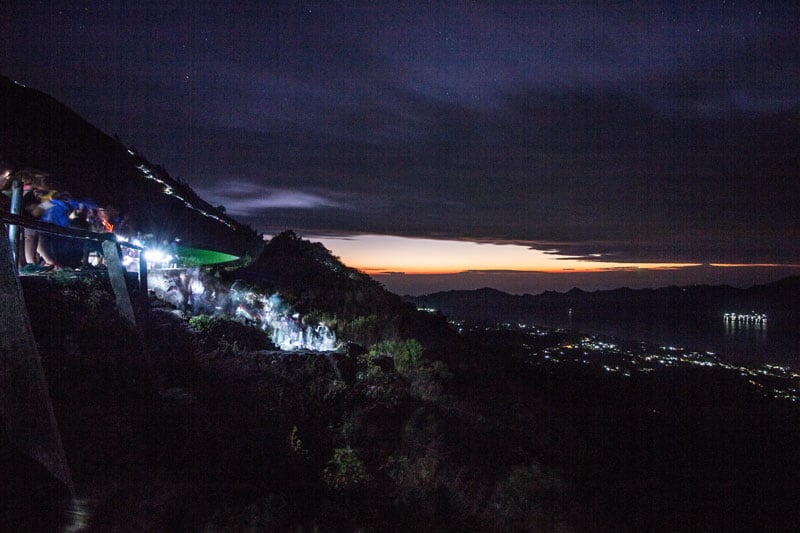 As we were approaching the last 5 minutes of the trek, the sky began to glow a deep red which was so hypnotising, I'd never seen anything like it.
Finally, we reached the top and after multiple high 5's and photo's, we headed to the sunrise spot to enjoy a local cup of coffee and witness the Sun begin to colour everything single around us. There's something about sunrises that makes me feel at peace, especially at this particular moment because of the colour contrasts in the sky, the clouds being brushed with the suns light and the low flying cloud. A moment I'll treasure forever.
The Descent

We were offered the chance from the instructors to go to other peaks on Mt Batur into craters and have breakfast with eggs and bananas cooked on volcanic rock, but after discussing with the crew we decided to go down the way we came (because of blisters, small injuries) so that's what we did.
Although trekking on the way up seemed pretty easy, the way down surprisingly felt harder. You don't actually notice all the loose volcanic rock on the way up but on the way down you definitely get a few close calls. Good shoes are highly recommended for this and as mine has had a good life already, I had many slips. Lucky I only fell once. One of the girls in our group was slipping around like she was walking on ice, she fell at least 40 times so she pretty much held the guides hand the whole way down.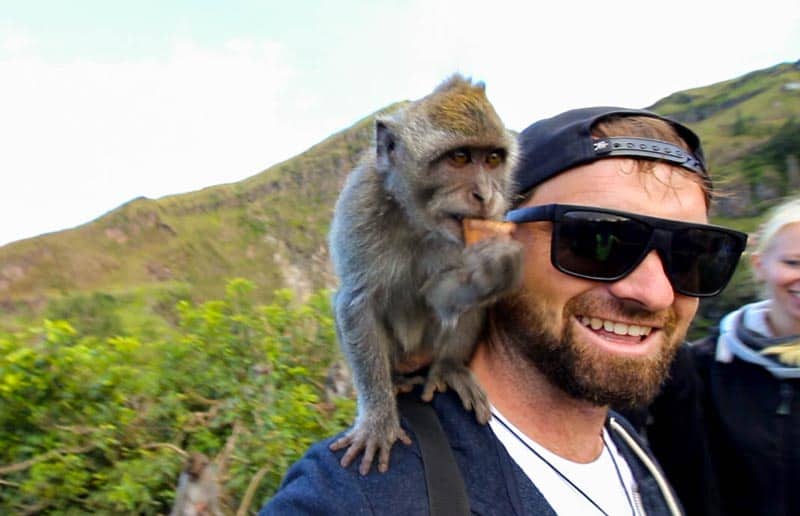 Around 30 minutes after beginning the descent, we arrived at a flat area on the mountain which was full of wild monkeys. All the guides pulled out bananas and chocolate and everyone had the opportunity to feed the monkeys and some to have them climb on your shoulders. Lucky they're nothing like the Monkey Temple or Monkey Forrest monkeys and they're literally just there for the food! (Monkeys at Monkey Temple and Monkey Forrest are well known for stealing anything that's loose ie: sunglasses, hats, small bags, etc and usually they just bite them into pieces).
We also got to see some small holes in the side of the volcano releasing volcanic steam and a small cave which was pretty cool.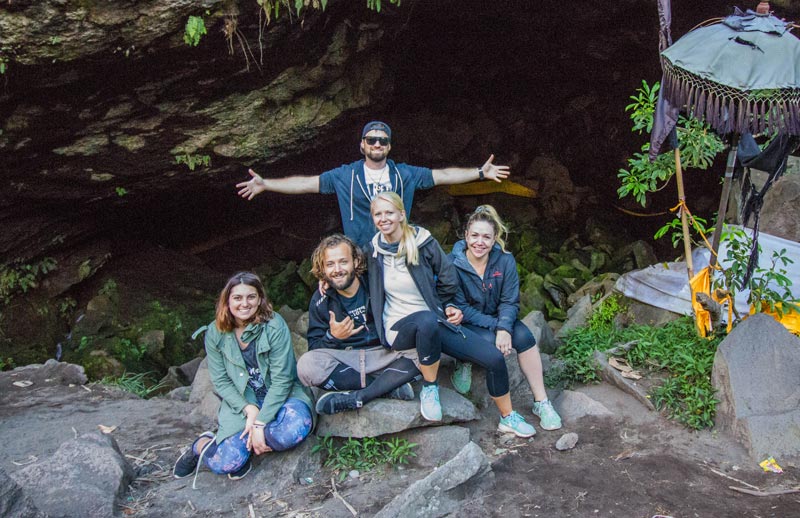 The rest of the journey down was good, amazing views and good banter with other trekkers and at around 9:30 am we arrived back at the Mt Batur Office and jumped in our minivan to head back home.
Tips for Trekking Mt Batur Volcano
Prices – Online, Local hookups and Tour Companies

We paid 600,000 (IDR) for a private minivan to the Mt Batur Volcano office from our villa in Canggu return, and then we each paid 350,000 each for entrance to the Volcano which included 2 guides (1 guide for every 3 people), a flashlight each and a hot drink at the top.
While waiting to leave, I did hear a lot of people bartering with the guides and getting cheaper prices with bigger groups so it's definitely worth a try.
Buying tours online from companies like Bali Trekking Jungle and Bali Hai Tour can cost anywhere from $35 – $90 USD (450,000 – 1,200,000 IDR) with different packages and trek routes, but I recommend you talk with someone locally when you're in Bali. Almost all of the local people know someone or a company that will be more flexible with pricing.
What to Prepare for Mt Batur Volcano Trek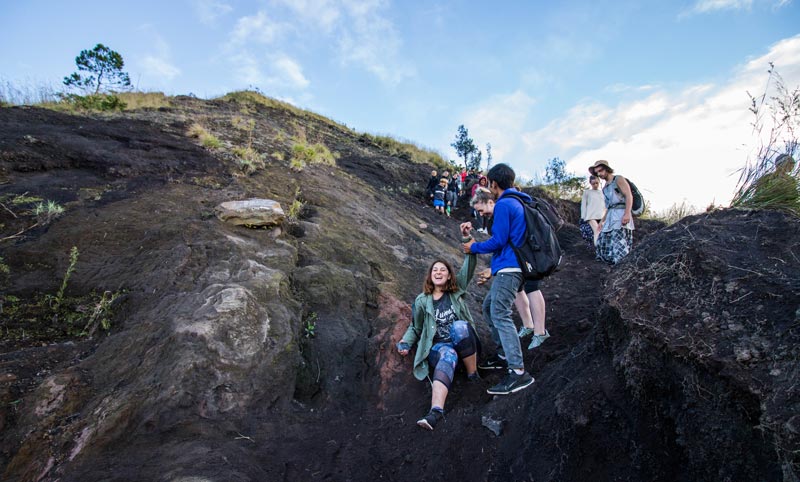 It is cold in the morning so definitely take a long sleeve shirt, I have heard of people getting absolutely saturated from rain also so it may pay to have a waterproof jacket just in case ready. It does get warmer once you start the trek but at the top, it's really windy and once you cool down, the winds on your sweaty clothes get cold really quickly.
Definitely bring running shoes or minimum covered shoes with socks if needed, the ground is very coarse and you will injure your feet.
It is around a 5 hours round trip from bottom to top return so it pays to bring snacks and water, they do have local people selling snacks and water but of course, the prices are highly inflated being on the top of a mountain.
Also bring pants too if you're worried about falling, there are a lot of jagged rocks and you may get cuts and scratches.
Checklist
Long sleeve shirt
Running shoes, hiking shoes or covered shoes
Snacks & 1.5 litres of water
Camera for epic sunrise shots (this is what I use)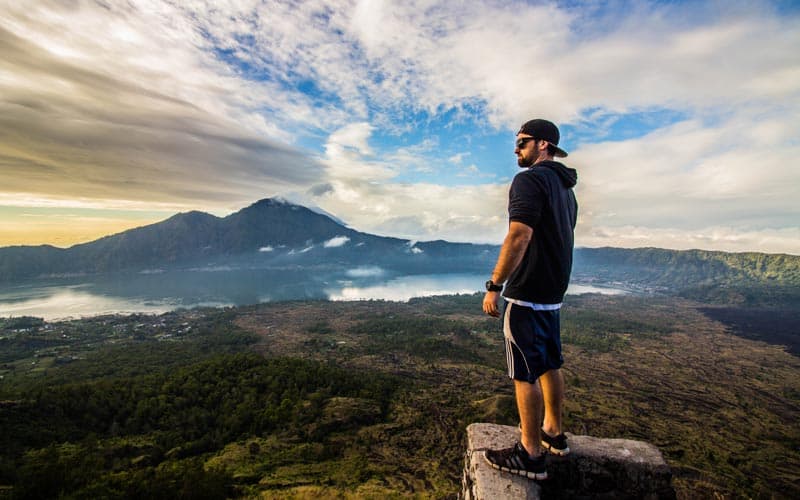 Would I recommend Mt Batur Volcano Trek?
Definitely. I had been wanting to go on this trek for a long time and considering it landed on my 2 year celebration for starting my life as a Digital Nomad, I couldn't have asked for a better day.
It is a little challenging but with the help of the guides, I believe most people could do this trek. There are a few dodgy sections and I actually saw one guy almost slip down the side, so just be careful where you walk and take breaks if you need to.