Top 12 Things to do in Bali, Indonesia
Bali is without a doubt my favourite place in the world to visit. Often people ask me what are the best things to do in Bali so I have created this list to help inspire you and inform you of what there is to do while on the Island. Hopefully this will help you when planning your Bali itinerary and future travels.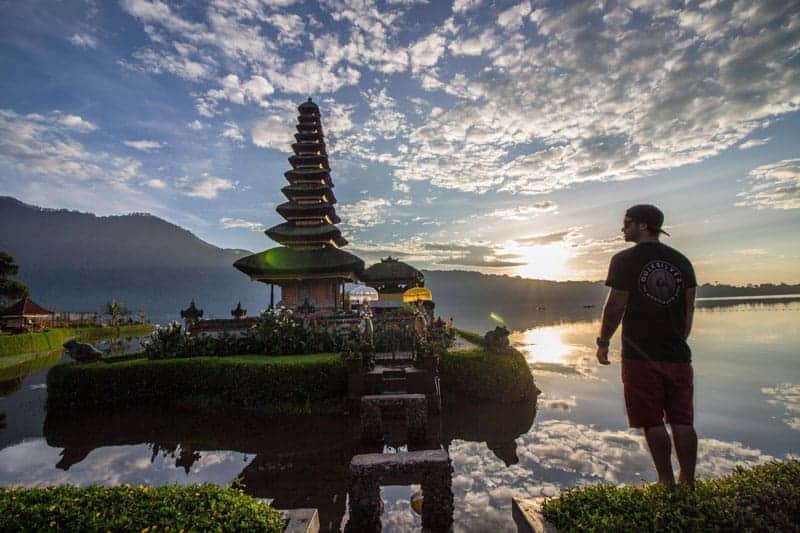 This list is the things I personally have enjoyed doing the most while in Bali so I highly recommend them for anyone who loves a bit of adventure! Note: When traveling to Bali remember that with Mt Agung volcano erupting quite frequently now, ensure your travel insurance actually covers you!
Hiking a Volcano for sunrise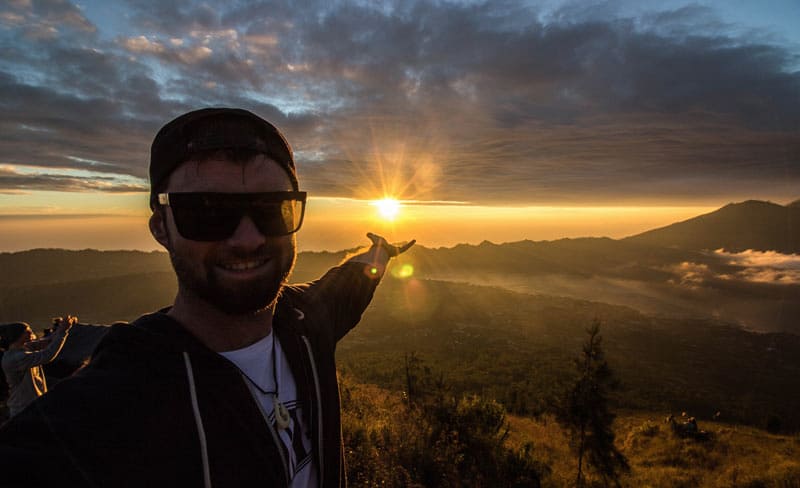 (Taken on Mt Batur Volcano)
Bali is an island that has 2 volcano's on it. You would have probably heard of the volcano "Mt Agung" which has been erupting recently and is the biggest volcano in Bali. There is also Mt Batur though which is an epic volcano to climb and is very easy to do so. Tours are usually half a day and leave around 2am in the morning so you can reach the summit by sunrise. Definitely a must do for all ages.
Go Surfing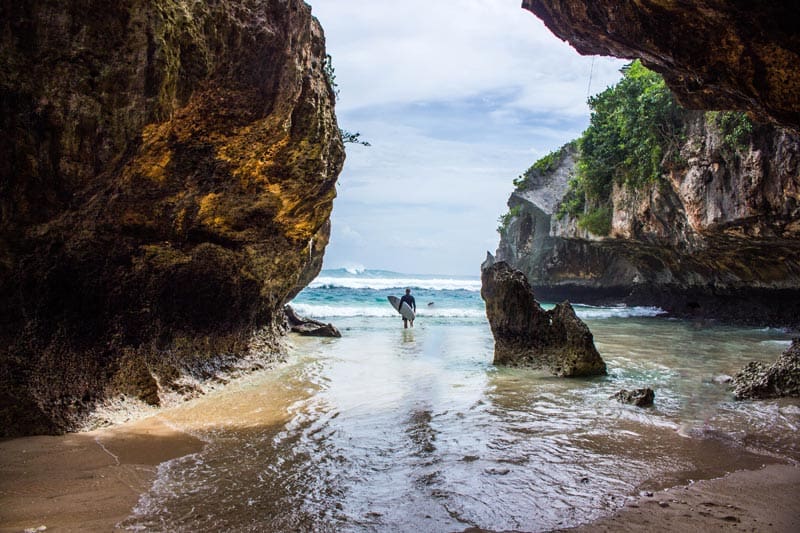 (Photo at Uluwatu Beach)
Bali is an incredible island for surfing and has lots of surfing spots to choose from. The warmth of the water is very appealing (especially when you come from cold water countries) and there are waves to suit all types of experiences. The best part is that waves tend to come 6 out of 7 days per week, so there's always a wave to catch!
If you are a newbie surfer, I recommend you start somewhere like Old Mans beach in Canggu or Double Six beach in Seminyak. These waves are a little bit smaller but still have some size, so you can learn on decent sized waves without getting too worked.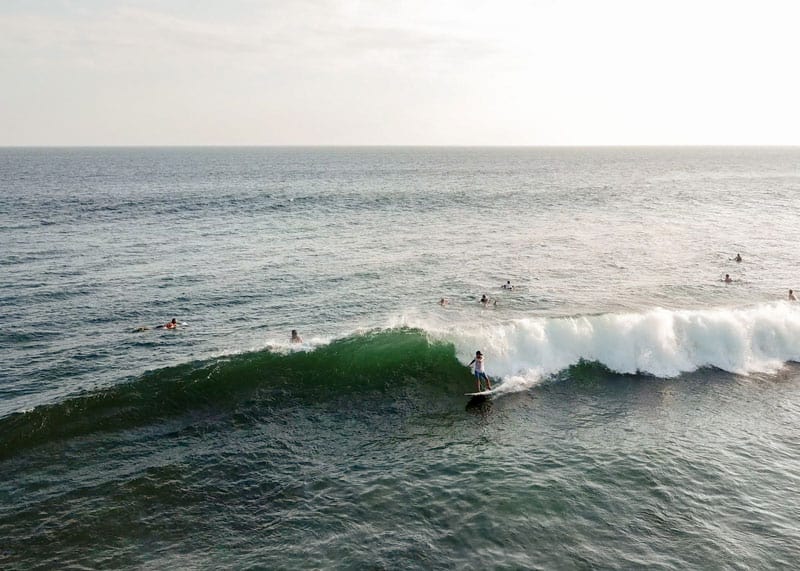 (Taken at Echo Beach)
If you are an experienced surfer, there are spots like Uluwatu which can host up to 20 ft waves in the right swell, as well as beaches like Balangan beach which holds a massive left wave that will give you loads of wave time.
Some other great spots around the island are Medewei, Echo beach and Padang Padang.
Dive (or snorkel) a shipwreck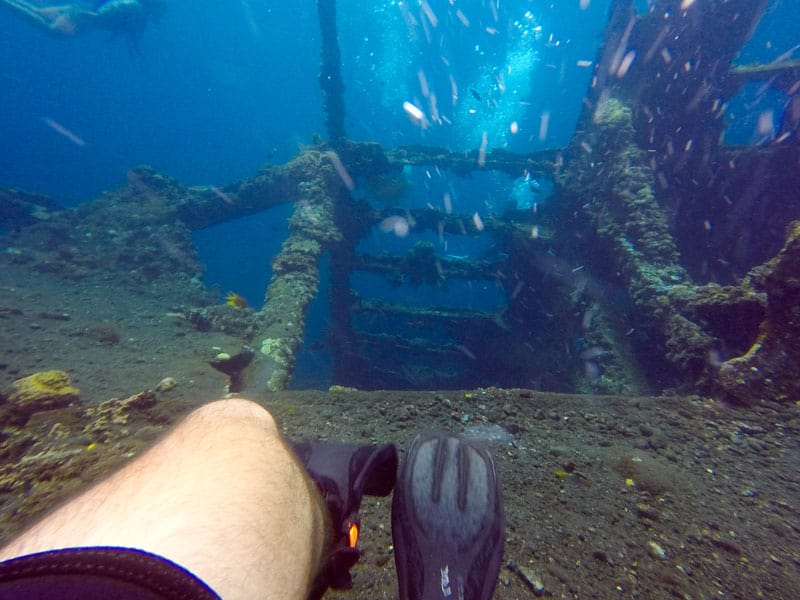 (Diving the U.S.S Liberty Wreck)
There are 2 shipwrecks on Bali that are easily accessible. In fact both have less than 100 metres off shore and both incredible to see. The best shipwreck to go see is the U.S.S Liberty which is on the North-East coast of Bali just outside of Amed. This particular shipwreck is one of the best wreck dives in the world and the best part is that you only need your open water dive licence to dive it (as it's less than 18m deep). I'd imagine it is possible to snorkel this wreck too, but to be honest the dive was so worth it. Definitely dive it.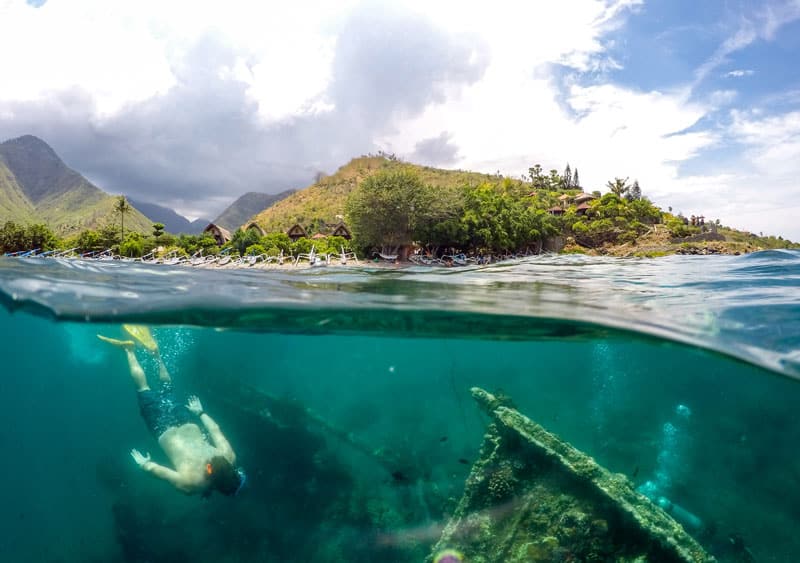 (Japanese Shipwreck)
The second one is the Japanese Shipwreck which is only 10 minutes east of Amed (by scooter or car) and can easily be snorkelled as well as dived. The shallowest point of the shipwreck is about 1m deep and goes down to about 20 metres. Perfect time to test your free-diving skills!
If I were to choose, I'd snorkel the Japanese shipwreck one day, dive the U.S.S Liberty the next. Both were amazing experiences!
Explore some of Bali's Waterfalls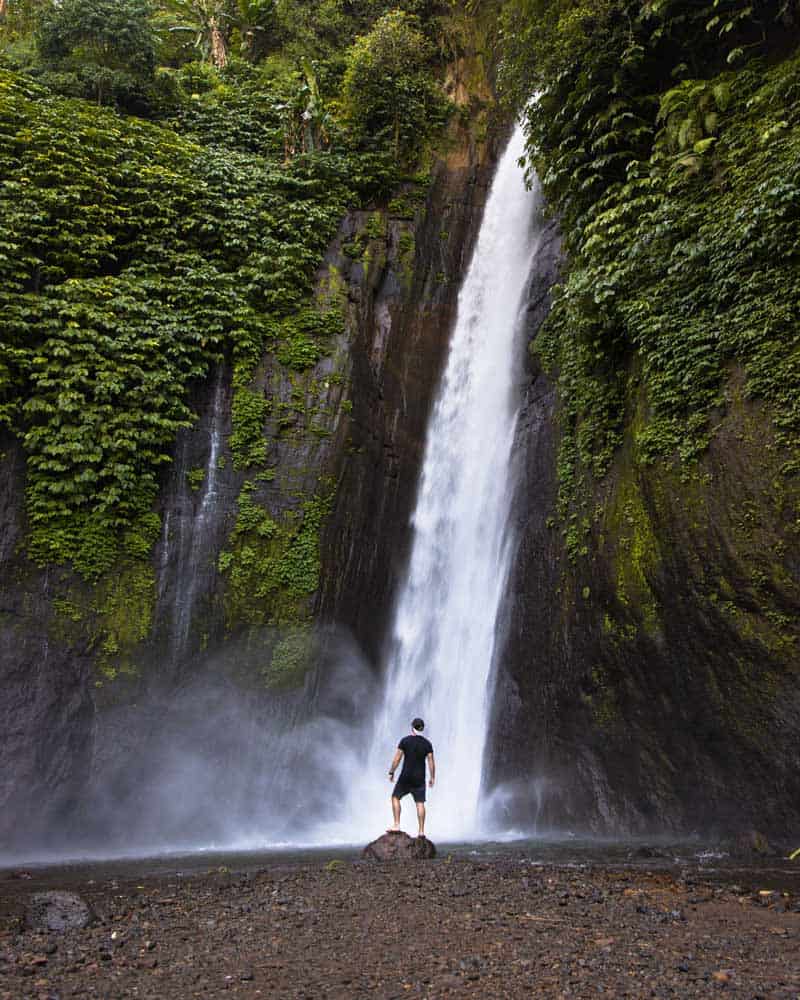 (Munduk Waterfall)
Bali has dozens and dozens of waterfalls, each unique in it's own way and worth visiting. If you were only in Bali for a short period of time, I would definitely say exploring waterfalls is one of the top things to do in Bali while you are visiting.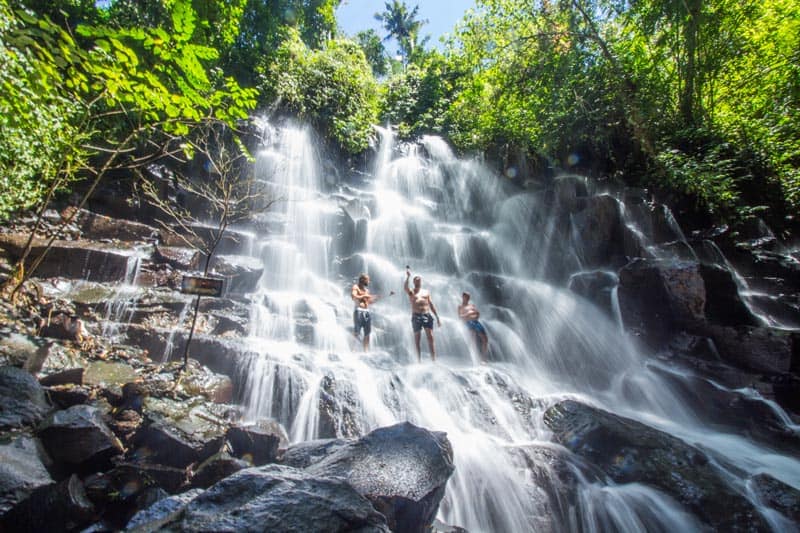 (Kanto Lampo waterfall)
My favourites would be the Git Git Waterfalls which are in Northern Bali, and have about 7 waterfalls inside the area. The best part is you get to rockslide down one of the falls, then you can cliff jump off a few others at either 5m, 10m or 15m high!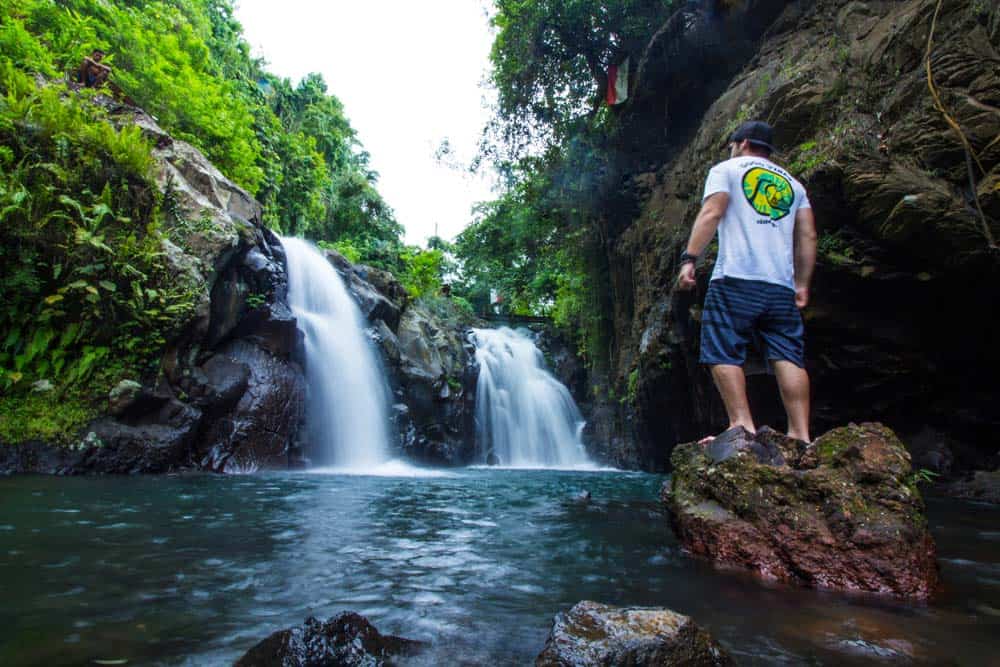 (Aling-Aling waterfall)
I also recommend going to see Tukad Cepung waterfalls which is a waterfall that falls into a cave, which you get to walk around and meet. Very unique! Once again, go early and beat the crowds. Some other great ones are the Tibumana falls, the Nungnung waterfalls, Kanto Lampo falls and Sekumpul falls. Literally Google waterfalls and hover over Bali, you'll be surprised how many there actually is!
Visit Nusa Penida, Nusa Lembongan and Nusa Ceningan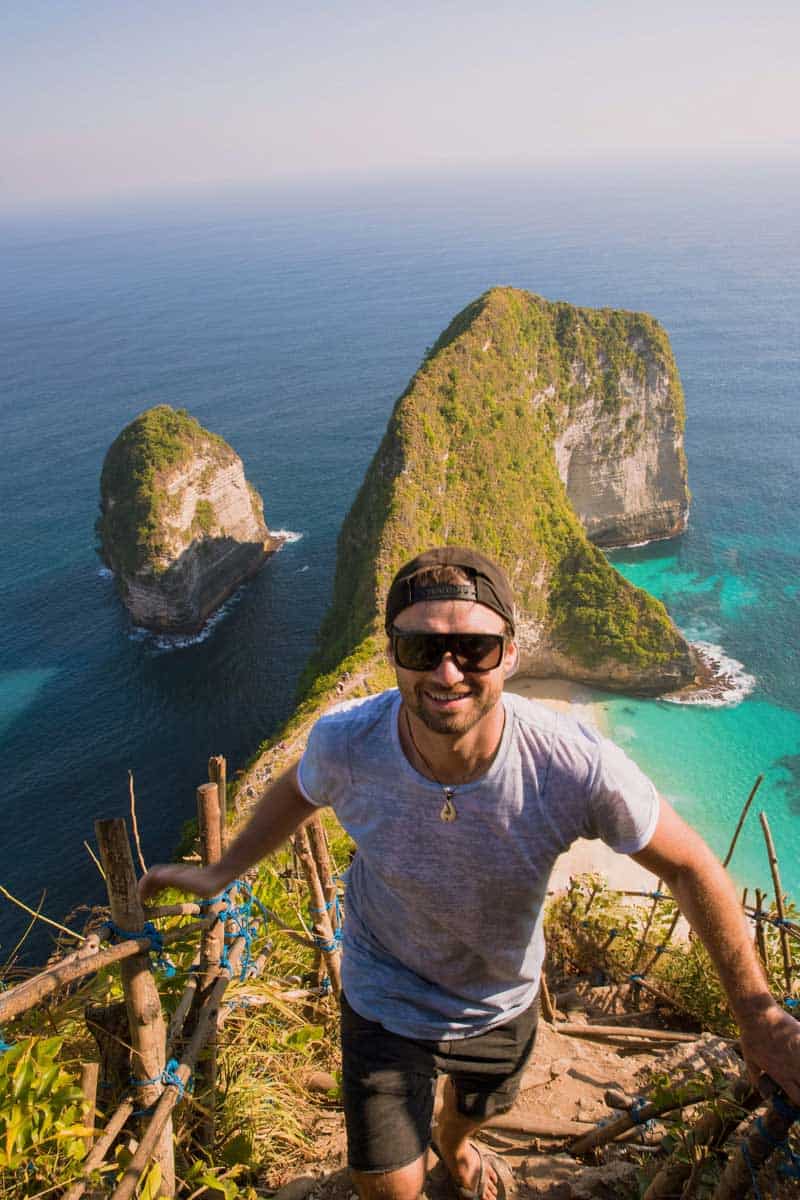 (Kelingking beach (dinosaur beach)
Bali has 3 islands only a 30 minute fast boat off the shore of Sanur that are perfect for a few day getaway. Nusa Penida is my favourite island to explore as it has so many points of interest on it. You probably would have seen the Kelingking (known as dinosaur head) beach featured all over social media, and it's an incredible sight to see. There are also places like Manta Point, Crystal bay, Angels Billabong and a few other points of interest to see. Nusa Lembongan on the other hand is more of a white sand blue water getaway island where you'll find more luxurious resorts and restaurants around the island. It is connected to Nusa Ceningan by a suspension bridge (which looks amazing being surrounded by blue water) and on Ceningan there is a few surf beaches and cliff jumping spots.
My recommendation if you had 3 days would to be to go stay on Nusa Lembongan, rent a scooter and explore those 2 conjoined islands for a few days, then 1 full day get a local boat to Nusa Penida, hire a scooter there and go explore the points of interest and go for a quick 2 hour snorkel tour to Manta Bay and other snorkelling hotspots. Will be an amazing 3 days for sure!
Visit the Gili Islands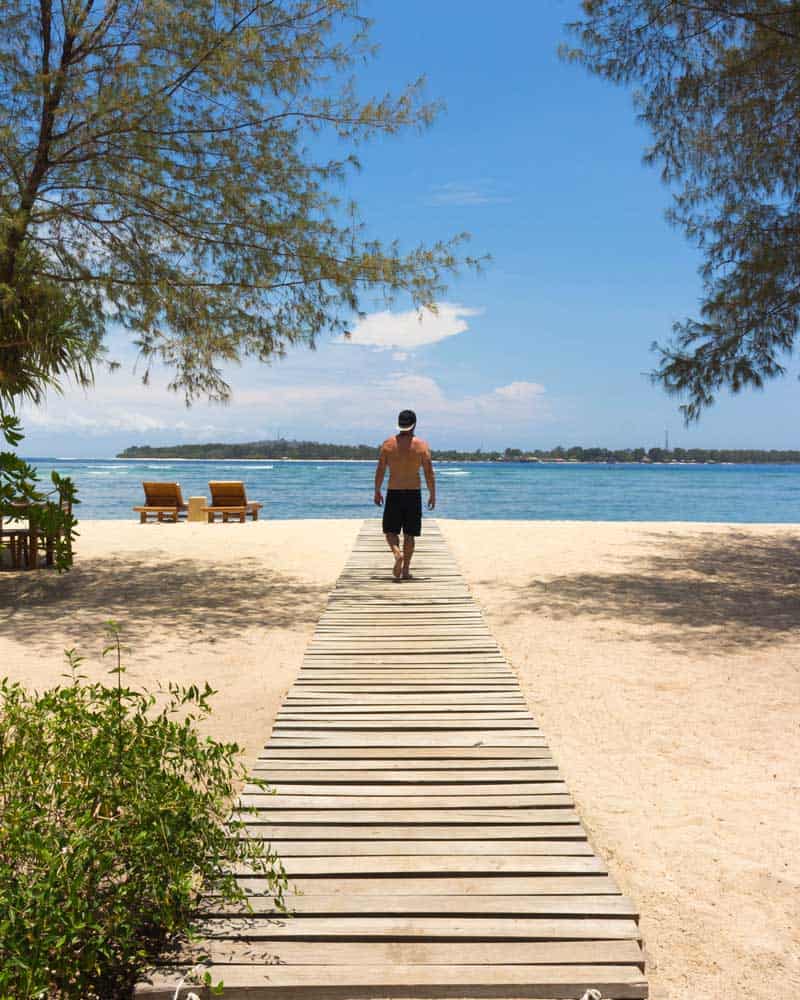 (Gili Air beach looking at Gili T island)
The Gili Islands are a set of 3 islands just off the coast of Lombok, the neighbouring big island east of Bali. Now while these islands aren't actually part of Bali's islands, most people prefer to fly to Bali to visit these islands so that's why they've made it to this list of things to do in Bali. The Gili islands are exactly what you've expect of a tropical paradise when imagining one. White sand beaches, palm trees, blue water surrounded by turtles and coral and just gorgeous. There are no cars, no motorbikes, just horses and cart or bicycles too which give a bigger island vibe to it.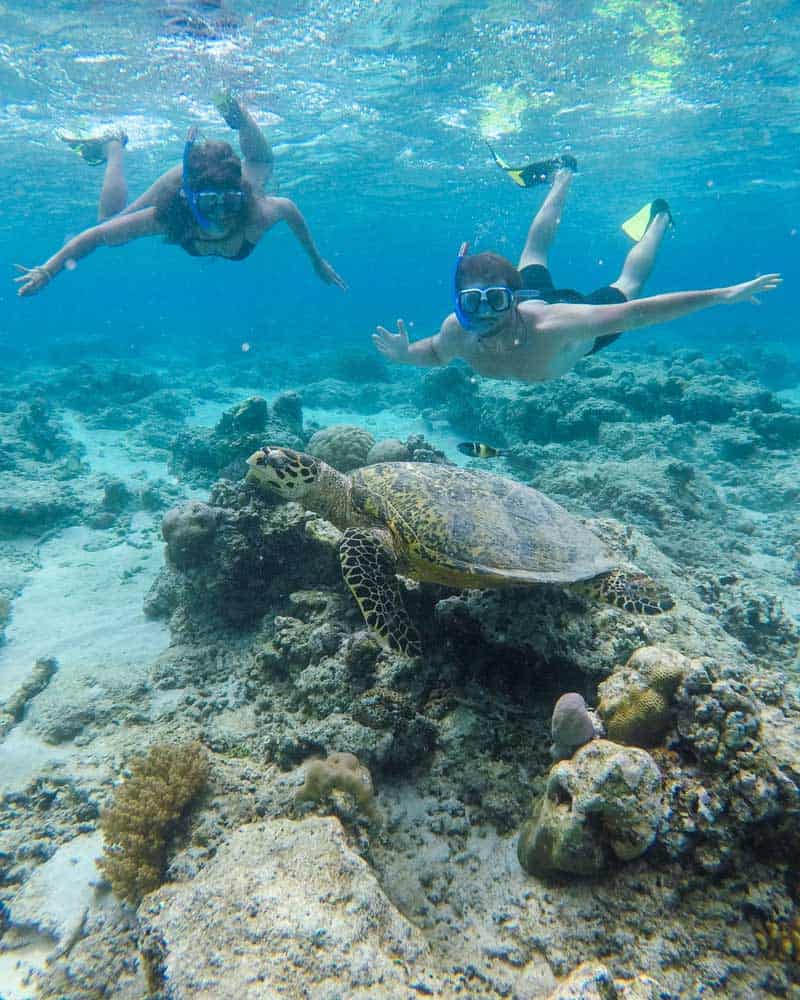 (Turle at Gili Air)
Gili Trawangan (Gili T) is the biggest of the 3 and is known as the party island. I have been a few times but to be honest, partying until 5am every night and eating magic mushrooms isn't my vibe anymore, but if you're into that it's the perfect place! There's also Gili Air which is my favourite of the 3 and Gili Meno which is also known as the 'honeymoon island' which are more chilled out and better to relax.
Gili Air seems to attract more turtles to it as well, every time I went out snorkelling off the island, I would always find 2 or 3 turtles every single time. It was surreal!
Get a massage or have a spa treatment
One of my favourite things to do in the island is to relax with either a day trip to the spa or have a massage. Unlike every other country I've ever been to in the world, Bali tends to have extremely cheap prices for things like massages. So much so that if you are looking in the right places, you can find massages for around $5 USD for the little places or $15 for the higher end ones. Spa treatments including things like ice baths, sauna's, spa's, massages for around $30-$50 for the day. It's insane, one of my very top things to do in Bali every time I visit.
Hang out with monkeys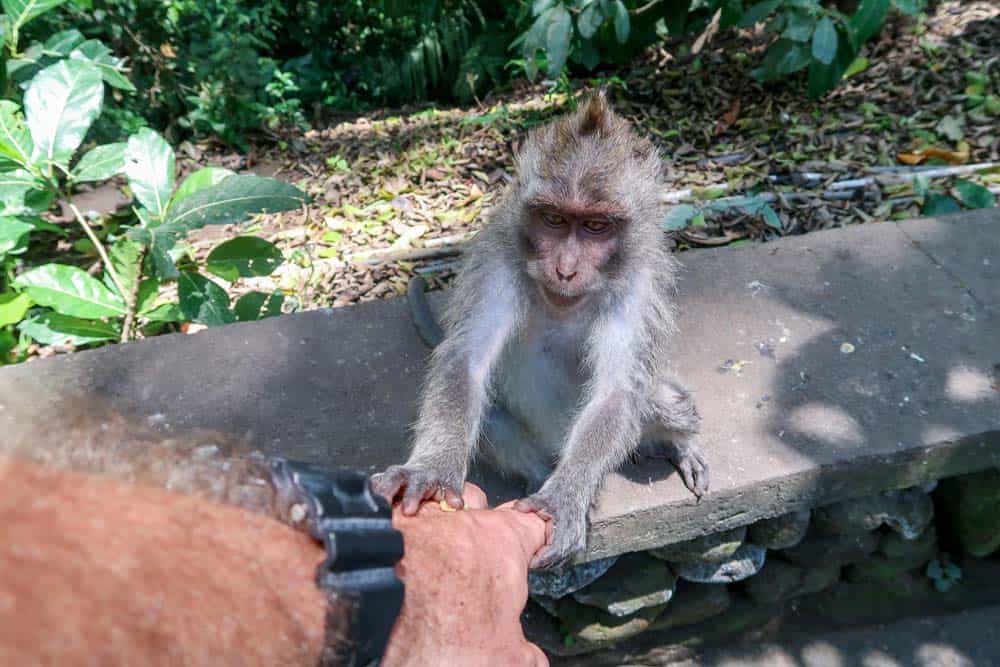 (Photo at Monkey Forest, Ubud)
There are 2 specific touristic places where monkeys go, I would recommend going here instead of trying to hang with wild monkeys. The first is Monkey Forrest which is in the centre of Ubud and very easy to get to. This literally sounds what it is like, it's a forest where monkeys hang out but they are more used to humans. By all means this doesn't mean you should try touch them or grab them, just means they know you're going to be there and won't freak out. You can buy bananas and lure them onto your shoulders for a photo (at your own risk of course), and there are thousands of monkeys in this forest.
The other place is Monkey Temple down south in Uluwatu. This is one of the more famous spots where the Kecak dancers have their ceremony right on sunset. These monkeys are a little less tame and love to eat sunglasses, so don't wear any. In fact don't have anything loose on you in either of the places, they'll even try to get into your bag or pockets to steal food or what they think is food!
Explore the Iconic Rice Paddies of Bali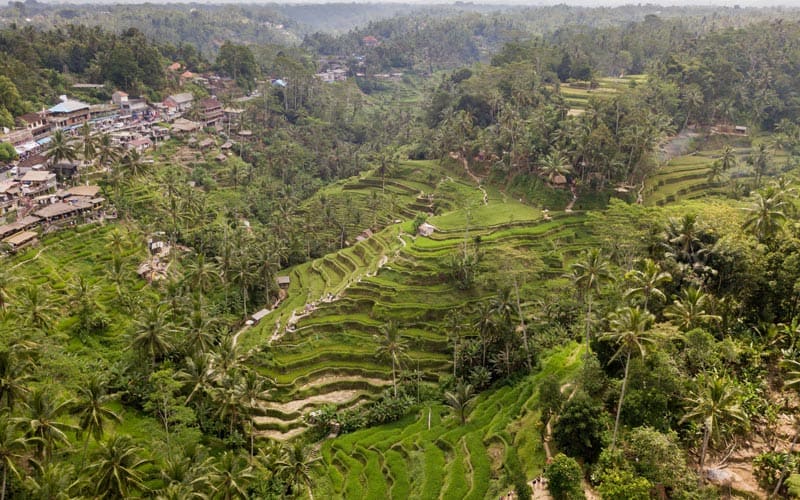 (Tegallalang Rice Paddies)
One of the most iconic things about Bali is the Rice Paddies of Tegallalang. Thing attraction is probably the most iconic scenery of Bali and attractions 10's of thousands of visitors each day, so don't expect it to yourself! In saying that though, the rice paddies are very impressive and is definitely worth visiting.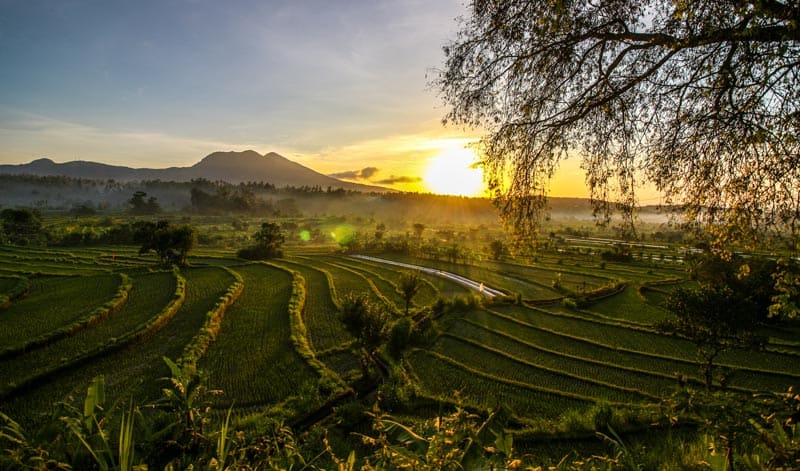 (North East Rice Paddies in Bali)
If you are wanting to find some rice paddies less packed with tourists, try looking around the Munduk area. There are many incredible rice paddies around the area and majority of the time have no tourists what so ever all times of year.
Practice Yoga in Ubud or Canggu
One of the top things to do in Bali is Yoga, and thousands of people come to Bali each and every year to practice it. One of the most places popular places to do Yoga is in Ubud where you can practice in open air studio's surrounded by jungle. Yoga Barn is one of the most popular places to practice in Ubud.
If you prefer to practice Yoga near the beach, Canggu (my favourite place in Bali) has many studios where you can practice too. The Practice is the most popular in Canggu and is only 500m or so away from the beach. There are also many other options and the community is strong in the Canggu area!
Visit an Abandoned Hotel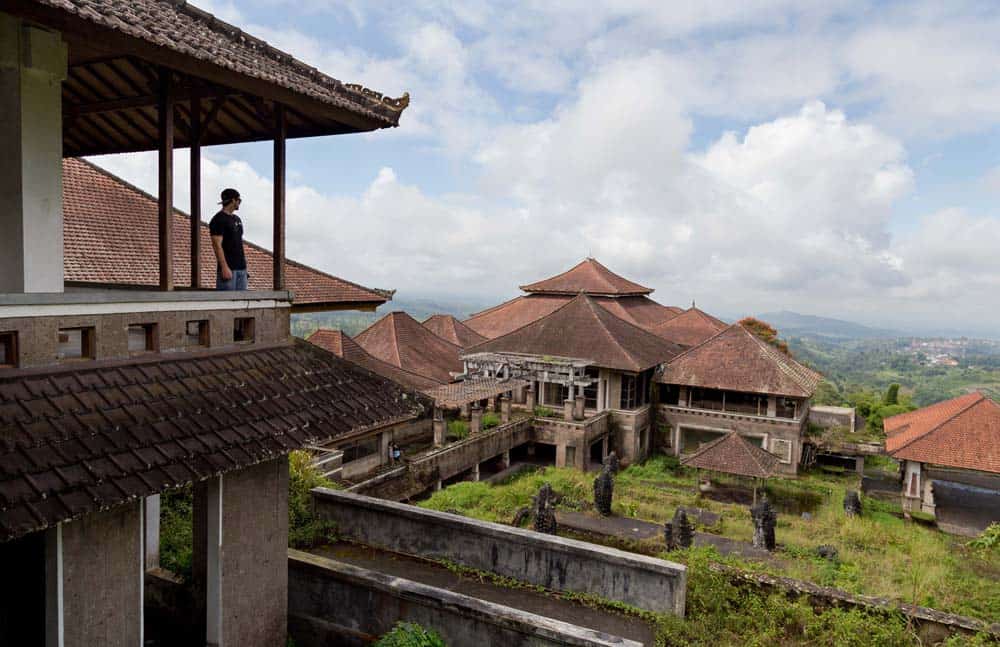 (Bedugul Taman Hotel)
The Abandoned Hotel is still a very unheard of attraction and every time I have visited, I was the only one there. In the hills of Bedugal lies the Bedugul Taman Hotel which has gained the name "The Ghost Hotel". There are many different versions of why it is abandoned and the locals believe it is haunted. Some versions of the story say that many people died during construction so they shut it down, another story insinuates that it is built on unstable land from one of the old presidents relatives and they never acquired building permits so ceased construction. Whatever the reason, it is one of the biggest resorts I've ever seen, and being abandoned makes it that much more unique. Some of the rooms you enter are completely black, lots of fun for those who get scared easily.
Go to the Water Temple for Sunrise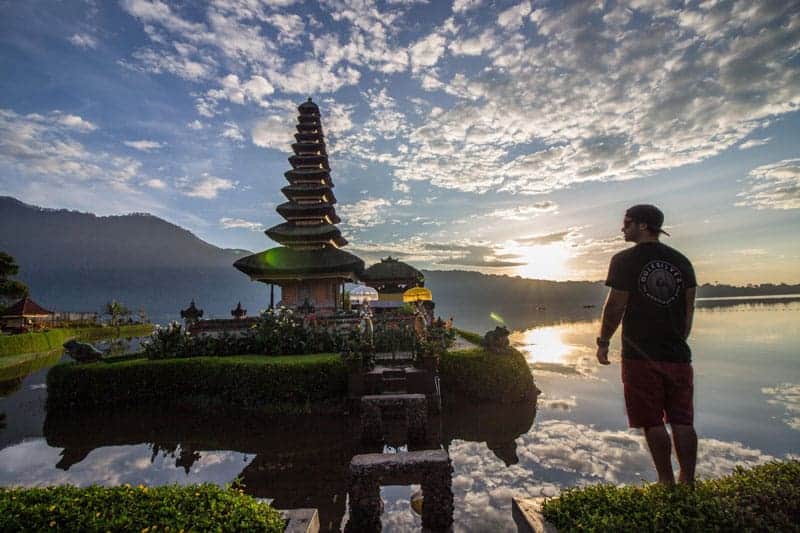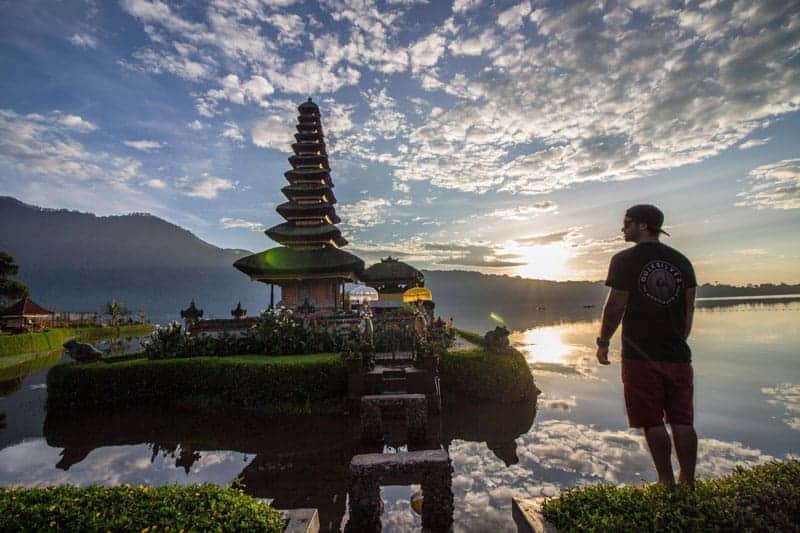 (Pura Ulun Danu Buyan Water Temple)
One of my favourite places is the Ulun Danu Beratan Temple which is the temple you see everywhere when you see pictures of Bali. It's also on their 50,000 note. My advice is to arrive early for Sunrise, around 6am and you'll beat the crowds and get to experience the temple much better.
Note: There are no drones allowed around here so leave the drone at home!
Top 12 things to do in Bali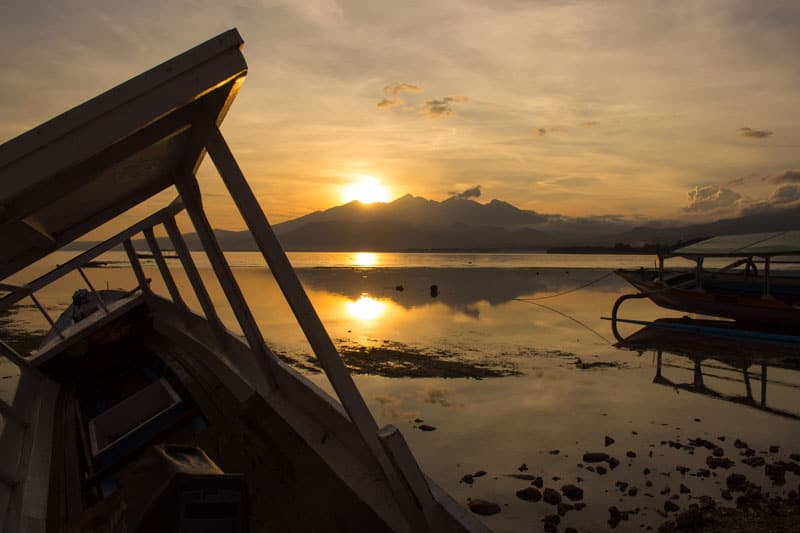 (Sunrise over Lombok from Gili Air)
These are my favourite things to do in Bali and the ones I recommend to friends and family when they are planning their trips. Also be sure to check out my other blog post of inspiration and information when planning your Bali Itinerary. Thanks for reading and if there's something I've missed on this list, drop it in the comments below!