Best Cameras for Blogging and Vlogging
There are a lot of factors to consider when travelling abroad especially when it comes to camera equipment. Before I travelled I had a NEX-5n which was ok but as I met more and more travellers I started getting interested in what they were using.
What I found out seemed to be the same. So here are my camera recommendations for blogging and vlogging.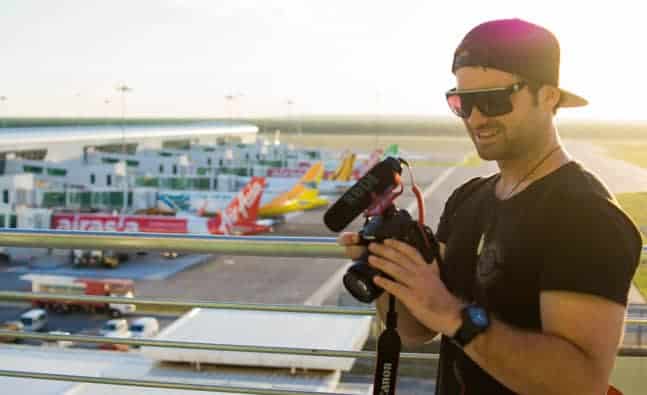 There are 3 main types of camera's when you are travelling. DSLR's, point and shoot cameras and action cameras. I have found that all YouTubers, filmmakers and most travel bloggers actually carry a combination of all 3. So I will show you 3 different combo's you can get whether you're an entry-level blogger and vlogger, a novice operator or an advanced 4K filmer.
Just as a side note, I have found that the Canon G7X is the most common single camera to have as a blogger and filmmaker. It not only has great low light capabilities, but it also has a flip screen for selfie's, Wi-Fi capability and is very small.
Entry Level Kit
Canon Powershot S120. This has to be the best all-rounder entry-level camera, with 12.1MP and insane stabilisation, the Canon S120 is perfect for vlogging, everyday photo's and also has Wi-Fi capability so you can go copy photo's straight to your phone. With the prices starting at $349, this is the perfect point and shoot for any situation.
For more info and specs on the Canon S120, click here
Canon 700D w/18-55mm lens. The Canon 700D is a perfect beginners DSLR camera, having 18.1MP and an STM lens, you can get some really good shots and video without a lens upgrade. With a flip-out screen and a fast autofocus lens, you can really get the most out of entry-level photography and vlogging. The perfect sidekick for the 700D is a Rode VideoMic Go to really get that sound that makes all the difference. Starting at only $499, it is really good value for money. For more info and specs on the 700D, click here
Go Pro Hero+. With Go Pro bringing out this fantastic entry-level Go Pro, it is now really affordable to get an action camera that shoots great movies. Being able to video 1080p60 video and 8MP photos makes this cheap Go Pro a must for those on a budget. Not to mention is has built-in WiFi capabilities. This new Go Pro Hero+ can start as little $119.99. For more info and specs on the Go Pro Hero+, click here
Novice Camera Kit
Canon Powershot G7X. This little point and shoot camera are getting more and more popular after famous vloggers Ben Brown and Casey Neistat did great reviews with it, I can see why. Having a 1-inch sensor and shooting at 20.2 MP, it's amazing how powerful it is for such a small camera. Other features also include a flip screen, WiFi capability, time-lapse mode and it is incredible at low light. For more specs on the Canon G7X, click here
Canon 70D. This is the big brother of the Canon 700D and you can really see why. Having all the same features like a flip screen, kit STM lens and image stabilisation, the 70D also has WiFi, has a CMOS AF 20.2MP sensor (far better) and more focus points. Like the Canon Powershot G7X, this is very highly popular in the blogging and blogging world and they seem like the perfect combo. For more info and specs on the Canon 70D, click here
Go Pro Session. Being the smallest of the Go Pro series, the Session doesn't hold back on features. Being able to shoot at 1080p60 video and shoot at 8MP with the easy one-button control and being so small, you can take this thing anywhere. Also, it's rugged and waterproof design allows it to go 10M deep without any additions to the case! The Go Pro Session starts at only $199.99. For more info and specs on the Go Pro Session, click here
Advanced Camera 4k Kit
Sony RX100 IV. 
Sony A7R II. This is the boss of all cameras. The A7R II has a full-frame mirrorless Interchangeable Lens and can shoot photo's at 42.4MP as well as having 4K capabilities. It is a world-first on so many levels but with a price tag to go with it. Starting at $3,198 for the body only model, this is a serious piece of equipment. For more info and specs on the Sony A7R II, click here
Go Pro Hero 4 Black. This is the world most popular action camera at the moment and being able to shoot 4K30 (4x the size of 1080p), you can see why. Having 4K, the Go Pro Hero 4 Black is able to take footage in places never seen before. The time-lapses you can get with it is incredible. Starting at $429.99, the Go Pro Hero 4 Black is your one-stop action camera. For more info and specs on Go Pro Hero 4 Black, click here
Which one is right for you?
It all depends on your budget and what you want it for. Like I said at the beginning, if you are wanting to buy an all-around camera that you won't have to upgrade for a while, I'd choose the Canon G7X. It is very easy to use and can take some really great photos and videos. I was once told, it doesn't matter what kind of camera you have, it's who is behind it that's operating it that counts. Something to think about!
Anyway, these are my camera recommendations for blogging and vlogging and I hope that it has helped you decide what you want.