A Weekend in Bora Bora, French Polynesia
After a great start to the trip in Tahiti, it was time to jump on a plane and see the famed Bora Bora, located in French Polynesia. This has been on my must-see list for quite some time, so having the opportunity to team up with Tahiti Tourism to visit Bora Bora couldn't have been more perfect.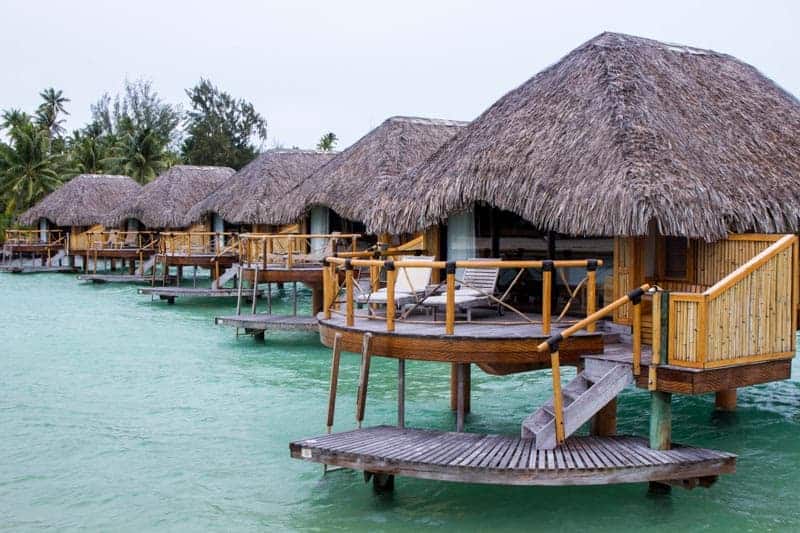 Just a short one-hour flight from Tahiti is Bora Bora, known for it's incredible coloured water and over-the-water bungalows. Even though the weather started getting worse, the first sight of Bora Bora was magical. The different shades of blue and green surrounding the water bungalows were so bright that they almost looked fake.
Snorkeling With Rays & Sharks
By the time we landed, the rain had set in but that wasn't going to stop us having fun! A few adventurous friends and I decided to go on a snorkeling excursion with
Bora Bora Lagoon Services
.
 The best part though is that we went straight on the excursion right from the airport! We sent our bags off to the resort and jumped straight on a boat…away we went!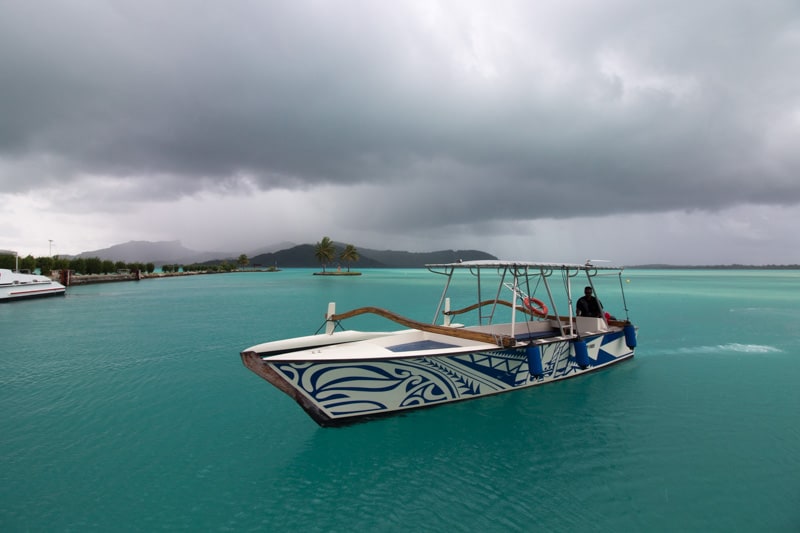 As the weather wasn't the best, there were a few doubts on what it'd be like under water. Once under though, the sea was alive as it's ever been! We saw Moray Eels, dozens of species of fish and got to weave in and out of the reef covered in live coral.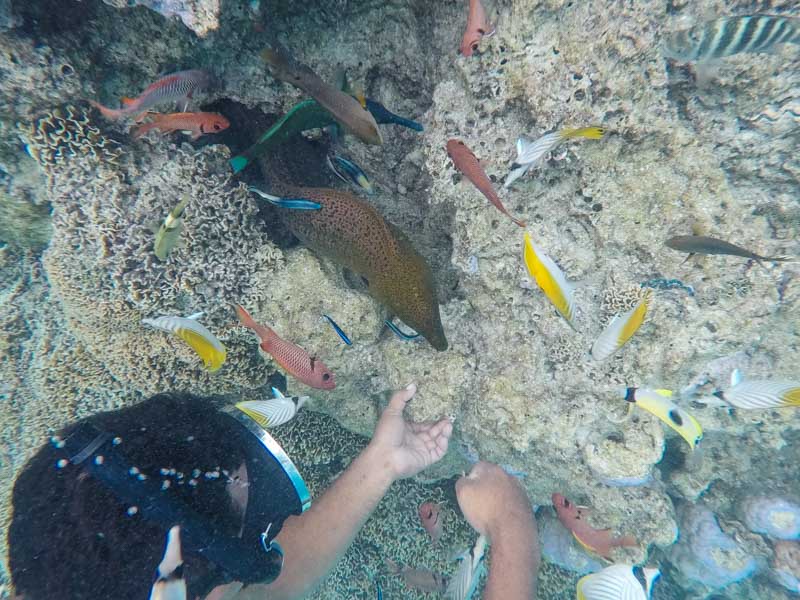 All of a sudden, everyone started yelling and pointing in between the boats. I noticed people swimming towards where they were pointing, so I followed suit to see what was going on. That's when I saw it.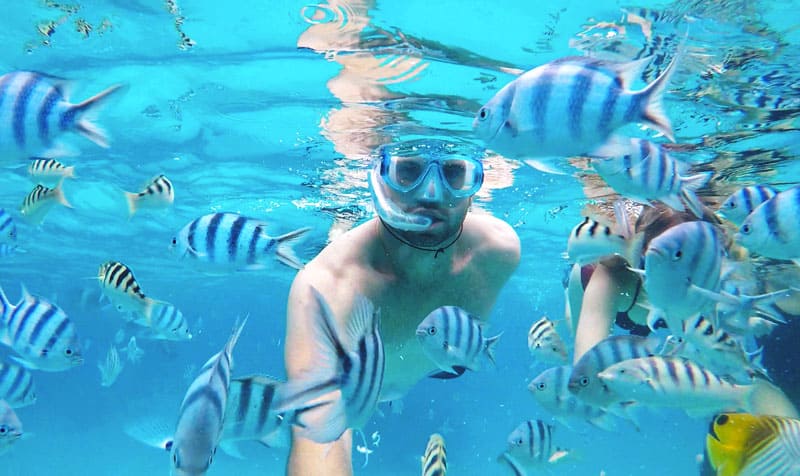 This was the first time I ever saw a Manta Ray, and all I can say is, "Wow!" It was the most graceful creature I have ever come across. The Manta Ray must have been about 2.5 metres wide and swam around us for about 4 minutes doing backflip after backflip, before finally disappearing into the distance. I will definitely remember this moment forever.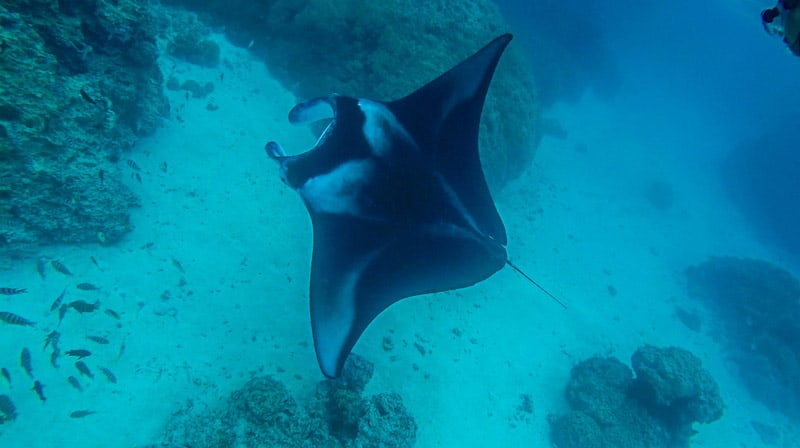 The next spot we got to snorkel on was a little different, it was really shallow and was surrounded by dozens of sharks and sting rays! It was intimidating at first, but the guide assured me it was safe. So I jumped in, and, sure enough, it was actually kind of calming.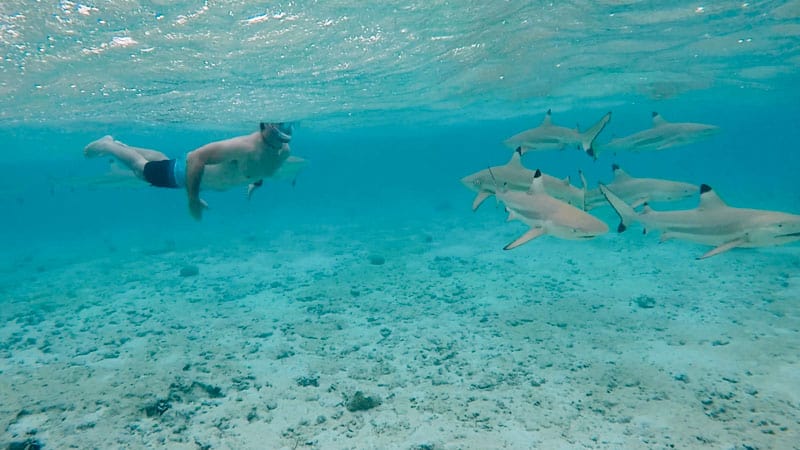 Being so close to them, yet having them not actually care about you was nice. They were just swimming around almost synchronized, doing their thing. It was a great experience. For the last part of the tour, we went to a little secluded island where we had a buffet of local dishes and a typical beer to top it off. This was definitely a highlight.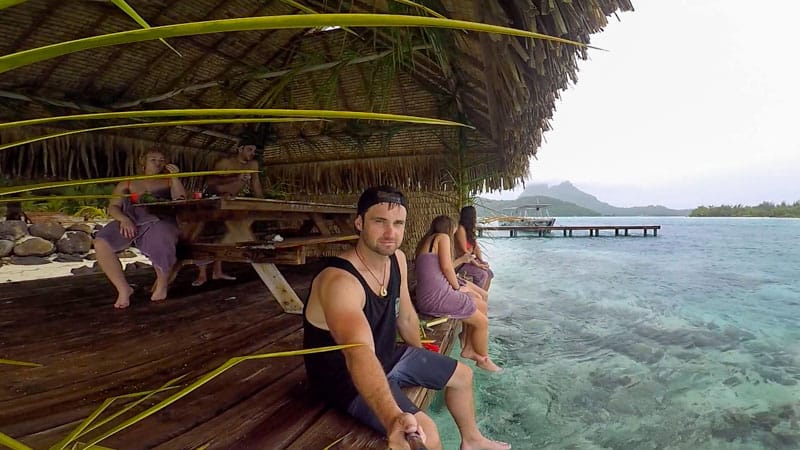 Bora Bora Overwater Bungalows
One of the most iconic things you'd recognize in French Polynesia are the Bora Bora overwater bungalows. When I got word that I was staying in overwater bungalows at the 
Bora Bora Resort & Spa,
I was
so stoked. It was like a little romantic get away…for one!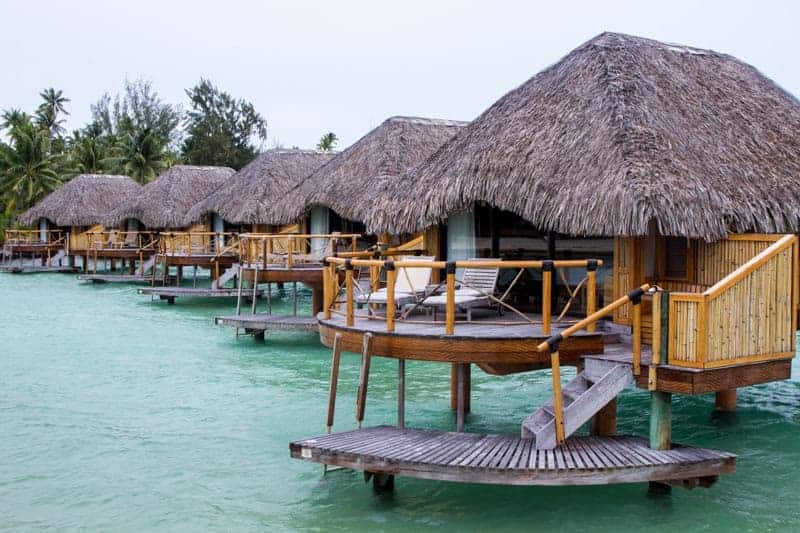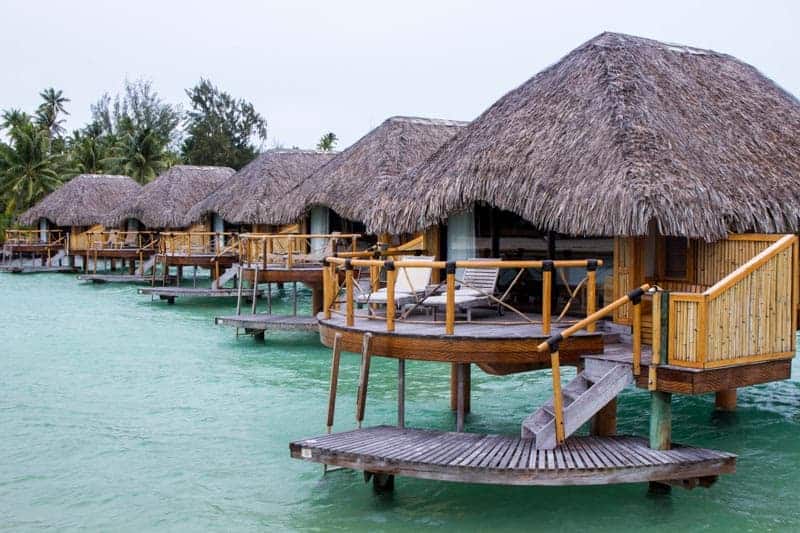 The rooms were just ridiculous! (in a good way). I had my own glass table in front of the couch and around the bath to check out the water below, and all of the amenities you'd ever need. Plus, there was even a balcony with a platform to jump in the sea! I have to admit, these were far better than I expected them to be. I could literally live in one of these.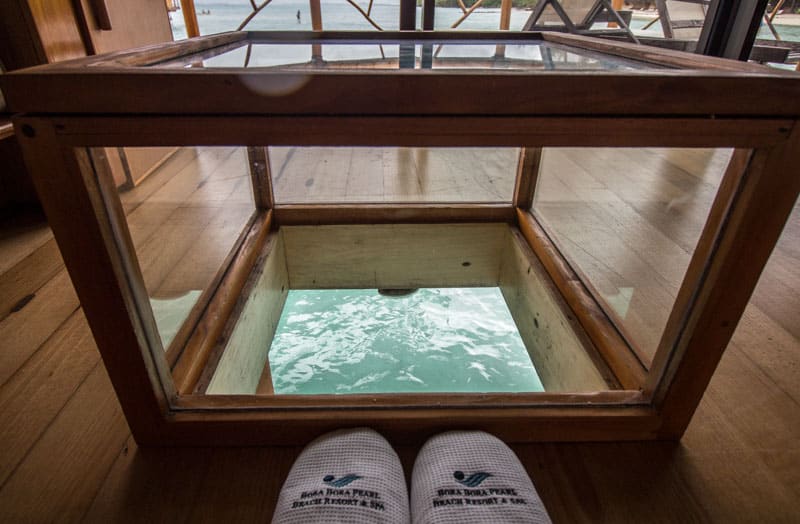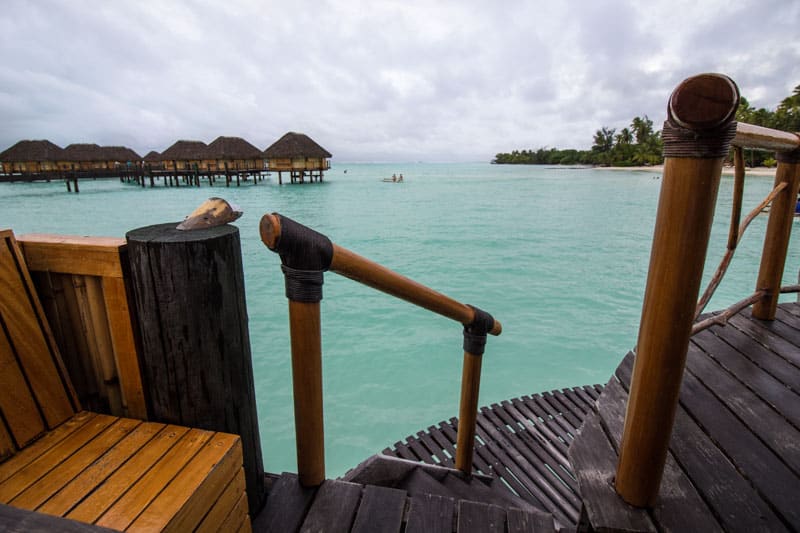 If you ever do stay here, I recommend you get the breakfast delivered to your room. It's the same price as the buffet and probably better too!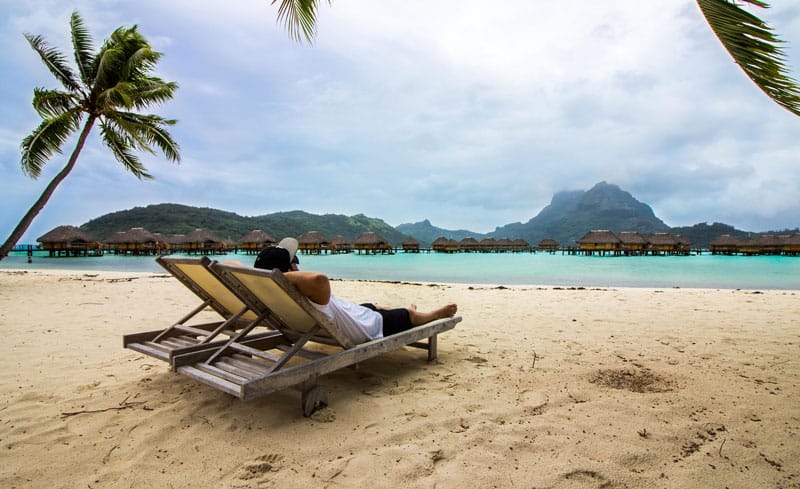 Getting Around Bora Bora
One thing really unique to the islands around Bora Bora, is that they are so close together and there are so many of them. So, if you wanted to go somewhere for dinner, instead of taking a taxi, you'd take a boat! The first night a group of us decided to go to the St Regis Resort's
Lagoon by Jean-Georges Vongerichten 
restaurant. The food, service, and location was incredible. The manager of the restaurant was actually from New Zealand, so we got along really well. This was probably my favourite restaurant in Tahiti, as the whole experience was perfect.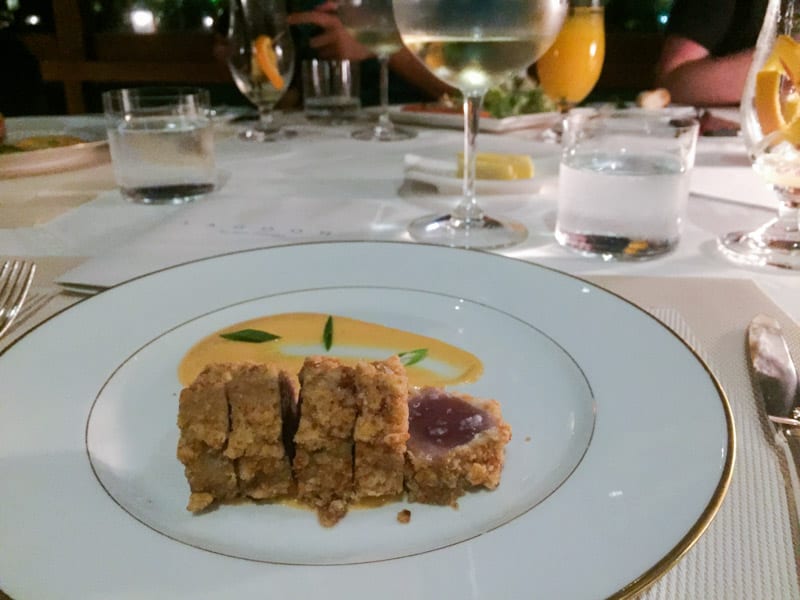 The second night we went to another restaurant called
Villa Mahana
. This was a beautiful boutique restaurant on the island of
Faanui
. It felt like walking into a small restaurant in Provence, and it was incredibly well done. The food was a mix of French classic dishes paired with traditional flavours, and it was matched with wine from their onsite cellar. You wouldn't believe the rare alcohol they have at that place — the best of the best!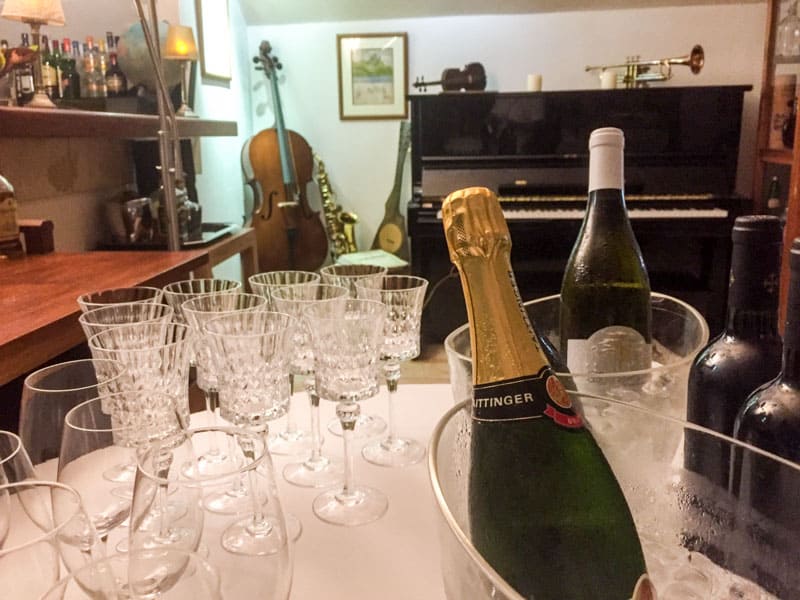 Best Time To Visit Bora Bora
If you're ever planning on visiting Bora Bora, there are a few things you should know. The best time to visit Bora Bora can depend on a few things, the biggest one being cost.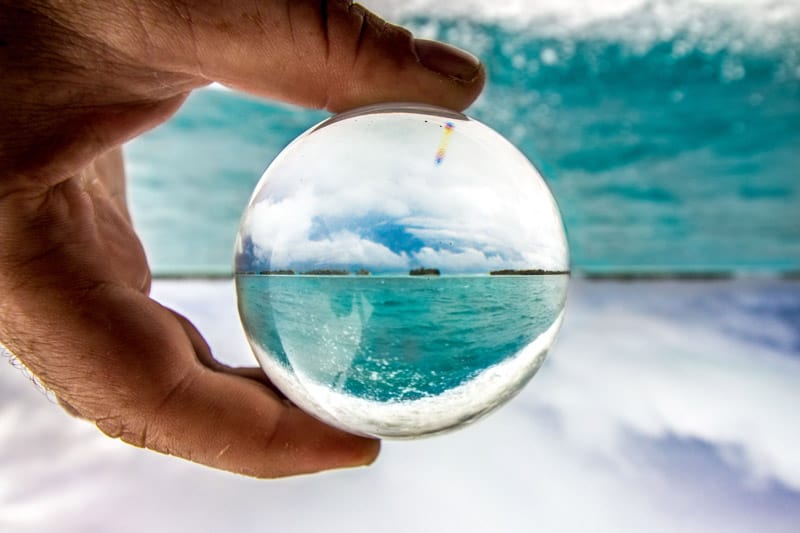 In January, when I went, it was low season which meant that there were more vacancies and better prices. If you're planning on coming on a lower budget, this time of year would definitely be best. It can sometimes rain (like it does in high season) but overall there is good weather. I just happened to get the worst few days of the past few years. If you're planning something like a wedding or honeymoon, it might pay to do it between the months of July-October to ensure the weather is perfect.
What To Do In Bora Bora
The majority of activities in Bora Bora are water based. There are things like jet-skiing, stand-up paddle boarding, snorkeling, boat tours, and shark & stingray feeding. There is also an aquarium with turtles, and, of course, you can always chill on the beach sipping coconuts. To see all that the islands have to offer, I recommend to visit 
Tahiti Tourism's
website to check out what's offered.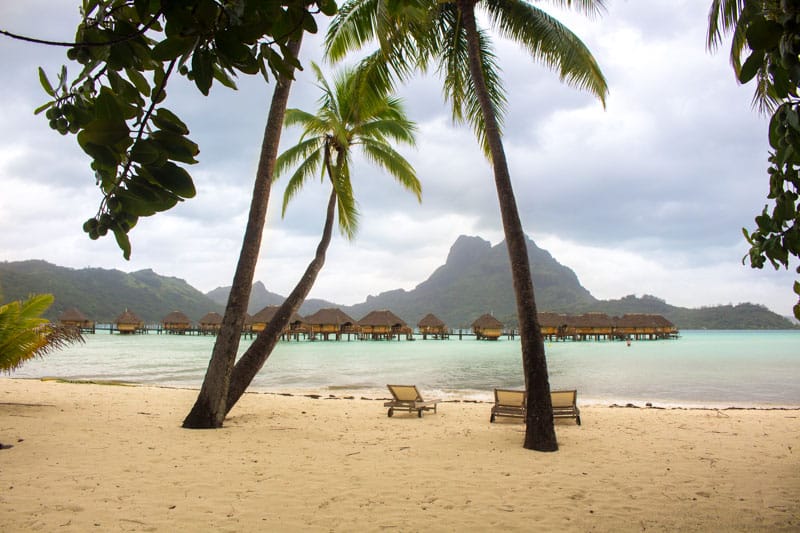 Although the weather wasn't the best in Bora Bora while I was there, it was still such good a time. I'm definitely going back over the next few years! **Special thanks to
Tahiti Tourism
and for making this trip possible! As always, all opinions are my own.