10 Unique Things to do in Santorini
As you probably already know, Santorini is an incredible Greek holiday destination full of hidden coves, gorgeous beaches and amazing photo opportunities. The only problem is it gets extremely busy. To get around this, we've put together a list of 10 unique things to do in Santorini, so you can escape the crowds and have an amazingly unique experience.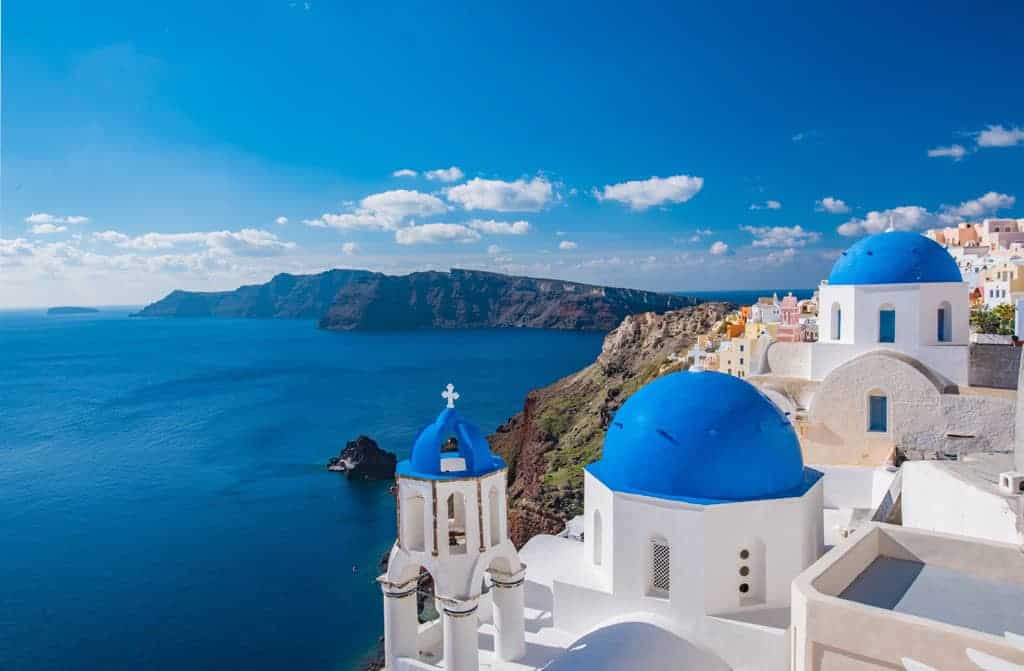 We already know the very first thing you're going to do is head straight for the nearest beach, so we won't talk about those either. But there's a big possibility by day two or three of your holiday sunburn will have you glowing as fiery a red as volcanic lava and will be keeping you off the sands and out of the pool until the after-sun lotion has taken the sting away.
Banished from the beach, you may start to wonder – Is there anything else to do in Santorini?
Well, yes, there is and just for you, we've collected together these amazing activities which we think you'll agree, really are the top ten things to do in Santorini.
1. Full-Day Sightseeing Tour
When you're feeling a little singed around the edges is the perfect time to go on an all-day sightseeing tour of Santorini. It'll keep you away from those harmful rays and give you the chance to explore rustic villages, ancient ruins, take snapshots of panoramic scenery and spot one or two more beaches which you might want to revisit later in the week.
After you've staggered up the steep steps of Oia because you bravely declined the proffered donkey ride, shopped for enough souvenirs to fill two suitcases and got a bit tipsy at a wine tasting, even though your legs might be aching, you'll know you've been on a full day's sightseeing tour of Santorini.
So, after you've finished clicking your camera at multiple blue-roofed churches in villages where the houses have been painted such a brilliant white it makes your eyes water even though you've got your Ray Bans on, what's next?
2. Scuba Diving in Santorini
The seas around Santorini are an underwater paradise and the perfect place to scuba dive. Even if you're not PADI certified, it doesn't matter as there are special day courses available for non-qualified divers. After a brief introductory lesson on dry land and then a practice in shallow water, you'll be taken down to a depth of seven metres accompanied by a qualified instructor.
When you're presented with a certificate, after your first scuba dive in Santorini, you'll be giving this activity the thumbs up, but in diver's underwater sign language of course.
If submerging in any depth of water above waist height is out of the question, you can always stay afloat and try this next activity instead.
3. Snorkelling
With abundant reefs of coral just below the surface of the crystalline waters of Santorini, snorkelling is a great way to discover sub-aquatic life without having to don a wetsuit and oxygen tank.
Snorkelling in Santorini has as added bonus too. Professional divers will take you out in a boat to the best snorkelling spots around the coast, then lead you to where all the interesting marine fauna is hiding amongst the rocks.
If you're getting a bit wrinkled from spending too long immersed in the water, you might to want to try a different way of getting a new perspective on Santorini.
4. Helicopter Tour
Depending on the flexibility of your spending budget a Helicopter Tour of Santorini could either make or break your holiday. It isn't the most economical thing to do but is definitely one of the most exciting.
A tea-break length tour of Santorini by helicopter will whizz you over stunningly dark landscapes contrasted by cyan seas and a volcanic crater emitting sulphuric fumes which combined with the height and speed will probably make your stomach churn.
If the thought of spending so much money in such a short space of time makes you tighten the purse strings, we've got another option coming up next which will help keep the pennies in your pocket.
5. Cable Car Ride
The Cable Car on Santorini is the closest the island has to a white knuckle ride.The brief, but adrenalin-filled ascension from the port to the old capital, Fira, is a steep one. At the top, when your legs have stopped wobbling, you'll be able to explore the winding side streets and enjoy the hubbub of the restaurants and bars.
Before you come back down on the Santorini cable car, you'll be able to look down on the poor passengers disembarking from the luxury cruise liners moored below and to take, just a few more, photos for the holiday album.
Now we've got you hooked on adrenaline, it's time to keep your heart pumping, let's make some waves.
6. Jet Ski Safari
There are some secret hidden spots on Santorini. Bays and beaches which are inaccessible by road or on foot. The only way to get to see these secluded spots is by going on a Jet Ski Safari.
Whizz over the sea leaving a twisting white wake behind you as you head off over the Aegean. As some of the Jet Ski Safaris on Santorini can last for up to three hours, you might choose the route which includes time to bathe in the hot springs. It'll help ease your aching muscles.
All that fresh sea air will have given you a massive appetite and we're sure you'll be more than happy to participate in this next suggestion on our list of the top ten things to do in Santorini.
7. Cook Greek Food
Greece is renowned for its exceptional cuisine. Traditional food is the tastiest. It's rustic and based on fresh ingredients but there is a certain skill required to Cook Greek Food and prepare what, at first appearance, are simple dishes.
During this day-long experience, you'll get an insight into the benefits of a Mediterranean diet, the magic of olive oil and what to do with it, plus get a copy of the recipes to take home with you. It takes a while to learn how to cook Greek food, but if you're just too hungry to wait, why not have a quick stop off at a local Souvlaki shop and order a Gyro instead.
Good food, to be correctly appreciated, needs to be accompanied by a decent wine. Santorini has a long history of producing bebible plonk as you'll find out if you pay a visit to our next idea.
8. Santorini's Wine Museum
The Santorini Wine Museum or to give it its correct title, the Koutsoyannopoulos Wine Museum – try saying that after you've tasted a couple of samples – is housed in an underground cavern and will give you the full history of wine-making on the island.
Stoop as you saunter through the arched stone tunnels which lead from exhibition to exhibition until you encounter the best part, the cellar. You'll also have the chance to participate in the production of a future vintage if you take part in a grape stomping experience.
Now you've developed a taste for Santorini wine, there's really only one thing we can suggest next.
9. Sunset Wine Tour
Volcanic soil grows excellent vines which are the perfect beginning for what eventually ends up in the bottle. On a Sunset Wine Tour on Santorini, you'll not only be able to see where the grapes grow before they're converted to alcoholic juice but as you sip on a final product and nibble on some great Greek olives, you can watch the sunset too.
But as the sun disappears beneath the distant horizon, turning the sea from blue to flamboyant hues – don't you maybe just wish that you were out there on the water too?
10. Sunset Cruise
The day and maybe your holiday, is coming to an end. You're on an island surrounded by water. What's the best possible way to end either? On Santorini it's with a Sunset Cruise.
Whether you choose to sail across Santorini's tranquil waters on a Sunset Cruise aboard a luxury catamaran or for lack of funds, decide to hijack a local fishing boat, there's nothing more restful or romantic than skimming across the calm Aegean as the sun slips below the waves.
What is the best place to stay in Santorini?
Santorini has many parts to it, each part has its own style, feel and size of crowds. So choosing the best place to stay depends on what you kind of experience you are after.
For a relaxing holiday with amazing views and restaurants, I'd choose Imerovigli or Oia. Here you'll notice things are a lot less quiet, the scenery is just gorgeous and it's a very romantic location. These places are more of a higher-end place to stay.
If you are wanting a little cheaper though and a little bit more a lively vibe, staying in Fira would be your best bet. You'll find this area hosts restaurants, bars, nightclubs and usually attracts the younger/backpacker type crowd. Either way, the island is relatively small so it doesn't take too long to get around.
Red Beach Santorini
Over the years, Red Beach in Santorini has become one of the more popular Instagram spots. Regardless it is still such a unique place to visit, I personally think it's worth a visit. Around 12km from Fira and sitting just outside Akrotiri lies sand beach which like the name states, has a reddish sand colour.
It has been said that Red Beach is actually off-limits, but this hasn't stopped tourists coming to visit the rare phenomenon. It is also a great place for snorkeling!
Things to do in Santorini
Whichever ones of these things to do in Santorini you choose, we know you'll have a wonderful time. It is one of those places that you'll be back again soon to enjoy the hospitality that only a Greek Island like Santorini can offer you.
Also don't forget to ensure you check your travel insurance policies before you travel to ensure you're covered for everything you do!