Top 10 Travel Blogs of 2021
I absolutely love the way the internet is changing the world. For the past 10 years of travel planning, the "go to" resources have always been travel guides like The Lonely Planet or TripAdvisor but to be honest, I have never used either! Instead I prefer to learn directly from someone who has been there, had the experience in places that interest me and shared their personal experience.
In short, Travel Bloggers!
So here is my list of Top 10 Travel Blogs of 2021 to follow. I personally follow and I trust what these guys recommend so plan my trips based around their reviews!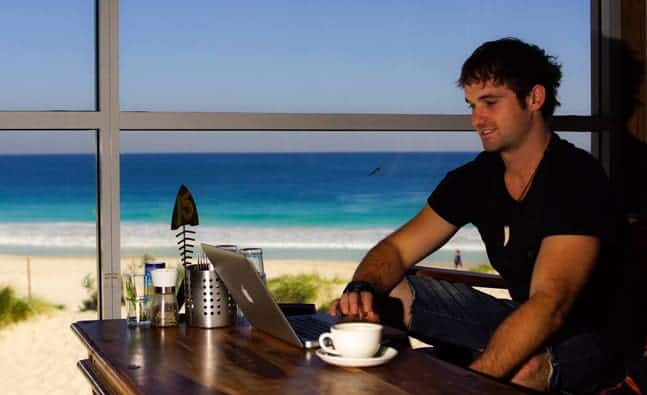 After researching award sites for bloggers, forums, articles and with a touch of my own opinion, here's the top 10 travel bloggers of 2021 based upon interaction, articles, photo's, story telling and site layout.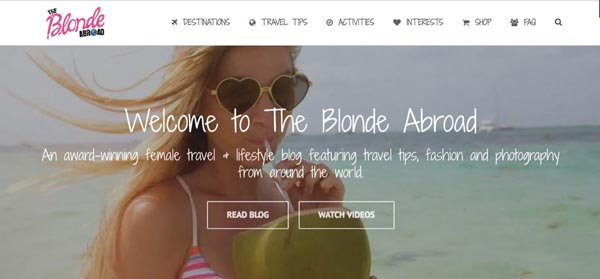 Kiersten is a Californian girl who decided to quit her job in Corporate America to travel the world. She has been on the road for many years now visiting well over 50 countries and ticking off adventures from her bucketlist. You'll find Kiersten has claimed most of her audience through her Travel Blog and from her Instagram account that has got over a whopping 210k followers!
2. Nomadic Matt – Matthew Kepnes

Without a doubt, if you have ever searched in something in Google to do with travel, Matt's travel blog has come up. After doing some in depth research, he is without a doubt the kind of travel blogging with over 210,000 websites linking back to his articles. Matt has also created a book titled "How to travel the world for $50 day" which has won multiple awards including one in the 2016 International Book Awards
3. The Expert Vagabond – Matthew Karsten
Surprisingly enough, Matthew used to be a Nightclub Photographer but eventually got sick of seeing travel related photo's from his friends, he packed his bags and off he went. He says mainly travels because he is "curious of the world" and his favourite places are Spain and Nicaragua. He is another great travel blogger and I because of his previous photography experience, he now creates awesome videos on his Youtube Channel.
4. That Backpacker – Audrey Bergner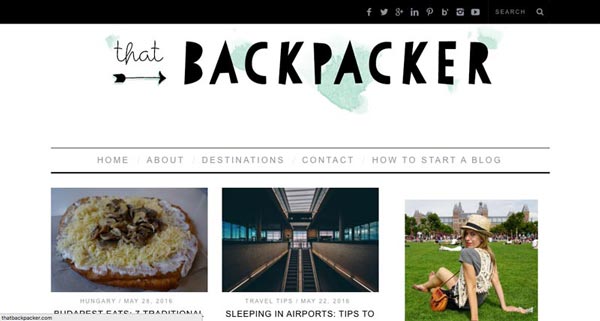 Audrey actually created her That Backpacker blog while she was still in University, often posting about her daydreams of traveling during the Christmas holidays and Summer Holidays. Finally after years of just dabbing at her blog, she finally decided to take it seriously and has since then succeeded in becoming a successful travel blogger. You'll find Audrey along with Nomadic Samuel mainly on their Youtube Channel sharing their crazy adventures.
5. World of Wanderlust – Brooke Saward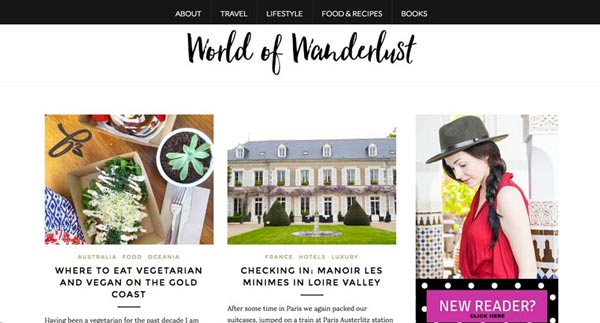 Brooke definitely knows how to get her followers attention. With her massive 450k Instagram account and her amazing Lifestyle, Food and Travel blog, Brooke reveals all. She has gotten very popular for her food recipes and amazing photography so she is definitely a girl to follow!
6. Adventurous Kate – Kate McCulley

I have to admit, Adventurous Kate if my favourite Travel Blog to follow. I guess you can say my inspiration actually came from her raw personality and views on things. Posts like "How I Almost Got Banned From Vietnam" and "My Night with Vanilla Ice" are so crazy, she never ceases to amaze. Kate doesn't seem to hide too much from her blog either which is hilarious, in fact her first blog I read she was talking about chasing boys or something in Central America, I literally 'lol'd while reading it. She's too good!
7. The 5 Foot Traveller – Sarah Gallo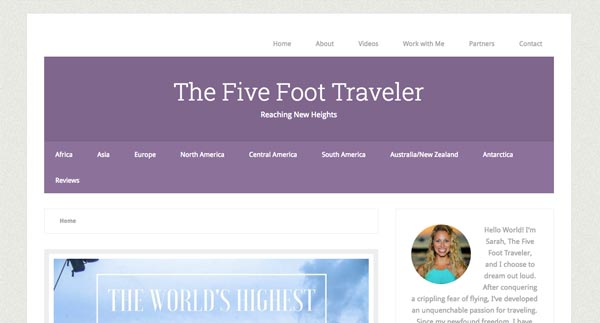 Sarah is possibly the happiest person I know, I was lucky enough to meet Sarah online on various travel forums and since then we often talk with each other! As the title of her blog suggests, she is 5 feet tall but doesn't stop her going on some of the most amazing adventures out there. She has already conquered 60+ countries and all 7 continents which I'm so very jealous about and she retells her travel stories like a champion.
Some of her adventures (so far) include Paragliding through the Swiss Alps, bungee jumping off the worlds highest bungee bridge in South Africa, trekking through Patagonia and polar plunging in Antartica on Christmas Day! Her photo's on Instagram are so good!
8. A Dangerous Business – Amanda Williams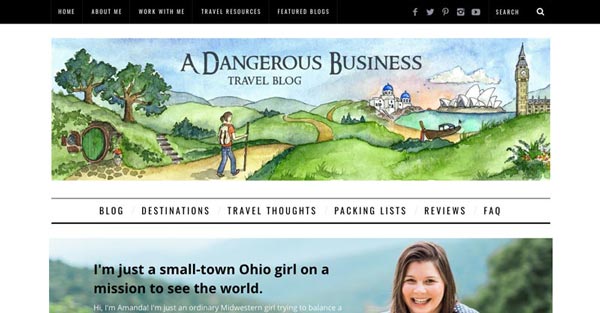 I really enjoy going through Amanda's Dangerous Business blog because she really says it how she is. She's not a full time traveller like most of the other 9 on this list, she actually saves up her money and goes on extended holidays because she loves to sleep in her own bed and "cuddle with her kitty" lol. She has some really good tips on how to save costs while traveling and as well as some good experiences like volunteering at an elephant sanctuary in Northern Thailand and Bungee Jumping in New Zealand.
9. Alex in Wanderland – Alexandra Baackes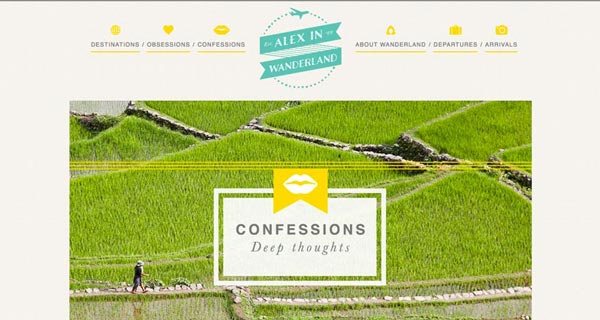 I have to admit for blog names, Alex takes the cake for best Travel Blog name with Alex In Wanderland. Every time I read it, I get a mental image of the cartoon Alice in Wanderland or the EDM artist Alison Wanderland. That aside, Alex considers herself to be a writer, designer and globetrotter and isn't shy to talk about all her experiences including heartbreaks! Like majority of bloggers, she fell in love with traveling after visiting South East Asia and has been on the road since 2009!
10. Wandering Earl – Derek Earl Baron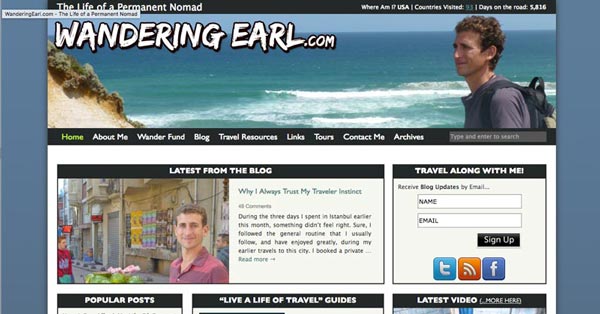 Derek (uses his middle name Earl for his blog) is an American guy who went for a 3 month post graduation trip 15 years ago and never returned! He has ended up landing himself jobs on cruise ships, teaching English in foreign countries, taking guided tours and volunteered in Asia. Derek has ab awesome writing style as he doesn't fluff up an experience, he really writes it as it was even if it's a negative experience so I have to take my hat off for this guy!
Derek (Earl) has gotten #10 place for the Top travel blogs of 2016!
And there ya go!
It's truly amazing the stories all these bloggers have and I really take my hat off to these guys for sharing their experiences, and you never know… Maybe one day I'll make it on someone's Top 10 travel blog's!
Thanks for reading and if you have any favourite travel bloggers you follow for recommendations and experiences, comment their blog name below!
Note: If you're interested in starting a travel blog and want a fast start guide, check out my "How to start a travel blog" article and follow the steps I used to create this blog! It'll guaranteed saved you months of hassle setting up!