Rugged Aid - The Rickshaw Run, India
THE BEGINNING OF RUGGED AID
Like all good war stories are told, Rugged Aid was an idea that was sparked up over a few beers. Myself and my Canadian friend Dan were sitting in a random pub in Nashville when we started sharing stories of our past adventures. It didn't take long before we were overly excited to get back on the road and do something wild so we threw a few idea's around and the one that stuck was The Rickshaw Run. The thought of taking part of a dangerous adventure with no guarantee of safety while raising money to give back to those in need was so stupid and exciting that it had to happen.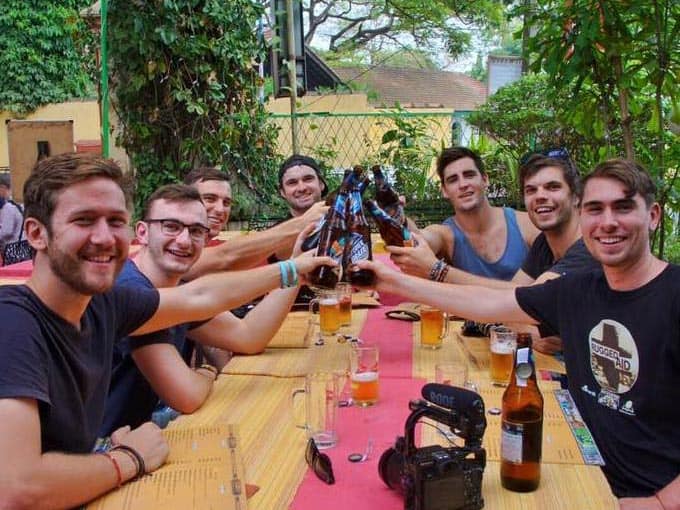 However both being full time travelers, we didn't end up being in the same place at the same time until the end of August when we met at an gathering in Bali where a bunch of other friends were located too. Long story short, we all went out for dinner on the beach in Canngu one night as we were all having a bit of a celebration after a huge week of training and that's when me and Dan decided to pitch it to the lads.
A few fiery backdraft cocktails and tequila shots later and we had 8 people vouching to take part in The Rickshaw Run 2016 (1 member did pull out after a few weeks with a bogus excuse).
THE TRAILER
We only had a few days left together before everyone had to leave to go back to their own countries (Australia, New Zealand, England & Canada) so we tried to plan as much as we could in those few days. We did manage to get a few little things planned but nothing big, luckily myself, Dan, Blake and Nate were staying in Bali for a month after so we managed to make a teaser trailer for the event with the help of a few friends.
Check it out! Operation Rugged Aid
A few days after shooting, myself and Nate left Bali for Orlando and Dan and Blake left for California and this was the last time we would see each other until the adventure in India on the 26th of December. As you can imagine, productivity towards the event disappeared. We did manage to get some Rugged Aid t-shirts made, Rugged Aid Facebook page live, Rugged Aid GoFundMe platform working and a few other things but no where near as much as was needed.
THE PIMPING
The end of December snuck up very quickly and while everyone was relaxing with their families for the festive season, we were boarding a plane to Kochi, India not really knowing what was going to happen. After flights from all corners of the globe, everyone finally reunited and we were literally like kids in a candy store, eager to see our Rickshaws & take them for a spin as well as the sensory overload from Kochi.
We got word via. email that we were allowed to head to the Rickshaw Run HQ, complete our registrations and take the vehicles for a drive as well as spend the next few days pimping before the event started. It was love at first sight, the Rickshaws were ridiculous in all ways yet so entertaining. After a few doughnuts in the grass area, we then made a list of things to buy to "pimp" them out and headed to the main land.
We managed to get fake grass, a tonne of fake flowers on a string, cup holders, material to cover the seats in and some bits and pieces for vehicle maintenance. Of course everyone wasn't happy with the paint jobs on the Rickshaws too so we brought out our best painting skills and gave them a quick make over.
NEW YEARS EVE – INDIA STYLE
After 3 solid days of heat exhaustion, constant nervousness when eating food and long days of pimping our Rickshaws, we had reached the deadline. We handed the keys back to the event managers and headed off to our hotels to get ready.
THE JOURNEY BEGINS
Shaking off a nasty hangover from the night before, we collected all our gear and walked down to the Rickshaw HQ. The grounds were alive, everyone was screaming and cheering as we loaded up our Rickshaws and began to warm the engines. Only 20 minutes after we arrived, the race began. The Video Series is hopefully going to be out by March 2016 so be sure to follow Rugged Aid on
Facebook
, Instagram and find Rugged Aid on Youtube.
For more info on The Rickshaw Run, you may like this article too –  The Rickshaw Run 2016
If you are going on the Rickshaw Run, this may help you out – Preparing for The Rickshaw Run